Car Umbrella Tent – Semi-Automatic Vehicle Weather Protection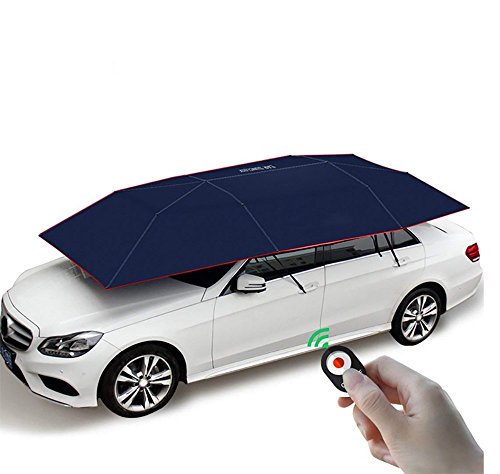 Yikes, I just sat down on my car seats and nearly cooked my backside. Dark leather seats feel molten after they've been sitting in the hot sun. I should get a semi-automatic car umbrella tent to help shield it from the sun's rays when it's outside.
A car umbrella is a large umbrella designed to cover your car. It helps block sun, rain, and debris. This, in turn, keeps the car cooler and helps to extend its life. These umbrellas are available in manual, semi-automatic, and fully automatic options, based on your needs.
Keep your car cool and protected from the weather with the help of a semi-automatic car umbrella tent!
Just like the umbrella you'd carry for yourself, a car umbrella tent provides the same protection for your vehicle. This large umbrella is designed to span the top of your car. It protects from 99% of harsh UV rays of the sun, which not only heat your car, but shorten the lifespan of the paint. Made of a durable polyester material, this semi-automatic car umbrella is also waterproof for shedding rain, snow, and light ice! The cover is designed with a curved structure, so it sheds leaves, twigs, and other small refuse. Keep your car looking beautiful for years to come!
Cars with an umbrella up top will see up to 50 degrees Fahrenheit reduction inside. This will make getting back into your seat on a hot day far less scalding than when in direct sunlight. However, even with a shade, your car can still hit temperatures near 104 degrees. A car umbrella will not make it safe to leave a child or pet in the car on a hot day.
This semi-automatic car umbrella makes it easy and convenient to use. Simply place the strong suction cup on top of your vehicle. Then, use the included remote, and in six seconds, the umbrella opens up all on its own! Four reinforced metal hooks provide excellent wind resistance, keeping the umbrella in place. A built-in protection system senses if something goes wrong, halting the motor so you can address it. This prevents damage to the frame or a motor burnout.
Removal is just as easy – simply use the remote to collapse the umbrella back down for storage. If you're not on the road, an additional triangular bracket is included for home use. It's perfect for a picnic, backyard barbecue, or by the pool to stay cool!
Additional Notes
Only available in blue
Measures approx. 13.5' long x 7' wide when open, fitting most cars, motorcycles, and SUVs
Folds down into a carry bag that fits easily in the trunk
Supports are aluminum-magnesium alloy
Suction cup is silicone and will not damage paint
Always keep suction cup clean for best adherence, and do not place on a seam
Ropes may be attached around car door handles for additional wind resistance
Suction system has anti-theft protection which uses car door for security
Not safe for use against hail, during strong storms, or other extreme weather conditions