The Best Hot Tub Gazebo: Enjoy Privacy and Comfort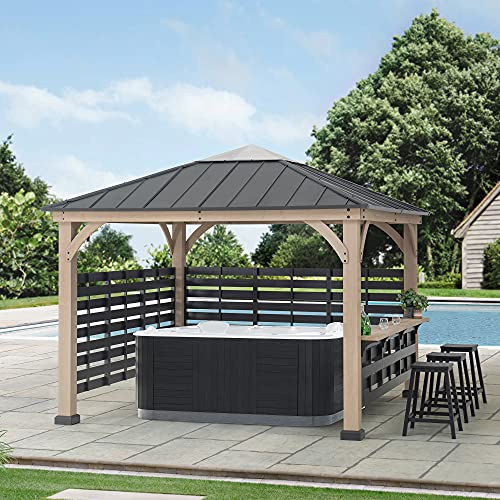 If you already own a hot tub, you know how relaxing it can be to soak in warm water, especially after a long day. But what if you could enjoy your hot tub while being shielded from the sun, rain, and prying eyes? That's where a hot tub gazebo comes in.
In this article, I'll review one of the best hot tub gazebos on the market to help you upgrade your setup and enjoy your hot tub to the fullest! I'll also talk about how to choose the right one for your backyard, as there are many different ones out there to pick from.
Features and Design of the Sunjoy Cameron Hot Tub Gazebo
The hot tub gazebo I reviewed is the Sunjoy Cameron cedar wood framed hardtop model. It's a beautiful addition to any backyard!
It measures 11 x 11 feet, providing ample space for your hot tub and guests. It's compatible with both round and square tubs, and good for both rigid and inflatable models, like the SaluSpa hot tub.
The frame is made of cedar, which can withstand harsh weather conditions and smell nice while doing so!
Powder-coated rust resistant steel forms the roof, and serves the important purpose of shielding you from sun, debris, and the ever-looming birds overhead.
A polycarbonate skylight at the top offers UV protection while also letting light into the enclosure.
One of the standout features of this hot tub gazebo are the two adjustable privacy walls. Nine horizontal slats block wind, filter light, and offer the seclusion you want in a hot tub! Put them on whatever sides your pesky neighbors are!
You can always add some additional outdoor privacy curtains as well if you'd like to block additional sides, or simply add a pop of color!
For a third side, this hot tub gazebo comes with a built-in bar, providing you with a convenient spot to enjoy your favorite drinks while soaking in your hot tub. It also offers bar stool height counter space for those that want to sit and relax without taking a dip!
Installation and Maintenance of the Hot Tub Gazebo
The hot tub gazebo we reviewed is easy to install and comes with all the necessary hardware and instructions. Assembly can be completed in 5-6 hours by two adults, depending on your skill level.
It is also easy to maintain and clean. I just give it a spot clean as needed or a blast from the garden hose! However, the cedar frame should be resealed once every 3-5 years for best life expectancy.
Hot Tub Enclosure Ideas for Comfort and a Luxurious Feel
A hot tub gazebo provides the perfect opportunity to create a private and comfortable hot tub enclosure. Here are a few ideas:
Add outdoor lighting: Add some color changing string lights or some fun solar pineapple lanterns to create a cozy and inviting atmosphere
Get a hot tub enclosure screen: A hot tub enclosure screen is a great way to keep our bugs so they don't disturb your rest. Alternatively, you can use a patio mosquito repellent system in lieu of having to zip and unzip screens
Plant some plants: Adding some greenery around your hot tub gazebo can make it feel more inviting and private
How to Choose the Best Hot Tub Gazebo for Your Backyard:
When it comes to creating the ultimate backyard oasis, few things are more luxurious than adding a hot tub gazebo! Not only does a gazebo provide a stylish and comfortable place to relax, but it can also offer protection from the elements and privacy for you and your guests.
With so many different types of hot tub gazebos on the market, though, how do you know which one is right for your backyard setup?
To help make the decision easier, we've put together this guide on what you'll want to consider when selecting your hot tub gazebo.
Size and Style
One of the first things to consider when choosing a hot tub gazebo is the size and style that will best suit your backyard. You'll want it to fit your existing hot tub if you have one, as well as fit in your yard while leaving ample space for other work and play.
Be sure to measure the area where you want to place the gazebo to ensure that it will fit comfortably.
In addition, consider the style of the gazebo that will complement your backyard and home design. Traditional, modern, and rustic are some popular styles to choose from.
Material
The material of the hot tub gazebo is another important factor to consider. The materials most commonly used for a hot tub gazebo are wood or metal, but there are also options made of vinyl, plastic, or fiberglass.
Wood is a popular choice because it is sturdy and offers a natural aesthetic, but it requires regular maintenance, such as staining and sealing.
Metal gazebos are durable and low maintenance, but may not have the same warmth as a wooden gazebo and they will eventually rust from exposure to the elements.
Roofing
The roofing of a hot tub gazebo is crucial as it provides protection from the elements. There are several types of roofing commonly used in hot tub gazebos, including metal, shingles, or polycarbonate panels.
Metal roofs are durable and long-lasting, while shingles provide a traditional aesthetic. Polycarbonate panels allow for sunlight to pass through them, offering extra natural lighting.
Privacy
Privacy is an important consideration when selecting a hot tub gazebo. Consider a gazebo with curtains or shades that can be drawn to offer privacy when desired.
Additionally, a gazebo with solid walls or lattice panels can help block views from neighbors.
Extras
Some hot tub gazebos come with additional features that can enhance your backyard experience. For example, some gazebos have built-in seating, lighting, or even a sound system.
Consider what features are most important to you and your lifestyle when selecting a gazebo.
Price
Finally, the price of the hot tub gazebo should be considered. Prices vary greatly depending on the size, material, and features of the gazebo.
Determine your budget before beginning your search so that you can narrow the choices early on to find a gazebo that fits your needs as well as your wallet!
Overall
A hot tub gazebo can be a great addition to any backyard. By considering size and style, material, roofing, privacy, extras, and price, you can select the best hot tub gazebo for your needs and enjoy your backyard oasis for years to come!
Benefits of Owning a Hot Tub Gazebo
There are numerous benefits of owning a hot tub gazebo, including:
Privacy: As mentioned earlier, adjustable privacy slats allow you to enjoy your hot tub without worrying about anyone watching you
Protection from the elements: The durable metal canopy provides protection from the sun, rain, and wind, ensuring that you can enjoy your hot tub in any weather condition
Aesthetic appeal: A hot tub gazebo adds a beautiful and elegant touch to your backyard. It can also increase the value of your property
Extended hot tub use: With a hot tub gazebo, you can use your hot tub year-round, regardless of the weather conditions
Hot Tub Gazebo FAQs
What is a hot tub gazebo?
A hot tub gazebo is a structure designed to shelter your hot tub from the elements and provide privacy.
There are a variety of different sizes and included options available so you can fit a variety of tubs and tastes. The most popular options are outdoor curtains, mosquito netting, built in bar, or planters.
Do hot tubs need a roof over them?
No, hot tubs do not need a roof over them. However, a roof helps block the sun's rays to prevent burning in daytime use.
Additionally, it shields your hot tub from rain, snow, and other elements. This can make it easier to access and preserve the longevity of your tub.
While a hot tub can be in the sun, it causes deterioration of the spa faster than it would in shade.
Additionally, for use, you'll also have to worry about your exposure to UV rays. Thus, having something to protect both the tub and the occupants from sun is a worthwhile choice.
Should a hot tub be enclosed?
A hot tub doesn't need to be enclosed, but doing so may help extend the life of it.
A cover offers basic protection from dust and debris. A pergola or gazebo will give additional shelter from water, snow, and other elements. An enclosure also adds more privacy, should that be a concern.
Can a hot tub gazebo withstand harsh weather conditions?
Yes, a high quality hot tub gazebo should be able to withstand harsh weather conditions, including rain, wind, and snow.
Look for models that are made from durable materials like cedar wood or aluminum, and have sturdy roofing and sidewalls. Some models even come with added features like snow load supports, which can help prevent damage during heavy snowfall.
The Sunjoy hot tub gazebo can withstand 16.4 lbs./square foot snow load, but other brands may vary.
How much does a hot tub gazebo cost?
A hot tub gazebo or pergola kit ranges in price on average from as little as $600 to as much as $12,000. It varies widely depending on factors like the size, materials, and features.
Low end models are generally pop up PVC domes, and then it switches to more rigid frames. Wood is the most common, while metal and wood composites are also available.
Is it difficult to assemble a hot tub gazebo?
Assembly difficulty can vary depending on the model, but most hot tub gazebos come with detailed instructions and can be assembled by two adults within 3-6 hours.
The exact time it will take for your specific gazebo will depend on the size, complexity, and your skill level.
Some models even include pre-cut and pre-drilled materials to make assembly even easier.
Can I customize my hot tub gazebo?
Yes, many manufacturers offer customizable options for hot tub gazebos, including different sizes, materials, and add-ons like lighting, sound systems, and built-in bars.
Additionally, you may add your own elements to a basic model. It's easy to add string lights, plants, or a waterproof bluetooth speaker to your setup.
Conclusion
A hot tub gazebo is a great investment for anyone looking to add privacy, shelter, and style to their outdoor hot tub experience.
There is a wide range of sizes, materials, and features available, meaning there's a hot tub gazebo out there for every budget and taste! Make sure to do your research, consider your needs and wants, and choose a model that's built to last for years of enjoyment.
Where to Buy
Other Outdoor Space Upgrades You Might Like
Helpful Hot Tub Guides