24V Thunder Tank Ride On with Rotating Turret Review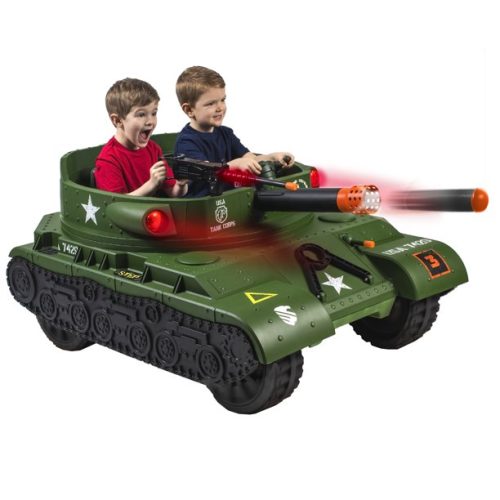 Are you looking for an outdoor ride-on toy that can provide your child with hours of imaginative play? Look no further than the 24V Thunder Tank ride on!
In this article, we'll provide an in-depth review of the Thunder Tank ride on, including its features, specifications, and frequently asked questions.
Overview of the Thunder Tank Ride On
The Thunder Tank ride on is a driveable, battery-powered toy vehicle designed for outdoor use. It features a unique design that resembles a tank, complete with a "working" cannon and rotating turret.
Lights, sounds, and built-in speakers make your kids really feel like they're in the action! Don't forget to equip them with some matching kids play military helmets before you send them off to backyard war!
This ride on vehicle is powered by a 24V battery, which provides ample power for hours of playtime.
Features and Specifications
Here's a closer look at the Thunder Tank ride on's features and specifications:
| | |
| --- | --- |
| Feature | Specification |
| Maximum Speed | 5 mph |
| Battery Life | Up to 2 hours of continuous use |
| Charging Time | 12-14 hours |
| Weight Limit | 2 passengers combined up to 150 lbs |
| Age Range | 3-11 years |
| Safety Features | Seat belt, and speed limiter |
| Terrain | Grass, dirt, and pavement |
| Working Cannon | Fires 5 plastic shells |
| Rotating Turret | 360-degree rotation |
24V Thunder Tank Ride On Features
As you can see, the Thunder Tank ride on has a variety of features that kids will love! As with any toy vehicle, though, parental supervision is always recommended.
Review and Recommendation
Pros:
Highly interactive toy
Kids absolutely love it!
Fits a wide age range
Suitable for 2 kids to play at once
Not too difficult to assemble
Promotes creativity and imagination
Good for outdoor play
Cons:
Cannot get wet
Motherboard issues are common
Expensive compared to other 24V ride on vehicles
Recommendation
I really love this tank. The kids absolutely have a blast driving it, and it's very fun and engaging. It works even on tough terrain and the battery life feels adequate. It's far more interactive than a standard ride on vehicle, which to me helps justify the higher price tag.
The biggest con is that the motherboard which controls the steering is very temperamental. I highly recommend getting insurance or a warranty on it. If you're handy, plan to replace the motherboard entirely, or seal the electronics compartment with watertight sealant.
Awesome
Overall, I give the Thunder Tank a 7/10. If it was solely based on fun factor, it would be a 10 hands down. However, the mechanical problems it tends to experience detract from the overall score.
Similar Products to the Thunder Tank Ride On
If the Thunder Tank doesn't interest you, check out some of these similar products! All of them feature driveable, ride on vehicles for kids. Plus, most of them also have lights, sounds, or working accessories for even more interactive play!
How Easy is it to Assemble the Thunder Tank Ride-On?
The Thunder Tank ride on is relatively easy to assemble by one adult and takes around 30 minutes.
Feel free to have your kids be helpers! It's a great way to get them involved and even helps build problem solving skills!
The package comes with detailed instructions and all the necessary tools to put it together. You can also find a video tutorial on the manufacturer's website.
The tank ride-on comes in several pieces, and you'll need to attach the wheels, battery, steering wheel, and turret. As long as you have some patience and good attention to detail, it'll be ready in no time!
If you're not confident in your assembly skills, you can always hire a professional to do it for you. But with a little effort, most people can assemble the Thunder Tank Ride-On themselves.
How Fast is a 24V Power Wheel?
A 24V Power Wheel ride on vehicle can go as fast as 4-6 mph. The speed varies based on the size of the vehicle, weight limit of passengers, and number of features.
The speed may also be throttled or set by the manufacturer based on the vehicle's capabilities. The Thunder Tank, for example, is capped at 5 mph.
Frequently Asked Questions
What is a Thunder Tank Ride On?
The Thunder Tank ride on is a battery-powered vehicle for kids designed for outdoor use. It features a unique design that resembles a tank, complete with a working cannon and rotating turret.
It holds up to two passengers at a time, offering both driving and shooting options so both kids can participate.
How does the Thunder Tank Ride On Work?
The Thunder Tank ride on features a foot pedal accelerator and a steering wheel for easy control. It also has a working cannon that fires plastic artillery shells and a rotating turret that can be controlled by the driver.
While it can be operated entirely by the driver, adult supervision is always recommended during use.
How Fast Can the Thunder Tank Ride On Go?
The Thunder Tank ride on has a maximum speed of 5 mph.
It does, however, also offer two forward and one reverse speed setting, so you may adjust it to a slower speed if desired.
How Long Does the Battery Last on the Thunder Tank Ride-On?
The battery of the Thunder Tank ride on lasts anywhere between 30 minutes up to 2 hours. It will depend on the type of terrain you use it on, if the use is continuous, and how many features you utilize.
It takes around 12-14 hours to fully charge the battery.
What Age Range is the Thunder Tank Ride-On Suitable For?
The Thunder Tank ride on is generally suitable for children aged 3-8 years.
However, much will depend on the size and weight of your specific child. The combined passenger weight limit is 150 pounds, so even older children may be able to use it.
What Safety Features Does the Thunder Tank Ride-On Have?
The Thunder Tank ride-on has safety features including a seat belt and speed limiter to ensure the safety of your child while they play.
However, these features aside, parental supervision during use is still the most important safety feature.
Conclusion
In conclusion, the 24V Thunder Tank ride on is a fantastic toy for kids who love tanks and military vehicles. It's durable, easy to use, and packed with features that will keep your kids entertained for hours.
Whether your child is exploring the great outdoors or engaging in epic battles with their friends, the Thunder Tank ride on is sure to be a hit. With a 24V battery, working cannon, and rotating turret, this tank ride on is perfect for any little adventurer.
Where to Buy
The Thunder Tank is a Walmart exclusive item. Check your local Walmart for in-store availability, or order online:
It may also be available at third party resellers, such as eBay:
More Great Tank Toys to Check Out