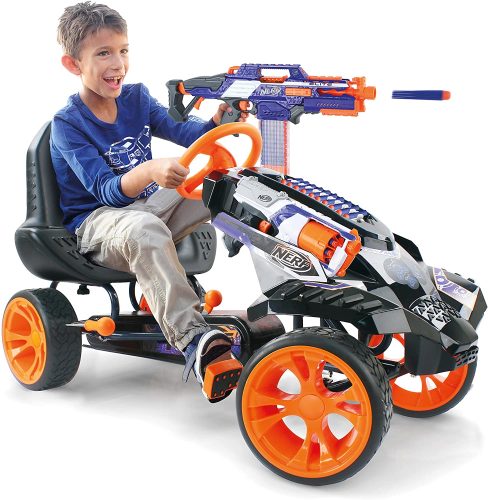 I'm scared to ask, but where are you going with an armful of Nerf guns? You're headed out to load up the Nerf Battle Racer go kart so you can patrol the neighborhood? That sounds awesome! I'll go grab my blaster and come with you!
The Nerf Battle Racer is a pedal powered go kart designed for kids. With a variety of holders for both Nerf weapons and darts, kids can navigate the streets or their backyard with a toy arsenal. Build obstacle courses and practice your motor skills with this fun ride on toy.
Put the pedal to the metal and hit the streets in style with the Nerf Battle Racer!
The Nerf Battle racer is a Nerf gun go kart. Powered entirely by pedals, kids can drive it around like a ride-on vehicle. What makes it unique, though, is that it contains holders and compartments for all your Nerf essentials!
Made of a lightweight yet sturdy alloy steel frame, this cart is designed for riders up to 120 pounds. Ball bearing mounted rims and low-profile tires make for easy steering, and the 3-point wheel offers great responsiveness.
Choose between 'drive' and neutral mode, for active pedaling or just coasting freely. If you get going too fast, a handbrake will keep things in check. Note that the drive option only has one gear, so there's no shifting involved.
An adjustable and ergonomic bucket seat works for a variety of different heights, so this is a Nerf go kart that will grow with your kids. It's great for improving motor skills, hand-eye coordination, and teaching them some basic driving fundamentals.
Grab some targets and create a fun activity for your kids to play and practice with!
Does the Nerf Battle Racer come with guns?
No, the Nerf Battle Racer does not come with guns or darts.
It works with most models of Nerf guns, though, so feel free to add your favorites.
The cart has one bracket and one gun rest, so it should hold one smaller blaster style and one larger Nerf gun. The top of the cart holds 10 darts in clips, and additional wells on the sides of the driver's seat holds more if needed.
How long does it take to assemble the Nerf Battle Racer?
The Nerf Battle Racer takes approximately 30 minutes to assemble, with the help of an adult.
Fully assembled, this Nerf go kart measures 50 x 23 x 27 inches.
Additional Notes
Recommended for ages 4-10
Works best on hard, flat surfaces such as a driveway or sidewalk, though stronger kids should be able to power it through grass, dirt, and similar surfaces
Only available in orange/gray/black color
Drive your go kart right up to your Nerf Command Base battle fort and keep the action going on foot!

KidKraft Nerf Command Base Battle Fort

You may also like this Astroshot Zero floating ball target game for practicing your shots

USA Toyz AstroShot Zero GSX Shooting Games for Kids - Nerf Compatible Glow in The Dark Floating Ball Targets for Shooting with Foam Blaster Toy Gun, 10 Floating Ball Targets, and 5 Flip Targets

Any Fortnite fans will love this Nerf Fortnite BASR-L blaster, based on the in-game weapon!

Nerf Fortnite BASR-L Bolt Action, Clip Fed Blaster -- Includes Removable Scope, 6-Dart Clip and 12 Official Nerf Elite Darts

Help Master Chief fight the Covenant with the Halo Nerf Needler gun blaster!

NERF LMTD Halo Needler Dart-Firing Blaster, Light-Up Needles, 10-Dart Rotating Drum, 10 Elite Darts, Game Card with in-Game Content

When your town needs a superhero, try driving this Hauck Batmobile pedal go kart!

Hauck Batmobile Pedal Go Kart, Superhero Ride-On Batman Vehicle, Kids 4 and Older, Peddle & Patrol the Streets of Gotham just like Batman, Race-Styled Pedals & Rubber Wheels [Amazon Exclusive] , Black

Little drivers may also enjoy a Razor Crazy Cart, the drifting go kart for kids!

Razor Crazy Cart Shift 2.0 - Blue

If your kids love amusement parks, then let them ride around in the 360 spinning Kidzone bumper car!

Kidzone 12V Kids Toy Electric Ride On Bumper Car 360 Spin 2 Speed Battle Vehicle with Remote Control, Bluetooth Music, DIY Race# 00-99 and Alphabet Stickers, ASTM-Certified, Green