The NERF Halo Needler Gun Blasts the Covenant
I always enjoyed playing the Halo video games series. Traversing the galaxy, playing with friends, and taking down aliens as Master Chief is a blast! My favorite weapon by far is the Needler, with the iconic look and distinctive firing sound. Imagine my delight when I found out they were making a NERF Needler gun.
While we won't see it released until later in 2022, that didn't stop me from getting really excited and checking this real life version of my favorite weapon. So, let's talk a bit about what we can expect!
What is the NERF Halo Needler Gun?
The NERF Halo Infinite Needler gun is a real-life replica of the iconic weapon featured in the Halo series of video games. It's a blue handheld that fits over your hand and sports some very distinctive pink spikes, or "needles", on the top.
This version thankfully fires NERF darts instead of the actual needles, which I imagine would feel like you were being attacked by an electric porcupine otherwise.
Features of the NERF Needler Gun:
Uses NERF Elite darts
Rotating drum holds 10 darts at a time
Requires 6 AA batteries
Top needles actually light up via touch sensor in grip
Pre-orders come with a code for in-game content
Recommended for ages 8+
Weighs about 5.5 pounds
Designed for one-handed use
Comes with a display stand
No tracking system or exploding needles (sorry)!
Are There Different Versions of the Halo Infinite NERF Needler Blaster?
In addition to the full size one that's coming out, there is currently a NERF MicroShots Needler available.  Here is how it compares:
NERF Needler vs NERF MicroShots Needler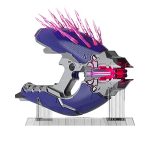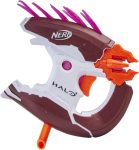 5.98 x 22.52 x 16.14 inches
1.75 x 6.5 x 8.5 inches
The MicroShots version is currently available, having been released in January 2021. However, it lacks a lot of bells and whistles as compared to the full size Needler. I think this is a good alternative if you can't handle the larger gun, but otherwise the big one is way cooler!
Frequently Asked Questions About the Halo NERF Needler Gun
What is the release date for the NERF Needler gun?
The NERF Halo Infinite Needler gun is scheduled for release by Hasbro on November 1, 2022. This has been pushed back from their original intended release date of August 1, 2022, so we may see it change again.
Can you preorder the NERF Needler gun?
Officially, preorders for the NERF Needler gun ended on December 31, 2021. However, you may be able to find one if someone cancels their order.
Similar Products to the Halo NERF Needler Blaster
NERF Halo Needler Gun Vs. BOOMco Halo Covenant Needler Blaster Toy
NERF Needler vs BOOMco Halo Covenant Needler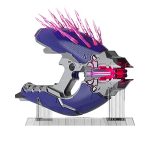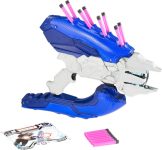 5.98 x 22.52 x 16.14 inches
22 x 3.5 x 15 inches
$99.99 (Preorder)
$39.00 (Retail)
November 1, 2022
September 1, 2015
The BOOMco Halo Covenant Needler blaster toy is pretty similar in concept to the new Nerf version. However, the Nerf model is much more detailed and true to the game in terms of styling. I also prefer that the needles light up on the Nerf version vs the darts on the BOOMco.
Another tricky point is the price tag. While the Nerf one comes in at nearly triple the retail price, the BOOMco (Mattel) version is a lot harder to find nowadays as it's been discontinued.  We've seen them ranging from about $45 with shipping on eBay for a used one, up to $185 for a new one.
While either way the supply might be limited, I just feel the Nerf version makes a better display piece and is worth it over the price you'd pay for a new BOOMco one (if you could even find it).
Our Overall Ratings of the NERF Halo Needler Gun
Halo Infinite NERF Needler Blaster Gun
I love this NERF Halo Needler gun. It brings back a lot of fun memories of playing with friends, and I truly appreciate the great attention to detail. I'd be just as proud to display it as to actually play with it.

The only downside is the fact that it takes 6 batteries at a time. I know the lights only engage when you're using it, so time will tell on overall battery life. However, that's still a big number to change out.
Bottom Line
If you're an avid Halo fan like I am, you're going to be anxiously waiting for this NERF Needler gun to release. I'll proudly display it in my gaming room just as much as I'll enjoy firing darts at my friends.
The attention to detail is great, the full auto firing mechanism is much-needed, and the authenticity seals the deal. While we don't know exactly what it feels like in-hand yet, everything so far points to it being an awesome collectible toy even for Master Chief.
Where to Buy
If you're trying to get your preorder in for the NERF Halo Needler blaster, check out these reputable options:
Related Products
Here are some other video game inspired toys you may enjoy:
Enter everyone's favorite multiplayer mayhem with the NERF Fortnite BASR-L blaster

Nerf Fortnite BASR-L Bolt Action, Clip Fed Blaster -- Includes Removable Scope, 6-Dart Clip and 12 Official Nerf Elite Darts
Hit the track with the infamous Hot Wheels Mario Kart Rainbow Road Raceway!

Hot Wheels Mario Kart Rainbow Road Raceway 8-Foot Track Set with Lights & Sounds & 2 1:64 Scale Vehicles, Race with 5-Track Colorful Course with 2 Configurations, Toy Gift for Kids
Use the LEGO Tallneck kit to build Horizon Zero Dawn's tallest machine!

LEGO Horizon Forbidden West: Tallneck 76989 Building Sett; Collectible Gift for Adult Gaming Fans; Model of The Iconic Machine with a Display Stand (1,222 Pieces)
Explore a more classic game with the LEGO Sonic the Hedgehog Green Hill Zone building set

LEGO Ideas Sonic The Hedgehog – Green Hill Zone 21331 Building Kit; Nostalgia Gift for Yourself, Any Millennial Sonic The Hedgehog Fan or Lover of 1990s Computer Game Memorabilia (1,125 Pieces)
The Tetris balance game brings the arcade classic to your family game night!

iYuePeng Board Games for Kids & Adults Tetris Balance Stacking Toys Perfect for Family Games, Parties, Travel
Practice your stacking skills with the Super Mario Mushroom is Full balance game!

Nintendo Super Mario Balance Game Mushroom is Full
NERF LMTD Halo Needler Dart-Firing Blaster, Light-Up Needles, 10-Dart Rotating Drum, 10 Elite Darts, Game Card with in-Game Content
32 new from $99.99
1 used from $93.26
Free shipping
as of May 10, 2023 4:40 am
Features
NERF LMTD HALO NEEDLER BLASTER REPLICA: This dart-firing blaster is inspired by the iconic blaster from the Halo video game franchise and includes 10 Nerf Elite foam darts and a display stand.Ideal for ages:8 years and up
LIGHT-UP NEEDLES AND ACCENTS: The flexible needles light up when you grip the handle! Additional accent areas also light up on the blaster. Requires 6x AA 1.5v alkaline batteries (not included)
10-DART ROTATING DRUM AND 10 NERF ELITE DARTS: Flip open the shield to access the drum for easy dart loading. Pull the trigger to unleash 10 darts in a row. Includes 10 Official Nerf Elite foam darts. Requires 6x AA 1.5v alkaline batteries (not included).
DISPLAY MODE AND DISPLAY STAND: The blaster has a display mode so you can activate all the light-up features and place the blaster on the included stand to create an eye-popping display
GAME CARD WITH IN-GAME CONTENT AND PREMIUM PACKAGING: Includes a card with a code to unlock in-game content in the Halo Infinite game.* Everything comes in premium packaging that's great for display