Super Mario Balance Game – Mushroom is Full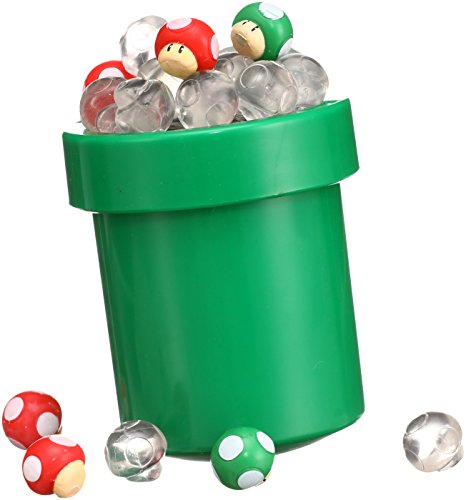 Are yinz kids playing Mario up here in your room again? Why don't you come downstairs and hang out with the family in the kitchen. Look, I got you this Super Mario mushroom balance game so you can play right at the table! It's a fun way to keep occupied while we cook dinner.
Balance games are designed to challenge your stacking abilities. Mostly geared for two players, these games require precision to win. Players take turns placing tokens onto a base, and the first to place all tokens successfully is the winner. However, the base is generally tilted, curved, or otherwise unstable. This creates the challenge for successful stacking.
This Super Mario mushroom balance game puts the fun in fungi!
Epoch games brings us this fun Super Mario mushroom balance game straight from Japan! This entertaining game features iconic characters from the Nintendo classic Super Mario game series. Mushroom is Full requires a steady hand and smart thinking to succeed. The base of this balance game is the green warp pipe we all know and love from Super Mario Brothers. Warning, this warp pipe comes with a curved base, making it wobble and tilt all over!
The challenge of the game is to stack all the game pieces on the top of the warp pipe base. This game includes 13 clear mushrooms, 3 red Super mushrooms, and 2 green 1-Up mushrooms as playing pieces. Since this Super Mario balance game is an actual Japan import, directions are not included, and the box writing is entirely in Japanese. But we think this means you can use your imagination to design rules that are fun for your family.
Presumably (given the even number of pieces), players will alternate stacking their tokes one at a time on the base. The first person to stack all their tokens wins. However, you'll need a steady hand and good decisions for placement. This game will teach your kids about gravity, physics, and hand eye coordination as they play! If you don't succeed, you'll knock pieces off, or even the whole tower over. Make up your own penalties as desired – the game is yours to imagine!
This fun Super Mario balance game is simple in premise but challenging enough to keep all ages satisfied. Kids, teens, and adults alike can enjoy it. Mushroom is Full makes a fun gift too. Any Mario lover will appreciate this quirky game featuring their favorite Nintendo classic character. Consider giving this for a birthday or Christmas gift! It makes a great stocking stuffer as well.
Additional Notes
Pipe measures only 3.8" tall and weighs about 4 ounces
Take this pocket size game anywhere to keep the kids entertained
Recommended for ages 6+ as it contains small pieces which are a choking hazard
Test out your stacking skills in this 3D Tetris Balance game!

iYuePeng Board Games for Kids & Adults Tetris Balance Stacking Toys Perfect for Family Games, Parties, Travel

This warp pipe shot glass set lets you enjoy drinks in the Mushroom Kingdom!

Keep your feet warp and cozy when wearing these piranha plant slippers. It's the first time you'll ever want to see a piranha plant come out of a warp pipe!

Lopbraa Piranha Plants Cannibal Flower Style Plush Slippers Loafer with Pipe Pot Holder Funny Slippers Gift for Adults Teens (Piranha Plants)

Sometimes you just need to enjoy classic Mario video games on the go, and in that case, pick up a Nintendo Switch Lite!

Nintendo Switch Lite - Yellow

If you really love portable gaming, then the FreezerBoy magnets will turn your boring old fridge into a Game Boy!

FreezerBoy (TM) Dry-Erase Whiteboard Refrigerator Magnets

Balance is one thing, but with Super Mario Jenga, Mario, Luigi, Peach, and Toad must try to topple Bowser!

Hasbro Gaming Jenga: Super Mario Edition Game, Block Stacking Tower Game for Super Mario Fans, Ages 8 and Up

Enjoy two games in one with Super Mario Checkers which also features Tic Tac Toe on the reverse side of the board!

Super Mario Checkers & Tic-Tac-Toe Collector's Game Set | Featuring Super Mario Bros - Mario & Luigi | Collectible Checkers and TicTacToe Perfect for Mario Fans

Grab a friend or play solo with this Super Mario air hockey tabletop game!

Epoch Games Super Mario Air Hockey, Tabletop Skill and Action Game with Collectible Super Mario Action Figures

If you enjoy stacking, then try out the fast-paced Dimension game!

Dimension - A 3D Fast-Paced Puzzle Game from Kosmos | Up to 4 Players, for Fans of Strategy, Quick-Thinking & Logic | Parents' Choice Silver Honor & Oppenheim Toy Portfolio Platinum Award Winner