Super Mario Warp Pipe Shot Glass – 100% Piranha Plant Free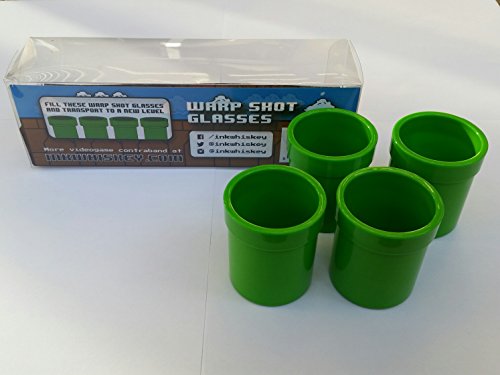 Did you ever wonder what's at the bottom of a Super Mario Warp Pipe? I always thought it was another world, but it turns out it's just drinks! You don't believe me? Here, take this Super Mario Warp Pipe shot glass, and tell me otherwise!
Classic geek style meets functional drinking vessel with a Super Mario Warp Pipe shot glass. They're designed to look just like the green pipes scattered throughout the Super Mario universe. Just make sure you don't try to drink a Piranha plant.
Level up your next get together with the help of a Super Mario Warp Pipe shot glass!
A Warp Pipe shot glass is the perfect pick for fans of the Super Mario universe that are ready to party. These unique shot glasses come in a set of 4 and look just like a Mario Warp Pipe.
They're made from BPA-free, durable polymer plastic. Whenever I'm around adult beverages, it's better to have something I can't drop and break, so these are perfect!
Each glass features a double shot capacity (about 3 fl ounces), perfect for your next party! Just make sure Chain Chomp is willing to be your designated driver if you're filling them with adult beverages.
If you're missing the classic glass style, check out these gorgeous hand painted Super Mario shot glasses instead. Each one features an iconic Nintendo character!
No matter which way you go, you're sure to level up when you bring out these cool Warp Pipe shot glasses for your next get together. After a couple rounds, why not take a crack at the hardest Super Mario levels of all time? What could possibly go wrong?
Additional Notes
Rated 4.3 stars – fan approved!
For other unique shot glasses, check out these Himalayan salt shot glasses. No need to salt the rim when the entire thing is made of salt!
The double bubble quaffer shot glass lets you mix a liquor and mixing agent in the same glass at once!
You may also enjoy this Tic Tac Toe drinking game, where the X's and O's are shot glasses!
Take a spin at shot glass roulette if you really want Lady Luck to decide your night!
This world map shot glass display lets you show off all your favorite collectibles in one unique piece of wall art!
Need to cool things down? This Mario ice cube tray will make adorable, themed ice cubes
For another challenge, try the Super Mario game of balance Mushroom is Full. After a few Warp Pipes, it's sure to be new level of fun