Minecraft Mine Kit – Dig for the Rare Golden Creeper!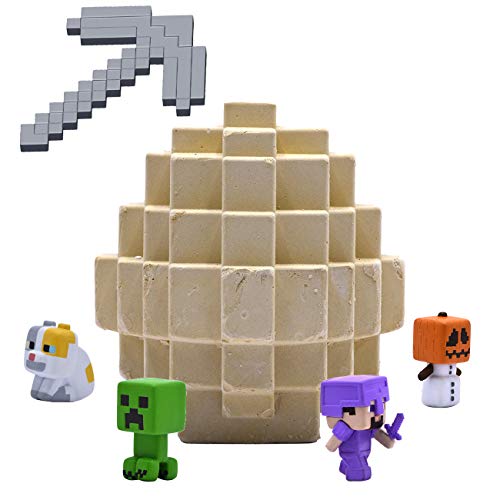 What is that hammering noise? I thought you were playing Minecraft. It's a Minecraft mine kit, so you're playing Minecraft in real life? Well, that's pretty cool. Can I hammer on one?
The Minecraft mine kit is a blind box toy. Simply chip away at the compacted sand blocks with the included pickaxe to reveal one of six characters hidden within. If you're incredibly lucky, you might find the golden creeper.
Mine blocks in real life and get cool collectibles with a Minecraft mine kit!
The Minecraft mine kit toy is a super cool blind box. Compacted sand similar to a spawn egg forms a protective shell around a collectible Minecraft figure hidden inside. You'll need to dig your way through to collect the prize. Here are the Minecraft characters you might find in the block:
Bee
Creeper
Cat
Steve in Enchanted armor
Villager
Snow Golem
If you're incredibly lucky, you may also encounter the rare golden Creeper in your Minecraft mine kit. This gold-plated beauty appears in approximately 1 out of every 48 digs!
Each character is a hard plastic mini-figure that stands about 1.6" tall. Test your luck and collect them all!
To dig through the outer layer of sand, a Minecraft replica pickaxe is included. Chip away, just like in the game! It's meant to be a test of patience and endurance. However, if you run out of energy, just soak the block in warm water for 30 seconds, and it'll become easier to chip.
On the hunt for that elusive golden Creeper? If you're looking for quantity, grab a small hammer or a large mortar and pestle to crush through quickly.
While it maybe isn't as fun as dutifully chipping away, it's sure to get the job done faster!
Additional Notes
Recommended for ages 3+
Makes a great stocking stuffer!
Rated 4.2 stars with over 600 reviews!
If you want more ways to bring Minecraft in the real world, check out our guide on how to decorate a Minecraft bedroom in real life
Do you enjoy the blind box games of chance? Then you may also enjoy money soap! Get clean, and find a random amount of money inside the bar!
Love the digging, but not into Minecraft? Check out the Dig a dozen gem blocks kit, where you can mine your way to real gemstones!
Want the toy without the digging part? Perhaps a T-Rex egg candle is more your jam. Simply light the candle and it burns away to reveal a hidden dino figurine!