Money Soap – Contains Real Money in Each Soap Bar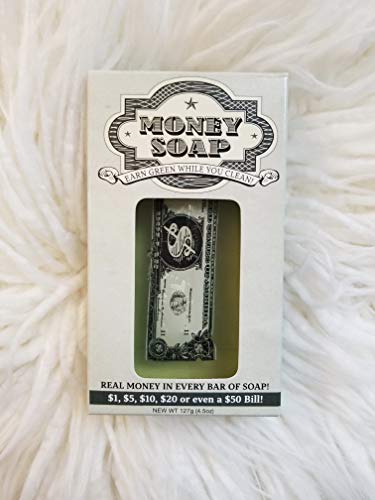 Honey, come quick! You'll never guess what I found. So, I was in the shower just scrubbing away, and next thing I know, I found cash in my bar of soap! Why are you laughing? You stocked the shower with money soap just for fun. What is money soap, exactly?
Money soap is a novelty soap product where a real bar of soap has money hidden inside of it. The cash is placed into a plastic bag for waterproofing, then placed into the soap mold. Melted soap is then poured over it in the mold. Once set, it's a functional bar of soap with a hidden surprise.
Money soap is the bar of soap with real cash and bills in it!
True to its name, money soap does in fact have real money in it. This 4.5 ounce bar of soap contains a bill of US currency hidden inside. Denominations you may receive are $1, $5, $10, $20, or $50.
The soap is 100% glycerin based and scented with a pear raspberry fragrance. It's a delightful scent for use in your home. As you wear it down from normal use, you'll find the surprise money waiting inside!
It's important to remember that a novelty soap like this is designed for the fun of the surprise. The chances of finding a higher denomination bill is incredibly slim. With the price of cash soap, you're paying for the novelty and the chance. As with any type of gambling, the odds against you.
This money soap bar is the perfect gift, especially for kids. It's great as a graduation gift, a stocking stuffer, or for an Easter basket as a candy alternative. They'll have fun, smell great, and maybe get a couple dollars in spending money too!
Additional Notes
Contains real US currency only, no checks or other additions
Glycerin soap is considered safe for sensitive skin, but fragranced soaps should always be spot tested for reaction
Cannot currently ship to Hawaii, Utah, Mississippi, Alabama, Alaska, Montana and Nevada due to state restrictions on gambling products
If you prefer baths instead, check out these hidden money bath bombs