Uranus Soap – It's a Novelty Planetary Cleaning!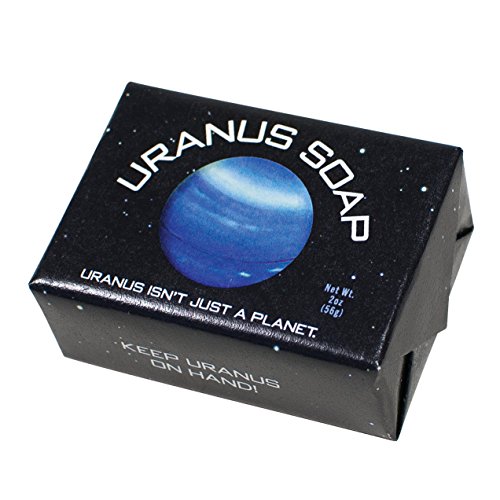 You're so dirty it looks like you've spent a month in space. Go and clean yourself up with some Uranus soap before the company arrives. I don't care if you found gold on an asteroid; you still need to be clean!
Straight from the depths of space to your bathroom comes Uranus soap. Not just a planet anymore, this fun soap will delight friends, family members, and guests alike. It's a great way to have some good, clean fun if you know what I mean. Everyone loves clean puns!
Clean that mess up with the help of the novel Uranus soap!
Look, everyone knows that life is messy. So, why not have a little fun in the cleanup with the help of Uranus soap? It's real soap, named after everyone's favorite planet.
This 2 oz mini soap bar is perfect for the side of nearly any sink. After all, you always want soap on hand when Uranus is involved. That's because I hear it's quite messy, you see.
While it's designed to get you clean, it won't leave behind any sort of stink. Yes, this soap bar is unscented. I'm not sure what you think Uranus would smell like, but I assume this is the safest option.
Not a fan of this sort of bathroom humor? Don't worry!  There are a variety of other novelty soaps to choose from, such as:
Joy of Bathing, featuring Bob Ross
Bath-Time Continuum soap, from Einstein himself
Freud's Wash Fulfillment soap
The Scarlet Letter bar, Hester Prynne approved
Lady MacBeth's soap, guaranteed to remove those pesky spots!
Jean-Luc Picard's Make It Soap (it's even Earl Grey scented)
Nihilism soap, because why not
Many more!
All the soaps are perfectly pocket sized and make ideal soaps to have on hand for guests. Featuring witty puns and hilarious literary references, they're sure to bring smiles anywhere they go.
Additional Notes
Made in the USA
Measures 2.25″ x 1.75″ x 1″ – perfect stocking stuffers!
Not tested on animals
Recommended for ages 13+ due to the nature of the humor
Rated 4.4 stars with over 750 reviews!
Made from shea butter, cocoa butter, olive oil, grapeseed oil and glycerin
If you enjoy a bit of potty humor, then play some toilet tag with your partner, and learn more about each other!
For more great soaps for gifting, check out money soap. Each bar has real currency inside!
The craft beer lover in your life will certainly appreciate receiving this beer soap gift pack by Swag Brewery!
After visiting Uranus, you may want to consider buying a touchless soap dispenser for your bathroom!
In the kitchen, use this Rub Away bar to remove stinky odors from your hands by simply rubbing them on this stainless steel soap!
Learn more about Uranus with this crystal solar system model. Yes, the planet…what did you think I was talking about?
Love great puns? Then add some to the kitchen too with these bear hands oven mitts. You never want to grab a hot dish with your bare paws!
Fun does indeed come in small packages. Take for instance this birthday party in a matchbox
Check out these tiny baking and science kits for more small-scale entertainment