Toilet Tag – The Shareable Bathroom Humor Potty Game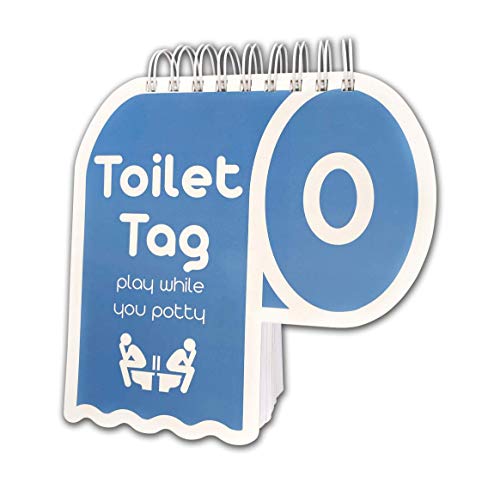 Why do you always take your phone with you to the bathroom? Don't you have anything better to do aside from scrolling through social media? Here, I got us this Toilet Tag game to try instead. This should give you something fun to do, and we can learn more about each other!
Toilet games are games designed to be played while doing your business. There are many different types from crosswords to Sudoku, to trivia style games. These games are intended to give your brain a workout instead of mindless phone scrolling.
If you share a toilet, you can share the laughs when you play the Toilet Tag game together!
Toilet Tag is a game designed for two adults who share a bathroom. Whether you're a couple or roommates, you're in for a good time. We're not kidding about the "adult" part – this game is rated for ages 17+. Don't put this one in grandma's stocking! This game will take you and your partner on a journey, all while you're sitting on the potty.
Inside Toilet Tag, you'll find four different question categories. The hypothetical category has questions like: if you could get a tattoo for a week, what would it be, and where? The trivia category might ask you to name your partner's top 3 fast food choices, in order. The reveal category looks at the past: What was your first job, and what would you tell someone working there today? The last category is action, where the responses might earn a reward. For instance, whoever writes the better knock knock joke gets a foot massage!
There are 200 pages just filled with fun to explore. You better sit down for this one (yes, guys too) – it's going to be a wild ride! Toilet Tag makes a great addition to your home bathroom, or a hilarious gift. Grab one for a stocking stuffer, Valentine's Day, or a wedding or engagement gift. Just don't show it to your mother-in-law!
How do you play Toilet Tag?
Playing Toilet Tag is simple – all you need is a pen. It starts with one person completing a response to the question posed on the current page. The next person then responds as well, and completes the first half of the question on the following page. Then, the cycle repeats!
Each person gets a chance to read, laugh, and learn about their partner as they go. Don't skip ahead – this game was designed with a clear path in mind.
Additional Notes
Recommended for ages 17+
Need a kid friendly game? Check out the functional and decorative toilet paper tic tac toe instead
Book is 8 x 7.5 x 1.13 inches and weighs just over a pound
4.6 star rating with 500 reviews – toilet time approved!