Shoe Washing Machine – Apartment and Dorm Portable Washer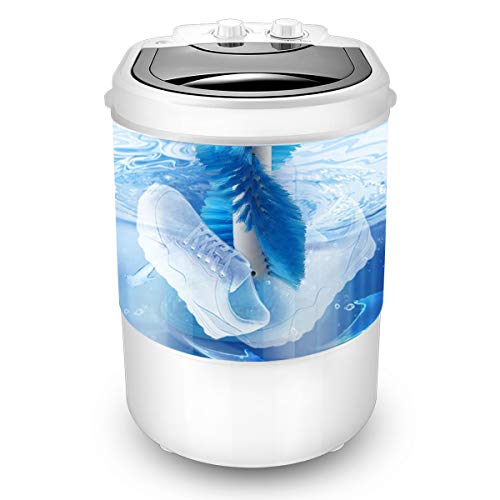 No, yinz kids aren't bringing your shoes over here to wash after you've been out hiking in the mud all day. I know the washers at your dorm costs quarters, but you'd have some if you didn't spend them all on Ms Pac-Man! Try out a portable shoe washing machine instead. You should be able to use a portable washing machine in your apartment.
Portable washing machines are often allowed in an apartment, but you should be sure to check your lease for specific restrictions. Due to the risk of flooding from improper use, sometimes a landlord may prohibit them. If you install a washing machine without permission, a landlord could evict you.
A mini portable shoe washing machine is easy to use when needed, then hide away when you're done!
At only 14 x 14 x 21 inches, this mini portable washing machine is a breeze to hide when not in use. It fits neatly in a cabinet, in a closet, and even under some sinks. Just make sure to drain and dry completely to prevent damage.
No permanent installation is needed for this portable washer. Simply fill, wash, drain, and store. It's perfect for condos, apartments, dorms, hotels, RVs, and more!
How do I use a portable washing machine?
Portable washing machines are relatively easy to use. First, place your garments or shoes in the washing machine. Next, fill it with water and add detergent. Set the knobs to the desired cycle, and let it run. Once complete, use the drain hose to drain the water into a sink or bathtub.
This washer has several different functions. It can wash regular laundry, with a 10 pound capacity. It's also perfect for washing sneakers. An included nylon brush slides into the drum for assistance in scrubbing shoes. Finally, a spin cycle basket can be inserted for use in no heat tumble drying.
Do portable washing machines use a lot of electricity?
No, portable washing machines do not use a lot of electricity. The included power cord is a 110V (US) cord that provides for a 260 Watt power draw. This is just slightly more than a home humidifier or an electric blanket uses.
Portable washing machines also do not use a lot of water. This model uses around 10 gallons of hot or cold water, with variation depending on your specific load size. This is very water friendly compared to a standard washing machine, which averages 20 gallons per load.
Additional Notes
Available in black & white or blue & white colors
Weighs 11 pounds empty
15 minute max wash cycle
Can wash 2 pairs of adult shoes or 3-4 pairs of baby shoes at a time
Unit may arrive with water residue from leak testing, wash before first use
Top 100 best seller in Portable Clothes Washing Machines on Amazon
Rated 4.8 stars for its small space feature
Try protecting your shoes before they get wet and muddy with these waterproof shoe covers
Thanks to these waterproof socks, you never need to feel that gross, soggy slog on your feet again!
Keep the inside of your shoes odor free with the unique Crep Pill shoe freshener!