LED Turn Signal Backpack – Alert Traffic when Biking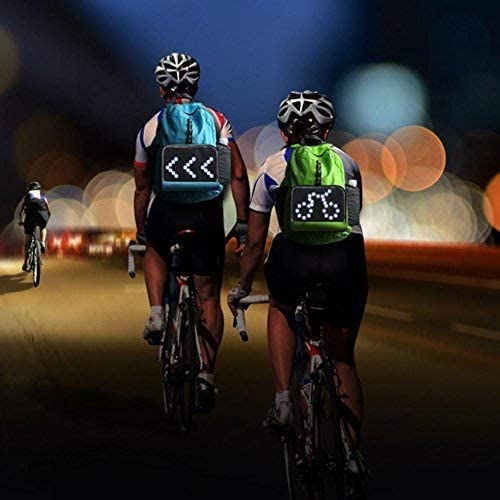 Why am I looking so perplexed? Well, I'm having this conundrum. I want to put on a backpack to bring stuff on my bike ride, but I don't want to block my shirt's reflective properties. I should just get an LED turn signal backpack? Why didn't I think of that!
An LED turn signal backpack not only holds your cargo but serves as a safety tool as well. LED lights built into the bag are operated via a remote on the front of your bike. Indicate when you're turning, stopping, or just light it up when in motion for additional visibility.
Carry your things and still be safe with the LED turn signal backpack!
Nearly anyone who bikes is going to want to bring supplies along, but never at the expense of their safety when riding. Thanks to the LED turn signal backpack, now you can have your cake and eat it too, or whatever the cycling equivalent is.
This LED turn signal backpack is the best of both worlds. It's first and foremost a spacious yet lightweight backpack with a 20L (0.7 cu ft) capacity. A water-resistant nylon shell keeps things dry. Padded, reflective shoulder straps keep the bag on your body. A hanging loop makes storage and carrying easy.
Two side pockets hold water bottles for hydration. A zippered front pocket holds small items like keys, and a large main compartment holds your other essentials. A rain jacket and an emergency kit are always great ideas to pack along.
Aside from the reflective materials on the bag, where it really shines is the LED turn signals! A panel on the rear of the bag features built-in LED lights. Using a control panel that mounts to the handlebars, just press a button to indicate one of five signals:
Left turn
Right turn
Stopping
Moving forward
Standing by
The bright lights not only add visibility but also helps others on the road identify what you're doing. This keeps you safer in all ways when riding! 
When you reach your destination, the bag folds in on itself into a small, zippered carrying case that's easily stashed until you need it again.
Does the LED turn signal backpack require batteries?
No, the LED turn signal backpack does not require batteries. It uses a rechargeable power brick with a USB cable for charging.
On average, a full charge should give you around 20 hours of use time while riding.
Additional Notes
Available in green or blue colors
A smaller lite version of the bag is also available
You may also like the Lumos Kickstart helmet, with lights and turn signals built into your head protection!

Lumos Kickstart Smart Bike Helmet, Charcoal Black | Front and Rear LED Lights | Turn Signals | Brake Lights

Fill those water bottle pockets with an O2Cool mist 'n sip bottle, which offers hydration and cooling misting action!

O2COOL ArcticSqueeze Insulated Mist 'N Sip Squeeze Bottle 20 oz., Green/Purple Splash

A bike phone mount keeps your cell phone right at hand during emergencies, or for GPS navigation

visnfa New Bike Phone Mount with Stainless Steel Clamp Arms Anti Shake and Stable 360° Rotation Bike Accessories/Bike Phone Holder for Any Smartphones GPS Other Devices Between 4 and 7 inches

Add some snazzy bike wheel lights to not only look cool, but to also be seen at night!

TGJOR Bike Wheel Lights, LED Waterproof Bicycle Spoke Tire Light with 32-LED and 32pcs Changes Patterns Bicycle Rim Lights for Mountain Bike Road Bikes BMX Bike Hybrid Bike Folding Bike (one Light)

Don't let some inclement weather slow down your bike riding. Just use the snow e bike and let your winter woes fade away!

iDea Electronics P30-26 Snow e-Bike in Black/orange

IDEAPLAY Electric Bike 26"- 350W Electric Bicycle With Removable 36V- 8A Lithium Battery 20 mph Adult Electric Bicycles With 21 Speed Orange-Black Color | iDea Electronics P30-26 Snow e-Bike in Black/orange