The Inflatable Human Bowling Ball Game Lets You Roll with It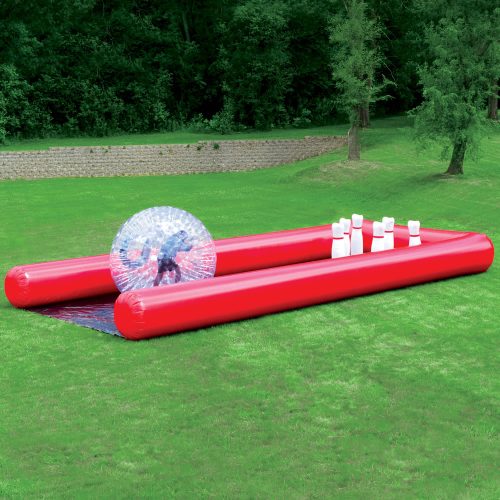 If you've ever envisioned yourself hurtling down the lane at a bowling alley and knocking down the pins with your body, then I have good news for you. You'll now be able to live out that dream without having to skid down a greased-up lane, thanks to the inflatable human bowling ball game.
I couldn't help but give it a spin (or is that a roll?), and I want to share my impressions with you if you're thinking of setting up a backyard bowling alley this summer.
What is the Inflatable Human Bowling Ball Game?
The inflatable human bowling ball game is much like it sounds. A player zips into a giant inflatable ball. Then, they run inside it to roll down a large, inflated track towards a set of bowling pins at the end.
Basically, you become the ball in this larger-than-life outdoor bowling alley. Though, it does offer more control than regular bowling. I just hope I can finally score a turkey!
Features of the Human Bowling Game
Includes ball, lane, and 6 pins
Suitable for ages 5 and up
Made from weather resistant vinyl
Pins filled with foam for stability
Ground tethers are included
Pros and Cons: Things to Know About the Inflatable Human Bowling Ball Game
Positive
Suitable for kids through adults
Fun outdoor activity
Reusable through many seasons
Negatives
Requires a lot of space
While rip and tear resistant, it can be damaged
High price point
Needs to be plugged in continuously during use
Are There Different Versions of the Human Bowling Game?
There are no different versions of this human bowling game.
However, other varieties of human bowling games do exist, though they are not readily available for retail sale.  The variations typically seen are:
Track shape and color
Number of pins
Size and style of ball
All of them are designed to work in the same fashion, though.
Frequently Asked Questions About the Human Bowling Game
How do you play human bowling?
1. Roll out the alley on the ground
2. Plug in the blower and allow to inflate
3. Add tether stakes to secure to ground
4. Place pins at end of alley in 1-2-3 triangular pattern
5. Inflate PVC ball
6. Unzip zipper, step inside, and re-zip to secure
7. Walk or run inside the ball to propel forward
8. Roll down the alley, trying to knock down as many pins as possible
9. If playing with other people, swap players in ball
10. Repeat for as many "frames" as desired
11. The player who has knocked down the most pins wins

I recommend doing 10 rounds like a real bowling game. However, if you're short on time, feel free to adjust to fewer passes.
Where can you set up the human bowling game?
The human bowling game is designed for use on grass. Rocky terrain may damage the inflatables. Sand is too soft to hold tethers, and concrete or other hard surfaces cannot accept the anchors either.

If you did want to use it in sand or a hard surface, I think you may be able to modify the tethers and secure it in another fashion. Just note that that is not the intended use.
Similar Products to the Inflatable Human Bowling Game
There are no similar products for sale to compare to this giant inflatable bowling game.
However, I found a human bowling ball rental option that's a pretty similar set up. If you're having a party and plan to just use it one time, this may be a more cost effective alternative to purchasing your own.
In this version:
There is no alley, pins are placed on the ground
Legs stick out from the ball, and you run along the ground and "bump" the pins
Would work on other surfaces more easily
I love the convenience of having one to use any time I want, but I also understand that might not be an option for everyone.
Our Overall Ratings of the Inflatable Human Bowling Game
Inflatable Human Bowling Game
This human bowling game requires a little prep work for setup and takedown, and a lot of space. However, it's family fun approved by kids and adults alike. While the up front cost is a lot, I expect to use this toy for several seasons.
Bottom Line
In short: If you're able to invest a little bit more for a game everyone will enjoy for several years, then I think this inflatable human bowling game is a great pick. You could even rent it out to others when not in use to recoup some of that initial investment.
I enjoy bowling, being outdoors, and playing games with friends and family. To me, this is a no-brainer choice for a good time. However, I also realize this toy isn't practical or possible for everyone, so use your best judgment of your own situation!
Where to Buy
If you're ready to purchase an inflatable human bowling game, here is who is selling: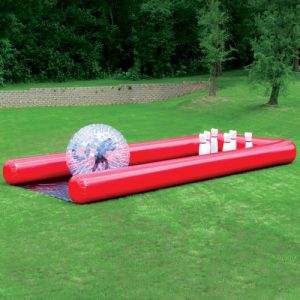 Related Products
Here are some other bowling inspired options to check out:
Slip and Slide bowling sends you down an outdoor water slide track to knock out pins on a small raft!

Wow Watersports Strike Zone 19-2010, Giant 25 Foot Water Slide with Inflatable Pins and Sleds
While you might not be the ball in this giant inflatable bowling set, it's still a great way to have some backyard bowling fun on a smaller scale

Etna Giant Inflatable Bowling Set
Go super small instead with mini bowling, the desktop sized wooden bowling alley you can play at work!

Shindel Mini Bowling, Wooden Desktop Tabletop Bowling Indoor Bowling Toy Classic Desk Ball Board Toy
Forget the track, just grab a human hamster ball and roll around the yard bouncing into each other!

Happybuy 2PCS Inflatable Bumper Balls 5 FT / 1.5M Diameter, Bubble Soccer Balls, Blow Up in 5 Min, Inflatable Zorb Balls for Adults or Children (5 FT, Red & Blue Dot)
Literally step into your favorite arcade game with this giant inflatable human whack a mole!

Giant Inflatable Human Whack A Mole for Adults, Inflatable Interactive Game with Air Blower(14.8ft x 6ft)