Human Whack a Mole Lets You Step into the Game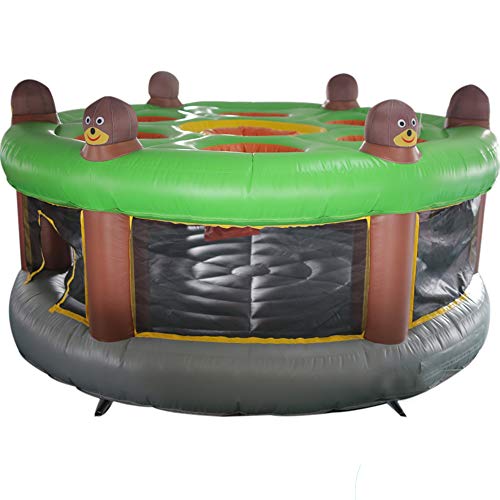 Oh my goodness. Just the thought of being able to whack the neighbors and the kids without getting in trouble is enough to add to cart instantly. That's right, now you can bop all those frustrations away with an inflatable human whack a mole game!
While I'm still working on achieving my new high score, I wanted to share our thoughts on this super fun backyard toy. I'll give you a little preview though: it's perfect for all sorts of outdoor summer fun.
What is Human Whack A Mole?
Human Whack a Mole is based on a classic arcade game. Traditionally, you'd use a small mallet to hit "moles" as they pop up through openings around the board. In this version, people pop up through the holes, and the player tries to bop them with an inflatable.
Suited for both kids and adults, this unique spin on the arcade classic is designed for backyard, park, and other outdoor use.
Features of the Human Whack a Mole Inflatable
Made of thick PVC to reduce accidental pops
Accommodates up to 7 players at a time
About 15' in diameter,  6' tall, and weighs about 146 pounds
Includes sandbags and tethers for securing
Pros and Cons: Things to Know About the Human Whack a Mole Inflatable
Positive
Fun outdoor toy, suited for families or parties
Encourages active play
Great for all ages
Negatives
Blower needs constant power source while in use
As an inflatable, it can be popped during rough use
Doesn't come with balls
Are There Different Versions of Human Whack a Mole?
There are two different version of human whack a mole:
The adult-sized version we have, which is 6 feet tall
A child-sized option, which is 4.43 feet tall
Both are otherwise the same, aside from the height difference. There are some different colors and finishes available as well, but they're all the same at the core.
Frequently Asked Questions About Human Whack a Mole
What is the weight limit of the human whack a mole inflatable?
The children's human whack a mole can support up to about 800 pounds. The adult size should hold 6 average sized adults comfortably.
Human whack a mole instructions
1. Inflate the game by plugging the blower into an outlet
2. Secure to the ground using stakes and sandbags
3. One player with mallet stands in center circle
4. Fill the trench around the central circle with balls
5. Other players hide under the remaining 6 circles around the inflatable
6. The mallet-wielding player shouts "go"
7. The other players attempt to pop up through the holes and grab balls from the trench around the center hole
8. If they are caught and hit by the mallet, they must drop any balls in their hands
9. When all balls run out, the player with the most grabbed wins
10. For an added challenge, assign players specific color balls they can grab, and set a time limit
11. Replace the balls, rotate the "whacker" and start another round, if desired

It feels a bit like inflatable Hungry, Hungry Hippos with the added Whack-A-Mole element!
Similar Products to Human Whack a Mole
There are no similar products to human whack a mole for sale.
However, I found a human whack a mole rental option that's nearly the same (just a different color material). If you're only planning to use it once for a get together, this may be a better alternative vs purchasing your own.
Our Overall Ratings of Inflatable Human Whack a Mole
Giant Inflatable Human Whack a Mole
I love the classic arcade feeling in a fun, interactive game the whole family can enjoy. It's great for parties and tons of fun.

The only drawback is that, as an inflatable, it can be damaged and/or popped. Thankfully, a patch kit can set you back on your way, and this game should be usable for many seasons.
Bottom Line
In short: If you love Whack a Mole and are looking for an interactive game to bring it to life, you'll enjoy this inflatable giant-sized version.
Sure, it takes up some space and is a little costly. However, I anticipate we'll get many years of enjoyment from it. Plus, we can always rent it out to friends, family, or neighbors when we're not using it. Seems win-win to me.
Where to Buy
Ready to slide into your own inflatable human whack a mole game? We found a few places selling to compare prices:
In addition, I recommend using some ball pit balls (Amazon link) as a simple and inexpensive pick for what's needed around the central opening.
Related Products
Here are some other similar products you may enjoy:
Become the ball in your own bowling alley with this inflatable human bowling game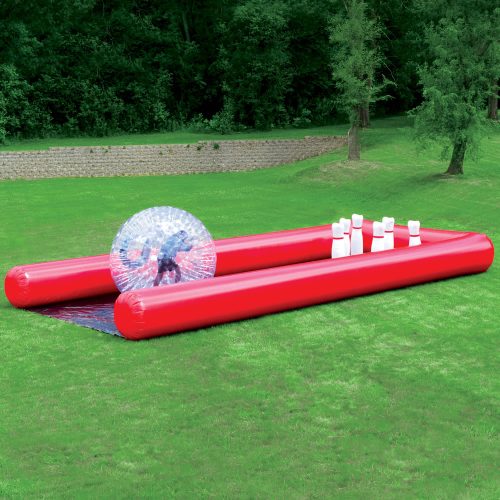 The Human Bowling Ball
This is the inflatable bowling game that challenges players to assume the
Or, grab your swimsuit and knock down pins on the giant slip and slide bowling waterslide!

Wow Watersports Strike Zone 19-2010, Giant 25 Foot Water Slide with Inflatable Pins and Sleds
Looking for an indoor game to enjoy? How about a personalized whack a mole arcade cabinet so you can bop your family and friends any time!

The Personalized Whac-A-Mole Game
This is the Whac-A-Mole game that can be personalized to replace the standard mole heads with molded caricatures using pictures of members of your family, past managers, boyfriends/girlfriends, or any desired combination of personalities. The game operates exactly like the ones found in amusement...
There's even a tiny version perfect for you desk thanks to this Whac a Mole mini arcade game

Basic Fun Whac-A-Mole Mini Electronic Arcade Game
Giant Inflatable Human Whack A Mole for Adults, Inflatable Interactive Game with Air Blower(14.8ft x 6ft)
as of October 23, 2022 12:56 pm
Features
Inflated external size: 4.5 x 4.5 x 1.8mH/14.8 x 14.8 x 6ft(Length x Width x Height); 6ft Tall didn't include mouse head; middle height is 3.28ft Tall
Material: 0.4mm + 0.55mmPVC tarpaulin, 5X THICKER than ordinary inflatables
Accessories: 1pc air blower + 1pc inflatable mallet + Ropes + Sandbags + Repair cloth
Application: Six players pop up from their "Mole Holes" and snag the balls(customer need buy it by youself) on the surface. Hide back down before the player in the center of it all can WHACK your "Mole Head" with the inflatable mallet! The player that retrieves the most balls from the surface wins the game. 7 players can play.
Size choose: 6ft for Adults, 4.43ft for Kids; A great way for gathering people to stay active and have fun at the same time.