Laser Tag Spider – The Battling Bug Bites Back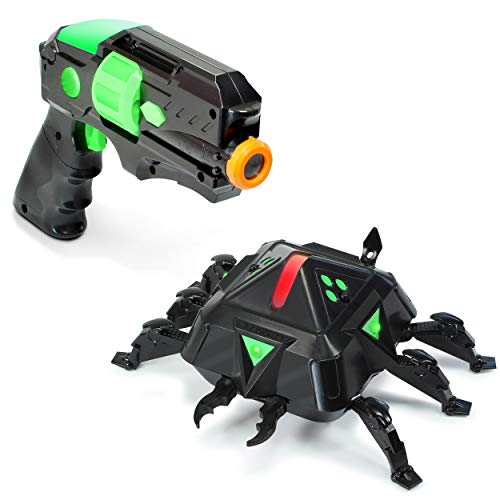 The last thing I want creeping around the house is a spider. Thankfully, when the kids asked for one, they really meant the ArmoGear laser tag spider target instead of the real kind. This is one version of the arachnid I could actually enjoy!
We took this cool toy for a spin, and are here to share our review if you're looking for a fun new laser tag style game to play. Whether you're a kid or kid at heart, it's a game for everyone.
What is the ArmoGear Laser Tag Spider Target
The ArmoGear laser tag spider target is actually a two-piece set that includes a spider-shaped target and a laser blaster. The robot spider runs around and actually returns fire!
This makes it ideal for target practice, as well as solo play if you don't have a human laser tag opponent available.
Features of the ArmoGear Laser Tag Spider Target
Safe for use indoors and outdoors
Recommended for ages 8+
Has modes for solo play as well as teams of 2, 3, or 4
Registers shots from 15 ft away
Features 3 difficulty levels
Hit impact sensor is in blaster, no chest receiver required
Pros and Cons: Things to Know About the ArmoGear Laser Tag Spider Target
Positive
Great for active play in any season
Lots of fun for a wide variety of ages
Versatile play modes work for many occasions 
Compatible with other existing ArmoGear sets as an add on "battle bug"
Uses safe infrared technology
Negatives
Requires a lot of batteries (6 AAA at a time)
Need to purchase additional blasters to play in teams
Gets pretty noisy with the game sounds
Are There Different Versions of the ArmoGear Laser Tag Spider Target?
While there aren't any different versions of the spider target itself, ArmoGear does offer several other different packages that it comes in:

Laser Spider
Target
Check Prices
Bottom Line
Standalone. The add-on standalone spider laser tag target is just the battle bug. This option is ideal if you have an existing laser tag system already.

Inflatable Barrel and Spider Target Combo
Check Prices
Bottom Line
Course Package. This inflatable barrel and spider target combo gives you the robot and 4 inflatable neon colored barrels to build your own course. You'll still need the blasters separately, but it's great for building a fun environment.

Laser Tag and
Spider Combo
Check Prices
Bottom Line
Complete Package. If you're lacking the laser blasters, get the whole kit n' caboodle with the complete laser tag and spider target package. It comes with 4 blasters, 4 wearable receivers, the battle bug, and 2 charging stations.
If you're concerned about the battery life in the regular style blasters, I highly recommend the last option for the rechargeability factor.
Frequently Asked Questions About the ArmoGear Laser Tag Spider Target
Is the Battle Bug compatible with other laser tag weapons?
The Battle Bug spider target is compatible with all ArmoGear laser tag weapons. It will not work with other brands.
What kind of batteries does the laser tag spider target need?
The ArmoGear laser tag spider target works with AAA batteries. The robot needs 3, and the blaster needs an additional 3.
Alkaline batteries work best, as rechargeable batteries tend to give mixed results with the set functioning properly.
What surfaces can you use the ArmoGear laser tag spider on?
The laser tag spider bot works best on hard surfaces, such as asphalt, concrete, hardwood, tile, or cement. It also works fine on carpet, though you may experience a slowdown in very shaggy or high pile carpet.
We noticed a significant struggle in grass, so unless your lawn is recently clipped, the robot may struggle there.
Similar Products to the ArmoGear Laser Tag Spider Target
Kidzlane Spider Target vs. ArmoGear Laser Tag Spider Target
| | | |
| --- | --- | --- |
| | Kidzlane | ArmoGear |
| Power Source  | Rechargeable battery | 3 AAA batteries (alkaline) |
| Moves | Yes | Yes |
| Returns fire | No | Yes |
| On Hit | Flips over | Makes noise |
| Set Compatibility | Kidzlane only | ArmoGear only |
| Bot size (approximate) | 4" | 8" |
| Range | 130 feet | 15 feet |
| Retail Price | $14.99 | $24.99 |
Kidzlane vs ArmoGear Laser Spider Target
The Kidzlane spider target is the most similar product to the ArmoGear laser tag spider. While it's a lower cost, the Kidzlane robot is only about half the size of the ArmoGear. While I think the "play dead" feature is fun, I personally get more enjoyment out of the bot shooting back.
You'll also find that while the Kidzlane has a longer range, it tends to lead to a bigger "hit box" meaning that the response is less accurate. So, if your kids have poor aim and just want to "kill" the bug it's great, but doesn't make for great target practice as it's too forgiving.
If you have an existing Kidzlane laser tag set, it's not a bad add-on option. However if you're starting fresh, I like the features and interactivity of the ArmoGear more. Not to mention, it's definitely more sturdy and holds up to tougher play, making it worth the additional cost to me.
Our Overall Ratings of the ArmoGear Laser Tag Spider Target
ArmoGear Laser Tag Spider Target
This game is a ton of fun for the kids and the adults. I wish the battery life was better, and I also would like to be able to silence it sometimes. That being said, you can circumvent my two biggest concerns with the complete pack they offer, which has both silencers and rechargeable batteries for the blasters.
Bottom Line
The ArmoGear spider bot is great fun for both solo and team play. It gets you moving, and helps improve hand eye coordination in kids. Pivot seamlessly between family fun night and a group of kids playing together at a party!
While it's got a couple drawbacks, there's nothing that would stop me from purchasing another one. Even as an adult I think it's a blast hunting the little spider robot all around the living room.
Where to Buy
If you want to get your own laser tag spider target set, here are some different options for price comparison:
Related Products
Here are some other similar products you may enjoy:
Looking for blasters only? Check out the Best Choice laser tag 4 pack

Best Choice Products Infrared Laser Tag Blaster Set for Kids & Adults w/ Multiplayer Mode, 4 Pack
If you like lasers, use them, use them to play games on your walls with the Projex projecting arcade game

The Wall Projecting Virtual Target Game
This is the wall projecting arcade game that challenges children to take aim at virtual targets with laser blasters. The rotating console projects images of bullseyes, U.F.O.s, or ducks on the wall of a darkened room as two players battle for the highest score. The system console comes with five...
Who needs guns when you have tanks? These RC battling tanks feature fireable infrared turrets and action sounds!

The RC Battling Tanks
These are the remote controlled battling tanks that fire infrared "projectiles" at each other from 360u00BA rotating turrets. The tanks move on realistic treads and are fitted with a cannon that fires an infrared beam 12' away at a sensor on the enemy tank. When a tank is hit, LEDs...
Shoot sweets instead of lasers at each other with a marshmallow blaster toy!

Zing Marshmallow Pump Action Blaster - Great for Indoor and Outdoor Play, Launches up to 30 Feet For Ages 8 and Up
ArmoGear Laser Tag Shooting Game | Kids Laser Tag Gun with Spider Set | Indoor and Outdoor Target Shooting Toy | Ideal Electronic Gift for Boys Ages 8+
2 new from $32.99
Free shipping
as of October 29, 2023 4:27 pm
Features
Bot Challenge: Go up against bot with this laser tag target one on one with battle mode. It runs around and shoots back! Fun toy guns for boys, and toys for teens!
Three Modes: To win, shoot the laser tag spider 9 times before it shoots you. A 15 ft shooting distance provides plenty of room to aim and run for cover. Requires 6x AAA batteries (not included).
Guided Gameplay : Dramatic sound effects indicate when shooting or hit and a voice guide announces the play by play. Kids ages 8 and up will want to compete against this warrior bug.
Team Capabilities: Our targets for shooting bug has 4 team modes with 4 player capacity, when played with additional Laser Battle or Mini Battle Blaster guns. Split up into teams and play!
Armo Gear Quality: As with all things Armogear, this lazer tag game conforms to rigid quality control and is 100% safety tested & certified. Please contact us with any issues or concerns.