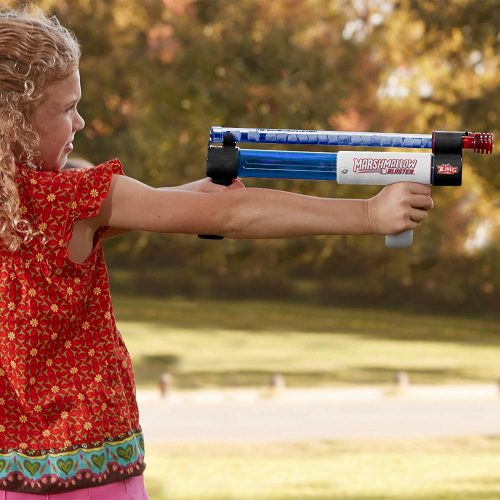 Ah, summertime. To me, that's memories of making s'mores around the campfire. Consequently, it's also reminiscent of bags of stale marshmallows everywhere. What if I told you that you didn't need to toss them? Turn them into ammo for your marshmallow blaster gun instead!
Things got a little sweet and sticky here, but I'm pleased to report that a lot of fun was had. So, here's our review of the marshmallow blaster if you're looking to add one to your summer arsenal.
What is a Marshmallow Blaster Gun?
A marshmallow blaster gun is a toy similar in style to a NERF blaster. However, instead of using foam darts as ammo, this variant uses squishy marshmallows.
This particular model uses mini-sized marshmallows you can find at nearly any grocery store. Thankfully, I find it works pretty well even if they're stale, so it's a great use for marshmallows that are "past their prime".
Features of the Zing Marshmallow Blaster Gun
Pump-action style firing
Safe for use indoors and outdoors
Dishwasher safe marshmallow compartment for easy cleanup
Fires mini marshmallows up to 30 feet!
"Magazine" holds 25 mini marshmallows at a time
Recommended for ages 8+
Pros and Cons: Things to Know About the Zing Marshmallow Blaster Gun
Are There Different Versions of the Zing Marshmallow Blaster?
Yes, there are 5 different versions of the Zing marshmallow blasters:
Marshmallow Blaster Range and Capacity
Frequently Asked Questions About Marshmallow Blaster Guns
Similar Products to Zing Marshmallow Blaster Guns
Zing Marshmallow Blaster vs Buzz Bee Toys Air Warriors Blaster Mini Marshmallow Attack
Zing Marshmallow Blaster vs NERF Marshmallow Shooter
Zing Marshmallow Blaster vs Smart Gear Pump Action Marshmallow Raider
Zing vs the Marshmallow Fun Co Blasters
It should also be noted, if you've seen similar blasters under the Marshmallow Fun Co brand, they were acquired by Zing in 2019. So, these are the same toys, just under a different label.
Our Overall Ratings of the Zing Marshmallow Blaster Gun
Bottom Line
If you're looking for a fun activity that the whole family will enjoy, these marshmallow blasters are great fun. I do recommend using them outside though, unless you want to be finding marshmallows for weeks.
You do need to take the time to make your marshmallows stale (or use up old ones) or to coat them in cornstarch for the blasters to work well. Otherwise, they have a tendency to get sticky and not shoot, which isn't a whole lot of fun.
Where to Buy
If you want to get your own marshmallow blaster gun, here are some different options for price comparison:
Related Products
Here are some other similar products you may enjoy:
This toilet paper blaster uses your everyday bath tissue for backyard warfare!
Really make it rain with a money gun, and amaze your friends with your fat stacks!
Bring your favorite video game into real life with the Fortnite BASR-L blaster
Enjoy a fun game of laser tag at home with this family 4-pack
The ArmoGear laser tag spider target gives you a battling bug as an adversary!
Speaking of lasers, use them to play games on your walls with the Projex projecting arcade game
The fun doesn't have to stop in the wintertime thanks to this snowball launcher
No matter what you're rocking, this Nerf Command Base Battle Fort makes the perfect headquarters 
Get some accuracy practice in with Astroshot Zero floating ball targets