Astroshot Zero – Nerf Compatible Glowing Floating Target Game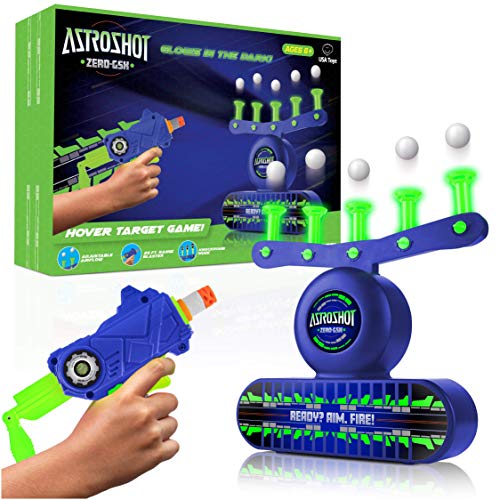 Who left ping pong balls all over the floor in here? Wait a minute, these are definitely not ping pong balls. I bet the kids were playing with their Astroshot Zero floating ball targets and that Nerf gun again.
Floating ball targets are actually smaller than a ping pong ball and made of a lightweight foam material. Using a stream of air from a base unit, they hover at various heights to serve as floating targets. With a Nerf or similar foam dart gun, practice taking them all down.
Become a Nerf sharpshooter when you practice on these Astroshot Zero G floating ball targets!
If you're looking for a fun way to practice hand-eye coordination, look no farther than these Astroshot Zero GSX floating ball targets. This set includes everything you need to create an indoor target practice range, right in your living room!
You'll receive:
The shooting gallery unit
A foam dart gun
10 hover-compatible ball targets
10 foam darts for "ammo"
5 knockdown targets
Choose between the stationary or the hovering mode for customizable fun! A simple flip of the switch on the base unit toggles between the knockdown or hover mode for the targets.
For Astroshot hover mode, a knob adjusts the air stream so the balls may be sent higher or lower. Keep them all the same height or choose all different heights for a challenge!
When you're ready, simply load a foam dart into the gun, pull back the hammer, and take aim. Then, depress the trigger and shoot at your desired targets! It has up to a 25 ft range, so feel free to experiment with farther distance shots to really test your skills.
If you want to go head-to-head with a friend, any foam dart Nerf gun is compatible. Grab one, and then see who can take down the most floating ball targets!
Continue the fun even at nighttime, since these Astroshot Zero GSX targets also glow in the dark! I also love that the unit runs on 4 AA batteries or with a USB power cord. If the lights are out because the power is out, you'll still be able to play!
Additional Notes
Recommended for ages 6+
Batteries not included
Unit measures 11.25″ L x 3″ W x 12.75″ H
Rated 4.4 stars with over 3,600 reviews – kid and parent approved!
Take aim with the Nerf Fortnite BASR-L blaster and show off your precision skills!

Nerf Fortnite BASR-L Bolt Action, Clip Fed Blaster -- Includes Removable Scope, 6-Dart Clip and 12 Official Nerf Elite Darts

Now that your shot is on point, take down the Covenant with the Halo Nerf Needler gun!

NERF LMTD Halo Needler Dart-Firing Blaster, Light-Up Needles, 10-Dart Rotating Drum, 10 Elite Darts, Game Card with in-Game Content

If you're as good at losing target balls as I am, try this wall projecting arcade game instead

The Wall Projecting Virtual Target Game

This is the wall projecting arcade game that challenges children to take aim at virtual targets with laser blasters. The rotating console projects images of bullseyes, U.F.O.s, or ducks on the wall of a darkened room as two players battle for the highest score. The system console comes with five...

Practice your kicking precision too with an outdoor soccer scoring challenge 

The 7' Soccer Scoring Challenge

This is the 7'-tall soccer goal that challenges players to score points by kicking soccer balls into its six built-in targets. Combining the skills of soccer with gameplay similar to that of arcade bowling games, the net captures balls in one of the six holes and lets it fall to the ground for...

Put those sharpshooter skills to good use in a snowball war with this snowball launcher!

Cabilock Snowball Launcher Snowball Blaster Snowball Maker Mold with Safety Goggle Snowball Fighting Toy for Children Adult Outdoor Winter Games Toys

Looking for more cool Nerf toys? You can wield Mjolnir with the Nerf Power Moves Thor hammer!

Avengers NERF Power Moves Marvel Thor Hammer Strike Hammer NERF Dart-Launching Toy for Kids Roleplay, Toys for Kids Ages 5 and Up