NERF Power Moves Thor Hammer Mjolnir | Avengers Assemble!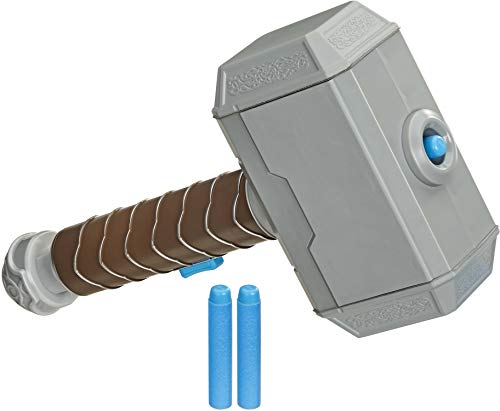 Whew, what a storm outside. There's lightning everywhere! What are yinz kids laughing about in here? You think you caused this storm playing with your Avengers NERF Power Moves Thor hammer Mjolnir? While you might like pretending to be a lightning god, I don't think it quite has that sort of power.
Mjolnir is the mighty hammer of Thor, depicted throughout his stories in the Marvel universe. It is said that only those who are worthy can wield the hammer. This iconic weapon has been replicated in all sorts of designs for fans of Thor and the Marvel Avengers universe. Whether a collectible replica, a foam toy, or a functioning NERF gun, you'll find all sorts of different versions of the legendary Norse hammer available to bring home.
Wield the power of lightning with this Marvel Avengers NERF Power Moves Thor hammer Mjolnir!
This official NERF Power Moves replica of Thor's iconic hammer Mjolnir in the Marvel Avengers series brings the power to your home. Thor, the son of Odin, is best known for his appearance in several of his own Marvel movies, as well as being part of the Avengers series. He uses his hammer Mjolnir and the power of lightning to protect both Earth and his home Asgard from the powers of evil. Bring home this legendary hammer for your little Avengers to feel as powerful as Thor!
Your littlest warriors will feel like Thor himself wielding this NERF Power Moves hammer. Simply hold down the button and perform a mighty hammer strike, and you'll launch a NERF dart. Defend your home, and maybe the universe, with the mighty NERF power! This set comes with the replica Mjolnir and three blue NERF darts.
The hammer of Thor is just one of many Marvel Avenger weapons available in this NERF Power Moves series. Collectors can also nab Black Panther's power slash claws or Captain America's shield sling – collect them all! These replica weapons work perfectly for cosplay as well as being fun toys. The Avengers NERF series makes a wonderful gift for kids or adults. It's a perfect gift for a birthday, Christmas, or Easter. Any fan or collector of Thor, Marvel, or Avengers is sure to love this NERF Power Moves Mjolnir. Bring a little bit of Asgard home today!
Additional Notes
Recommended for ages 5+
Hammer measures 3.19 x 14.02 x 9.02 inches and weighs just over 1 pound
Officially licensed, manufactured by Hasbro
Best seller in Toy Foam Blasters & Guns on Amazon with a 4.5 star rating!