NERF Command Base Battle Fort – Ultimate Outdoor Hideout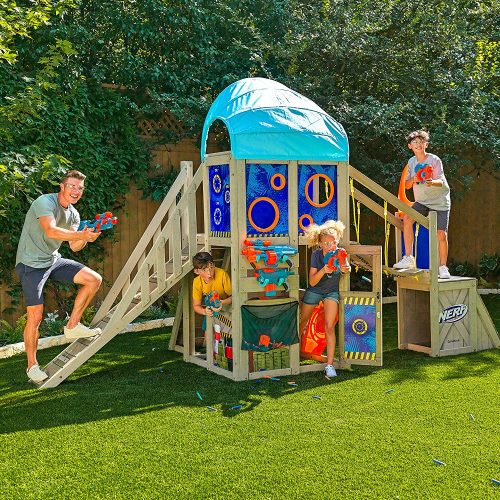 Alright kids, I'm here to give you intel on the enemy. The neighbors have declared war: a foam dart war to be exact. Luckily, I've armed you with the best base of operations. The Nerf Command Base battle fort will serve as our shelter for planning the ultimate sneak attack!
The Nerf Command Base battle fort is a Nerf-themed backyard play fort. Climb, play, and explore a huge variety of interactive features. Load up your favorite Nerf weapons and get some target practice in too. This stylish fort is great for imaginative and active playtimes.
Wage a foam dart war from the safety of your Nerf Command Base battle fort!
The Nerf Command Base isn't just your average backyard playhouse. This is an interactive, Nerf-themed outdoor playhouse that engages your kids' creativity and encourages active movement.
A 48" high wooden deck makes up the core structure of the fortress. The walls are plastic shields for defense, but also include peep holes for scouting out the enemy. A canopy blocks the sun to keep things cooler, while also preventing sneak attacks from up top!
Access the fort using a variety of fun ways. A long plank gangway, a rope bridge, and even a rock climbing wall all provide a way in. Move to get a better view and track the enemies' movements. For getting out in a hurry, just use the hidden trap door!
Underneath the main base is your Nerf stockpile area. Use the door or tunnel to access storage for all your blasters and tons of Nerf darts easily. When you need to resupply, use the crate and pulley system to send supplies up top. Note that blasters and darts are not included with the Command Base.
In between battles, get some target practice in on the variety of bullseyes around the battle fort. There are even some spinning ones for an extra challenge. You'll be sharpshooting in no time!
For head-to-head action, play a heated game of capture the flag. The flag itself is included as part of the fort. Feel free to add obstacles around the yard using cardboard, barrels, or anything else to create a fun course. Try to capture the flag and make it back to your base without getting Nerf'd!
How big of a space do you need for the Nerf Command Base battle fort?
It is recommended you have an approximately 18' x 26' space to properly set up the Nerf Command Base battle fort.
The assembled dimensions of the unit are 174.80" L x 66.14" W x 98.03" H so this will give you about 10 feet of space around the playhouse. This is important for target shooting on the fort itself, as well as ensuring there is enough space for safe, active play in and around the building.
What is the weight limit on the Nerf Command Base battle fort?
The combined weight limit of the Nerf Command Base battle fort is 990 pounds.
Thus, it is safe for many children or even several adults. Have fun with the whole family!
Does the Nerf Command Base battle fort require any maintenance?
The Nerf Command Base battle fort requires minimal maintenance. The wooden frame comes coated with a water repelling stain. As this deteriorates naturally outdoors due to UV rays and weather, a similar coating should be reapplied yearly to keep it in good shape.
I prefer an aerosol waterproofing spray for easy application.
Additional Notes
Recommended for ages 8+ (though I think it's pretty fun for adults too)
Adult assembly required; unit weighs about 255 pounds
Nominated as an Outdoor Toy of the Year for the 2022 Toy of the Year (TOTY) Awards
Use the Nerf Battle Racer go kart to patrol the area outside your fort!

Hauck Nerf Battle Racer Pedal Go Kart, Orange/Grey/Black

Arm yourself with a weapon straight out of your favorite video game with the Nerf Fortnite BASR-L blaster 

Nerf Fortnite BASR-L Bolt Action, Clip Fed Blaster -- Includes Removable Scope, 6-Dart Clip and 12 Official Nerf Elite Darts

Protect your home from the Covenant with the Halo Nerf Needler gun that also features light up spikes!

NERF LMTD Halo Needler Dart-Firing Blaster, Light-Up Needles, 10-Dart Rotating Drum, 10 Elite Darts, Game Card with in-Game Content

Practice your target shooting skills indoors too with a floating ball target game 

USA Toyz AstroShot Zero GSX Shooting Games for Kids - Nerf Compatible Glow in The Dark Floating Ball Targets for Shooting with Foam Blaster Toy Gun, 10 Floating Ball Targets, and 5 Flip Targets

Add this pop up treehouse tent to your favorite tree in the backyard. No branches required!

The Instant Adventure Tree House

This is the tree house that mounts to a trunk without the need for supporting branches, creating a safe adventure playhouse within two hours. Made with a patented solid powder-coated steel frame that has been tested to support up to 500 lbs., the structure attaches to a healthy tree with included...