RC Battling Tanks with Real Moving Infrared Turrets and Sounds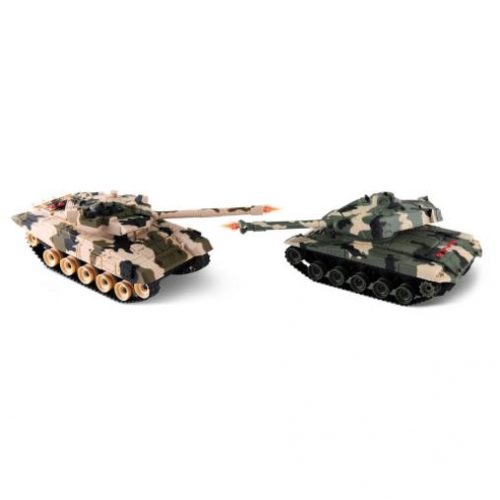 Don't come in here, Sharon; this is a war zone! I'm about to finally get the drop on the enemy, and you're not going to mess this up. No, I'm not letting the kids play with a real tank. These are RC battling tanks, and they're perfectly safe. Oh, watch out for that mortar!
A set of RC battling tanks is fun for both the kids and kids at heart. If you've ever dreamed of driving a miniature tank around and waging war with your friends, this set is for you. Real moving turrets, action sounds, and battle components make these high tech toys awesome.
These RC battling tanks are the toy that kids of any age will adore!
OK, so maybe I've been watching too much Battle Bots, but these RC battling tanks are awesome! I mean, they're first and foremost a replica tank that you drive around using a controller. But, there's so much more to them!
It doesn't end with just ambling around the warzone of your living room. These tanks come armed with infrared "projectiles" they fire on the opposing tank! From up to 12 feet away, if you land a shot on the enemy, LED lights and action sounds chime in to bring the fun.
The controller has an impressive 50 foot connection distance. Hide safely in your bunker as you steer forward, backward, left, or right. The top turret may be rotated 360 degrees for ease in landing your shot.
Make it into a competitive game – the first person to land 5 hits wins the battle (but not the war, right?). It's the perfect choice for sibling rivalries, play dates, and even guys' night!
Additional Notes
Recommended for ages 8+
Each controller requires a 9V battery (not included)
Comes with two tanks and remotes
Tanks measures 10″ L x 4 1/2″ W x 4″ H and weight about 1 pound each
Each tank operates on four AA batteries (not included)
Your kids will love getting behind the controls of this 24V power wheels Thunder Tank ride on complete with turret!

NEW WALMART EXCLUSIVE 24 Volt Thunder Tank Ride-On With Working Cannon and Rotating Turret!

Light up the neighborhood with this NEW 24 Volt Thunder Tank Ride-On. Kids will enjoy hours of fun rolling thru the neighborhood or battling in their favorite outdoor adventure area. The 24 Volt Thunder Tank Battery powered rideon offers two forward speeds and one reverse speed with a max of 5...

This RC water bomb tank is an all terrain vehicle complete with 360 degree movement!

RC Tank Car, Koeni Remote Control Tank 12Km/h for All Terrains Can Launch Water Bomb, 2.4 Ghz RC Tank Car with 180° Rotating Shooting & 360° Rotating, High Speed Tank Off-Road 4WD, Boys Toys Age 6-8

Take the fight to the pool instead with a tank pool float. With an on-board water cannon, it's perfect for summer fun!

Pool Punisher Inflatable Toy with Squirt Gun - Swimming Accessories for Kids, Teens and Adults - Giant Size Outdoor Water Toys for Lakes and Beach - Swim Stuff for Summer

Get your pets in on the action too with an awesome cat tank cardboard scratcher 

Suck UK Cat Play house - Tank

Love battle robots? You may also enjoy these balloon puncher robots. Use the controls to punch out your opponent's balloon to achieve victory!

Fight Balloon Puncher - Keep Punching Until It Pops,A Battling Robot with Balloon Head I 5 Year Old and Older Gift for Boys and Girls (Two Players)

Your voice controls this 14″ transforming garbage truck as you tell it to move, stop, and transform into a robot!

The Voice Activated Transforming Garbage Truck

This is the garbage truck that morphs into a robot and follows verbal commands. Its remote control has a built-in microphone that lets you usher orders to the obedient machine such as "forward," "stop," and "transform." As a garbage truck, it can be steered to navigate and clean up...

Prefer ground combat instead? Arm yourselves with a toilet paper blaster and fire. It's good "clean" fun!

Toilet Paper Blaster Skid Shot