Balloon Puncher Robot Toy – Fight Until a Robot Pops!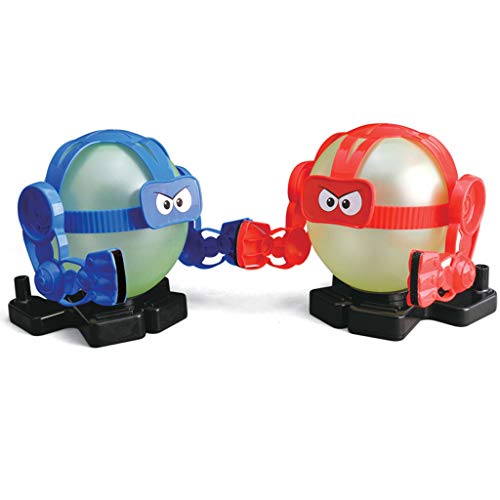 Would you kids stop wrestling and punching each other in here? Next thing you know, you're going to break my favorite lamp. If you want to fight each other, try this balloon puncher robot toy instead. You can whack away at each other, and the only casualty is a balloon!
A robot balloon puncher game is a type of fighting toy. Participants use a controller to guide the robot through a number of punching motions against another robot. The winner is determined when the balloon inside one of the robots pops. The person with the intact balloon is declared the winner.
You can really sock it to 'em with your balloon puncher robot toy!
A balloon puncher robot toy is a great way to keep the kids entertained and your home intact. Simply inflate two balloons – normal air is fine, no helium required. Then, place them onto the base and place the goggles over them. Two sets of goggles in two different colors are included for this player vs player brawl.
Participants use the controller located on the base of the robot to begin the fight. Use the joysticks for right punch, left punch, and combo punch. This will release a flurry of punches designed to get at your opponent. The first one to pop their opponent's balloon wins! If you have more or less than two players, don't worry. You can battle against an AI opponent, or use versus mode to allow up to four people to play at once.
These balloon puncher robots make a great gift. Kids and adults alike will enjoy hours of fun playing with this unique game. Consider gifting one for Christmas or a birthday. Or, just grab one for yourself, we're not judging. Enjoy some fast-paced robot punching action today!
Additional Notes
Designed for ages 5+
Comes with 12 balloons, fits most standard 7" balloons on the market for replacements
No batteries required
In the digital age, do kids still play with toys? Discover what we found out!
When play time is over, put away your toys in this Super Mario toy box!

Idea Nuova Nintendo Super Mario Collapsible Children's Toy Storage Trunk, Durable Canvas with Lid

If battling robots don't solve your problems, then wage a war with this rubber band hand gun!

Isottcom Rubber Band Guns | Boys Toys for Outdoor Indoor Game | Wooden Toy Guns | Best Gift for Men | Wooden Pistol for Shooting Game | Kids Toys for Pretend Play | Gag Gift | Toy Gun (Beretta)

Get hi-tech with your combat by employing these RC battling tanks! These remote control tanks feature moving turrets with infrared lasers!

The RC Battling Tanks

These are the remote controlled battling tanks that fire infrared "projectiles" at each other from 360u00BA rotating turrets. The tanks move on realistic treads and are fitted with a cannon that fires an infrared beam 12' away at a sensor on the enemy tank. When a tank is hit, LEDs...

This Wonder Workshop Dash Robot doesn't involve punching but is an incredible voice activated STEM toy!

Wonder Workshop Dash – Coding Robot for Kids 6+ – Voice Activated – Navigates Objects – 5 Free Programming STEM Apps – Creating Confident Digital Citizens

Also, don't forget Cozmo Robot who comes in as another educational robot with adorable emotions!

Anki Cozmo, A Fun, Educational Toy Robot for Kids

For some summer fun, we reviewed several reusable water balloons to help you pick the right water bombs!

GIFTOURS Reusable Water Balloons Quick Fill Self Sealing, Refillable Water Balls for Kids, Reusable Water Bomb Splash Balls for Pool, Rapid Filling Easy Tying Water Balloon for Water Fight Game, Summer Party (16 PCS)