Super Mario Toy Box – Organize Your Yoshi and Goombas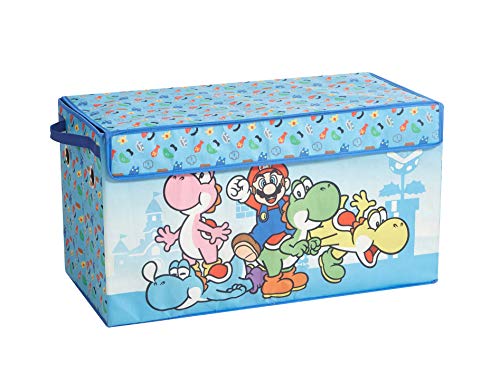 I think it's about time to put away your toys for the day. Do you think Yoshi would just leave his eggs laying all over the place? Let's you and I put everything in your Nintendo Super Mario toy box for safekeeping!
This adorable Nintendo Super Mario toy storage box is designed to add fun to any child's room. Soft sides and no hinges mean no pinched fingers for even the youngest children. It's a perfect way to teach them to clean up, with no tears or fears.
Keep your mushroom stash safe and organized in this Nintendo Super Mario toy box!
Whether it's mushrooms, fire flowers, or stars, keep them tucked away in this Nintendo Super Mario toy storage box. This soft sided box depicts Mario riding the classic green Yoshi character. Blue, pink, and yellow Yoshis accent the design. The background has a Piranha plant, jump blocks, and the castle.
The soft close lid of the toy chest keeps contents safe and free from dust. It closes with Velcro, making it easy to access as needed. Plus, no pinched fingers – ever! The lid adds additional character accents, with a pattern featuring character accessories of Mario, Bowser, Donkey Kong, and more from the Super Mario games.
Toy storage trunks are a versatile addition to any room. Whether a playroom, bedroom, or closet, they store a variety of items to keep things organized. Use it for toys, games, seasonal clothes, dress up costumes, books, or anything else you want to tidy.
Two carry straps on either side of the trunk make it easy to move around as needed. If you're done using it for any reason, this toy box is also collapsible and stores flat for space saving. The canvas material is easy to wipe down and clean as well, since kids and messes are almost inevitable.
Additional Notes
Officially licensed
Measures 30″ L x 14.5″ H x 16″ W and weighs about 4.5 pounds
Recommended for ages 3-8
Place a couple storage cubes inside to create removable compartments
Rated 4.6 stars – approved by Goombas everywhere!
Store your Super Mario Jenga game in your new toy trunk when you're done playing

Hasbro Gaming Jenga: Super Mario Edition Game, Block Stacking Tower Game for Super Mario Fans, Ages 8 and Up

With this Collector's Edition Super Mario Checkers, you also receive a bonus game of Tic Tac Toe on the reverse side of the board!

Super Mario Checkers & Tic-Tac-Toe Collector's Game Set | Featuring Super Mario Bros - Mario & Luigi | Collectible Checkers and TicTacToe Perfect for Mario Fans

Alternatively, try your skills at Mario Mushroom is Full game before packing up

Nintendo Super Mario Balance Game Mushroom is Full

After a rough day of lounging, store your Mario piranha plant slippers away for safekeeping

Lopbraa Piranha Plants Cannibal Flower Style Plush Slippers Loafer with Pipe Pot Holder Funny Slippers Gift for Adults Teens (Piranha Plants)

Make sure you can see the contents of your toy box with this Yoshi egg lamp. It coordinates perfectly!

Paladone Yoshi Egg Light - Officially Licensed Super Mario Bros Nintendo Decor

What Mario fan could resist this Hot Wheels Mario Kart Rainbow Road Raceway? It features 5 tracks, 2 cars, and electronic sounds directly from the game!

Hot Wheels Mario Kart Rainbow Road Raceway 8-Foot Track Set with Lights & Sounds & 2 1:64 Scale Vehicles, Race with 5-Track Colorful Course with 2 Configurations, Toy Gift for Kids

After cleaning up their toys, entice your children for bath time with this set of Super Mario body wash!

Super Mario Body Wash Gift Box - Luigi, Mario and Yoshi - 3 Fruity Scents (Berry, Watermelon, Mango)