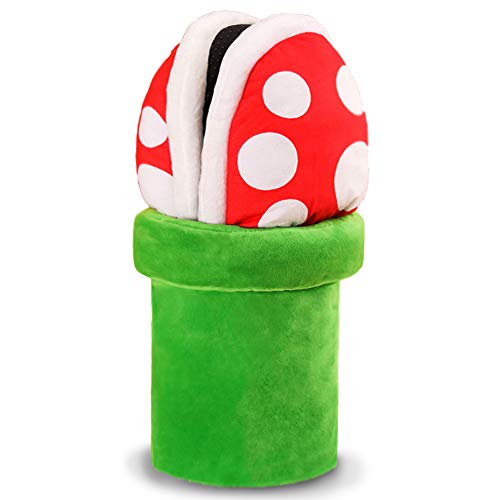 Have yinz seen my slippers? I seem to have misplaced them again. You think you saw them going down a Warp Pipe? You must really be seeing things. Wait, I see it too. Those are my Mario Piranha Plant slippers, and they are hiding out in that Warp Pipe. Guess it's time to grab a Fire Flower and go get them back!
The iconic Piranha Plant in the Super Mario video game franchise is not a real plant. However, it is based on the very real Venus Fly Trap, which snaps closed to seal in its prey. Real or not, the Piranha Plant has become an icon for gamers and non-gamers alike.
Keep your toes warm on a trip to the Mushroom Kingdom with the help of these Super Mario Piranha Plant slippers!
This fun pair of Mario Piranha Plant slippers is designed to keep your toes cozy warm. The slippers are made from a soft flannel material and stuffed with cotton for the ultimate in comfort.
Piranha plant slippers are sized "one size fits most", measuring 11.4" x 5.5" x 3.1", and should fit most teens, adult men, or adult women. However, anyone with a large foot (over size 10.5 Men's US) may find them too short.
They're so adorable that they make a great plush toy decoration, even if you don't need or can't fit in the slippers!
The Mario pipe slippers have a green foot bed, black sole, and the top is a red fabric with white polka dots. Place them sole to sole, and you have a plush version of the iconic Piranha Plant from the world of Nintendo's Super Mario!
When not in use, these Mario plant slippers come with a plush green Warp Pipe for storage. Simply place the slippers together, then slide them into the Warp Pipe. You'll have a fully complete Piranha Plant peeking out of a Warp Pipe, just looking for its next victim!
These Nintendo Piranha Plant slippers make the perfect gift for any Super Mario fan in your life. They're an ideal choice for Christmas or a birthday and are sure to bring smiles wherever they go.
You don't have to be a geek or gamer to appreciate them either! Mario has become a truly classic video game, spanning generations. Whether kids or adults, everyone can appreciate this awesome Mario Piranha Plant slipper set!
Additional Notes
#4 best seller on Amazon in Kids' Plush Toy & Blanket Sets
Pair with a Super Mario fleece throw for the ultimate cozy set!
Slipper set weighs 12.6 ounces in total
4.5 stars with over 900 ratings!
Turn into Mario's chief rival in the 90's with these Sonic slippers!

Sonic the Hedgehog Red Running Shoes Plush Cosplay Slippers | One Size

Lounge around like the sleeping Pokémon with these Snorlax slippers!

chioture Home Unisex Slippers Cute Snorlax, Winter Warm Durable Anti Skid Grippers Slipper

Transform your living room into a Mario Kart Raceway with Hot Wheels Rainbow Road! It features 5 tracks, 2 kart racers, and electronic sounds from the video game!

Hot Wheels Mario Kart Rainbow Road Raceway 8-Foot Track Set with Lights & Sounds & 2 1:64 Scale Vehicles, Race with 5-Track Colorful Course with 2 Configurations, Toy Gift for Kids

Play Mario Kart in real life with the Mario Kart Live Home Circuit for the Nintendo Switch! It's augmented reality in your living room!

Mario Kart Live: Home Circuit -Mario Set - Nintendo Switch Mario Set Edition

Stack mushrooms, but don't let them fall off the pipe with this Super Mario balance game!

Nintendo Super Mario Balance Game Mushroom is Full

If you love Mario's green pipes, then check out this warp pipe shot glass set and enjoy drinks in the Mushroom Kingdom!

When the holidays come around, enjoy daily Nintendo fun with this Super Mario Advent calendar!

SUPER MARIO Nintendo Advent Calendar Christmas Holiday Calendar with 17 Articulated 2.5" Action Figures & 7 Accessories, 24 Day Surprise Countdown with Pop-Up Environment [Amazon Exclusive]

Keep your coins safe when using this Mario coin block bank. You won't even have to bash your head into it to retrieve the coins!

Mario Block Coin Bank - Perler Piggy Bank - Nerdy Storage Cube - Geek Coin Bank - Video Game Decoration

Or simply build your own LEGO Super Mario 64 block with interactive levels inside!

Lego Super Mario 64 Question Mark Block 71395 (2064 pcs)