Super Mario Body Wash – Smell Fresher than a Toadstool!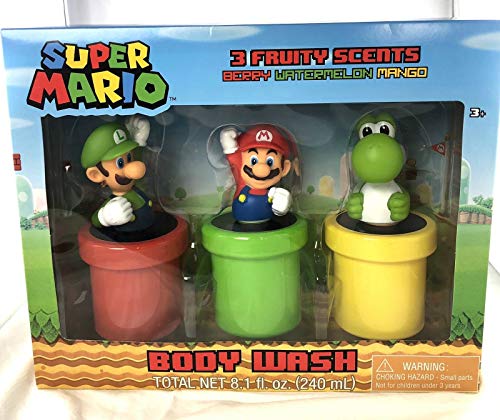 You don't want to take a bath today? Do you think Mario ever refused to take a bath? No, he didn't, because saviors of the Mushroom Kingdom are always clean. I think maybe if we use some Super Mario body wash then maybe you'll be more interested!
Even heroes take showers and baths, so why not bring some Super Mario body wash along. This fun, fruity soap is inspired by your favorite characters from the classic video game series. After a long day of stomping on Goombas, I'm sure your feet really need a scrub.
Power up your clean routine with Super Mario body wash!
Look, saving the Mushroom Kingdom is dirty business. At the end of a long day, I reach for Super Mario body wash to help clean things up. You wouldn't believe how much Piranha Plant spit I have in my hair!
This gift pack of body washes features 3 of your favorite iconic characters from the Super Mario Brothers video game. You'll get Mario on a green Warp Pipe, Luigi on a red one, and Yoshi in the yellow tube.
The characters serve as the toppers, while the pipes hold the actual soap. Each of the containers is filled with about 2.5 ounces of body wash in fruity scents: mango, watermelon, and berry.
Note that these are small, about equivalent to a travel size container of body wash. I personally just refill the cute containers with my favorite peach shower gel (in homage to our favorite Princess)!
These fun character soaps are a perfect way to inspire kids to get clean. I also think they're great fun for any adults that have a love of Mario! Especially after a long day of throwing fireballs, I really need to get that soot out. Now I can, thanks to these adorable helpers!
Additional Notes
Recommended for ages 3+
Comes packaged in an easy-to-wrap box
For bath time, try out these superhero bath bombs for that heroic level of clean (and a fun toy for your kiddos)!

Two Sisters Spa Bubble Bombs Superhero Surprise Set | Bath Bombs for Kids with Toys Inside | 6-Pack Set in a Gift Box | Safe for Sensitive Skin | Fizzy and Bubbly Bath Balls for Boys and Girls

Work up a sweat before shower time by taking on Bowser in Super Mario Jenga 

Hasbro Gaming Jenga: Super Mario Edition Game, Block Stacking Tower Game for Super Mario Fans, Ages 8 and Up

After a shower or bath, keep those feet cozy and warm by stepping into your Piranha Plant slippers 

Lopbraa Piranha Plants Cannibal Flower Style Plush Slippers Loafer with Pipe Pot Holder Funny Slippers Gift for Adults Teens (Piranha Plants)

Cap off the night with a drink from a Warp Pipe shot glass (after the kids go to bed, that is)!