Crazy Forts – Endless Combination of Customized Tent Shapes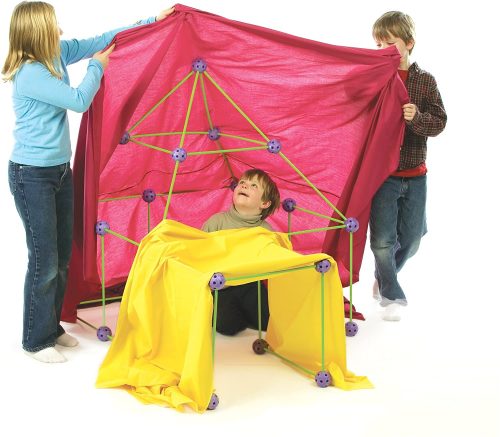 You want to play in an igloo fort today? I just helped you make a castle yesterday though. This seems like a reoccurring problem. Let's try out the Crazy Forts so we can make all sorts of shapes anytime you want!
Crazy Forts is a modular frame system consisting of rails and connectors. They're incredibly versatile, allowing an endless combination of shapes you could create. Once the frame is complete, simply add a sheet over it to create an instant fort. It sparks creativity and imagination for play.
Journey from a castle to space with ease when you set up using Crazy Forts!
Every kid at some point in their life is going to want a fort. Enter Crazy Forts, the fun, simple, and boundless system for creating unique and creative forts.
No longer will your couch cushions be stacked precariously or stolen to make a bedroom hideaway. Instead, this modular system creates an independent framework for the fort.
You'll receive 44 sticks and 25 balls with which to create your structure. The poles twist into the holes that cover the balls, allowing for all sorts of shapes to be created. The only limit is your imagination!
Here are some of the most common designs that you can create with Crazy Forts:
Igloo
Castle
House
Tunnel
Spaceship
Pirate Ship
Cave
Submarine
Hotel
Feel free to create your own and arrange and rearrange to your child's content. Get inspired and share your designs with others, too!
Once your frame is built to your satisfaction, it's time to add the sheet! Crazy Forts doesn't come with one, but you probably have a spare flat bed sheet just hanging around the house anyway. A queen size should fit most single kit fort designs.
Crazy Forts can combine multiple kits for larger designs. If you have more than one child, give one to each! They can collaborate on a design or compete with each other to make the "best" one. No matter what, they'll have fun!
Additional Notes
Recommended for ages 5+
Entire set weighs about 2 pounds, so it's easy to transport as well
Rated 4.4 stars with over 6,200 reviews – parent and kid approved!
If your child wants to turn their fort into a reading space, make sure to grab some Crazy Forts lights to brighten it up
Connector balls are about 2" diameter, and poles are 16" long
Need something faster? An Airfort tent inflates in 30 seconds for a super-fast setup!

The Original AirFort Build A Fort in 30 Seconds, Inflatable Fort for Kids (Beach Ball Blue)

Turn your backyard trampoline into a fort with this clubhouse trampoline cover

Propel Trampolines P12-6TT Trampoline Club House Cover, 12-Feet

Have your child's bed and fort all in one unit in the princess castle loft bed

JACKPOT! Princess Low Loft Stairway Bed with Slide Pink & White Tent and Tower, Loft Bed, Twin, White

The jungle gym climber is perfect for your yard and encourages outdoor fort time

TP Toys Explorer 2 Climbing Set Jungle Gym with Platform and Tent, Blue