DC Superhero Bath Bombs – Collect All 12 Heroes and Villains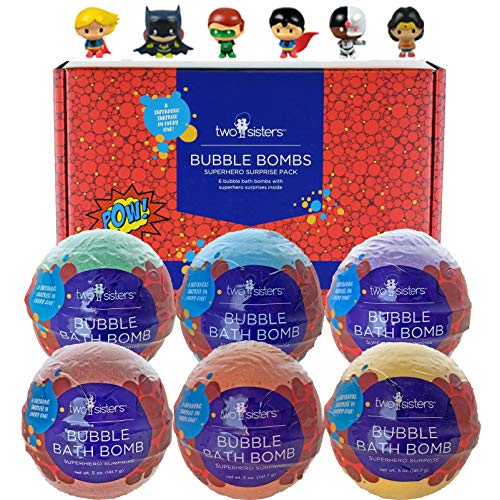 Your kids are going through a no-bath phase again, huh? Have you tried superhero bath bombs? I know I'd want to get in the tub if there was a fun toy waiting for me at the end of it!
Superhero bath bombs are the bath fizzies designed just for kids. As it dissolves in the tub water, it releases a fun fragrance and cool fizzing action. Once fully dissolved, a hidden superhero surprise is waiting. It's a great reward that makes bath time way more fun!
Get clean after saving the world with these DC superhero bath bombs!
Sometimes, bath time is just a struggle. Why not make things more fun with the help of superhero bath bombs! This set of six fizzing balls is here to save your day.
This assorted pack of bubble bath bombs comes in six fun, fruity smells that kids will love. You'll receive one each of grape, fruit punch, citrus, berry, tropical, and fruit loop scents. Ingredients are 100% natural, vegan, cruelty-free, and safe for sensitive skin.
We all know the kids don't care about that part. What they're here for are the superheroes! That's right, at the center of every bath bomb you'll find a collectible hero figure. You'll receive six random DC superhero bath bombs, which could include:
The Flash
Harley Quinn
Catwoman
Bizarro
Supergirl
Batgirl
Green Lantern
Superman
Cyborg
Wonder Woman
The Joker
Batman
Each figure is about the size of a mini Funko, so use caution with small children.
If you want to be the hero of bath time, then these superhero surprises are just what you need to win the day!
Additional Notes
Made in the USA
Also available in other fun versions, like these dinosaur bath bombs or dragon bath bombs for extra roar!
Ingredients list: Sodium bicarbonate, citric acid, Epsom salts, sodium lauryl sulfoacetate, olive oil, fragrance or essential oil, water based colorant, witch hazel, and water based colors
Not for use in jetted tubs
Rated 4.8 stars with nearly 2,000 reviews!
Each bath bomb is individually wrapped, making for a perfect stocking stuffer!
Check out more great stocking stuffer ideas to fill them up with holiday magic
Let Superman hold up your books with this superhero floating bookshelf!

Invisible Hanging Metal Floating Bookshelf - Optical Illusion Wall Book Shelf for Kids and Men - Modern Small Black Wall Mounted Bookshelves for Unique Home Décor

Your child will enjoy a fun "drive" around Gotham City with this Batmobile tent!

Batman Pop Up Batmobile Tent – Indoor Playhouse for Kids | Toy Gift for Boys and Girls | Amazon Exclusive

Keep your little hero safe on the go too with this Spiderman car booster seat 

KidsEmbrace 2-in-1 Harness Booster Car Seat, Marvel Spider-Man

Enjoy a manly scent with these bath bombs for men!

Bath Bombs for Men, Gift Set of 8 Scented Organic Handmade Bath Bombs of 2.5 oz with Natural Essential Oils. Perfect for Boyfriend, Husband, Father or Friend, by ZenseMe

When it's time for Halloween, or a creepy, crawly bath, try using a cauldron bath bomb!

Halloween Bath Bombs Gift Set Witches Brew Cauldrons Fizzy and Bubble 7 oz/each Bath Bombs with Surprise Scary Toys Inside For Kids! Halloween Gift!

For a gag gift option, try these roast beef bath salts!

Roast Beef Sandwich Bath Soak – Amber Bath Salts Luxury Bath Funny Girlfriend Gifts for Best Friends Bath and Body Gifts for Men Sea Salts Funny Spa Gifts for Men Weird Gifts Au Jus French Dip

After the holidays, parents could use some relaxation too. Treat yourself to bioluminescent bath crystals, with stress soothing lavender scent.

Bath Diamond Jasmine 19 Bioluminescent Soaking Salts

Indulge in aromatherapy with the highest quality jasmine essential oils that help regenerate, nourish, and heal your skin while providing deep relaxation. Like diamonds, our marine luciferin light crystals are both rare and luxurious. Found in bioluminescent organisms who roam the tranquil depths...