Batmobile Tent – Pop Up Tent to Help Batman Save Gotham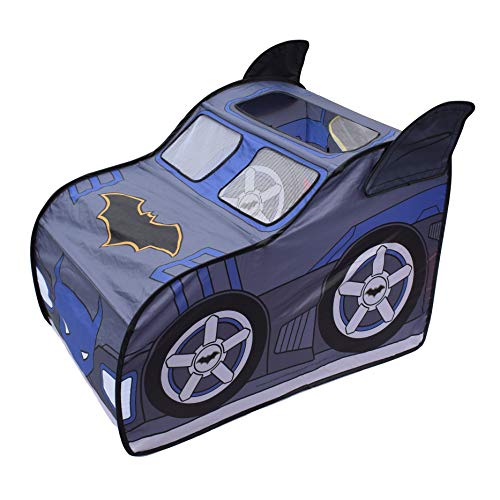 I think I see the Bat Signal! Quick, to the Batmobile tent so we can save the city! Well, you can pretend to at least, with this pop up playhouse for kids.
The Batmobile tent is a pop up playhouse for kids. Using their imaginations and this awesome tent, they'll work to save Gotham, or any city, from the denizens of evil. When done being a superhero for the day, the tent collapses easily for storage out of the way.
RELATED:
Adults can also become a superhero with this Batman chair cape!
When Gotham needs you, get in the Batmobile tent and pop up a way to save the day!
The Batmobile tent is the kid-sized pop up playhouse that's perfect for every aspiring superhero. It's a polyester printed tent that's designed to look like a replica of the real Batmobile.
This version, however, is powered by imagination instead of any form of engine. Kids can "drive" through the streets, patrolling for the Joker, Riddler, or Penguin. They'll act out their favorite rescue scenes and create new and interesting scenarios, all with their own creativity!
Slide into the Batmobile through the secret entrance in the rear. When you stop an evildoer, pop up through the "sunroof" at the top. It's the perfect place to launch your Batarangs!
Since there is no bottom to the tent, kids can move it with their feet, for simulated driving action. The windshield is designed from two mesh panels for visibility while "driving". Better check all the hallways, as you never know where evil may be lurking!
This play tent is a great place for kids to read (may I suggest some Batman comics?), nap, play, and just hang out! Parents may rest assured that the Batmobile tent has rounded, reinforced corners for safety.
Batmobile pop up tent instructions:
Here are the instructions for your Batmobile pop up tent:
Remove from the zippered carrying bag
Give the tent a good shake so it pops open
Insert the poles parallel to one another, sliding them into the pockets at the corners
Secure the poles in the center using the Velcro loops
That's it, your Batmobile tent is ready for play! When you're done, simply remove the poles, flatten the tent, and put it back in the carrying case. The poles may be broken down into two pieces to take up less space.
Additional Notes
Recommended for ages 3-8
Measures 40″ W x 27″ D x 27″ H when popped up
Weighs less than 2 pounds – lightweight and portable!
Best seller in Kids' Play Tents & Tunnels and Play Tents & Preschool Outdoor Toys on Amazon
Rated 4.5 stars with over 1,700 reviews – parent and kid approved!
This Batman Eclipse light is the lamp Gotham City deserves!

Paladone Batman Eclipse Batsignal Light - Table Top or Wall Mount

Try patrolling around your neighborhood streets in this Batmobile pedal go kart!

Hauck Batmobile Pedal Go Kart, Superhero Ride-On Batman Vehicle, Kids 4 and Older, Peddle & Patrol the Streets of Gotham just like Batman, Race-Styled Pedals & Rubber Wheels [Amazon Exclusive] , Black

You may also enjoy Crazy Forts. Build a custom-shaped fort, and rearrange any time you like

Crazy Forts, Purple, 69 Pieces

Ditch the assembly altogether with an AirFort tent. Just plug it in and it self-inflates in 30 seconds for a fun play area!

The Original AirFort Build A Fort in 30 Seconds, Inflatable Fort for Kids (Beach Ball Blue)

Take the fun outside this summer with a jungle gym climber, complete with play tent at the top for your explorers

TP Toys Explorer 2 Climbing Set Jungle Gym with Platform and Tent, Blue

If you have a trampoline already, retrofit it with a clubhouse trampoline cover for an easy outdoor fort!

Propel Trampolines P12-6TT Trampoline Club House Cover, 12-Feet