Batman Chair Cape – Justice League Hero Your Office Deserves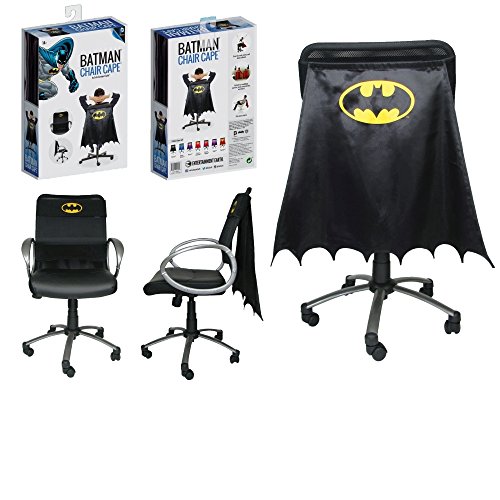 Oh no, are you in here watching Batman movies again? It's late, and you need to work in the morning. Don't look at me that way, even superheroes have day jobs. Besides, with your new Batman chair cape everyone in the office will know who the real hero is.
A chair cape is a novelty attachment for a standard desk chair. It attaches to the back of the chair so that the cape hangs down. When seated, it creates the appearance that the user is wearing the cape. Chair capes are available in many superhero designs, so you can choose your favorite.
Be the hero your office deserves with the help of a Batman chair cape!
You may not be the hero the office needs, but you'll be the one they've got when you use this Batman chair cape. This fabric cape is black with a yellow Batman logo, and finished with pointed ends to look just like the real superhero's cape. It's 24" long and attaches via an adjustable hook and loop based belt, so that it's compatible with most standard office chairs. Note, the office chair isn't included, but we're sure you can find one sitting around Wayne Enterprises somewhere.
Did your coworker slip and spill their lunch on your chair? No worries, the chair cape is machine washable for easy cleanup. Line dry it, and it'll be good as new and ready to protect the cubicle fortress again.
No matter where in Gotham City you work, a Batman chair cape is always in style. It adds some fun and a touch of personal charm whether you have an office or work from home. If you're the antisocial type, note that it can be a conversation starter. A chair cape is also the perfect gift for the office-going Batman fan in your life. If you didn't know what to get for that office Secret Santa, I think we just found your solution. The Dark Knight rises, but you'll sit down in style with your Batman chair cape!
Additional Notes
Recommended for ages 14+
Not a toy, not meant to be worn as a costume
Will not actually make you a superhero (sorry)
Seriously, please don't throw the Batarang at your coworkers
Black Widow, Iron Man, and Deadpool styles also available
Rated 4.8 stars with over 100 reviews – Dark Knight approved!
When Bruce Wayne gets home, he surely puts his smart home assistant inside this Bat Signal stand!

TDK Bat-Signal Stand Compatible with Google Home Mini/Nest Mini

Be ready to save Gotham at a moment's notice with the Batman Eclipse light!

Paladone Batman Eclipse Batsignal Light - Table Top or Wall Mount

Let Superman hold up the books in your office with this superhero floating bookshelf!

Invisible Hanging Metal Floating Bookshelf - Optical Illusion Wall Book Shelf for Kids and Men - Modern Small Black Wall Mounted Bookshelves for Unique Home Décor

Enjoy A Very DC Valentine's Day comics collection featuring your favorite heroes and villains in popular past romantic issues!

A Very DC Valentine's Day (DC Valentine's Day/Love Stories Collection)

Swap allegiances to Marvel with this Spiderman gaming chair that also features massage components!

Marvel Avengers Massage Gaming Chair Desk Office Computer Racing Chairs- Adults Gamer Ergonomic Game Footrest Reclining High Back Support Racer Leather Foot Rest (Spider-Man)

If you're looking to kill some time at the office, then check out some of our favorite bored at work games you can play from your desk!
Reward yourself for an excellent day at the office with the I Adulted at Work sticker book!

I Adulted at Work!: Essential Stickers for Hardworking and Home-Working Grown-Ups

Want to try a standing desk? With this Vivo standing desk converter, you can go from sitting to standing in seconds!

VIVO Black Height Adjustable 36 inch Stand up Desk Converter Quick Sit to Stand Tabletop Dual Monitor Riser (DESK-V000V)

If you are sitting all day, why not try to strengthen your core with a Gaiam balance ball chair?

Gaiam Classic Balance Ball Chair – Exercise Stability Yoga Ball Premium Ergonomic Chair for Home and Office Desk with Air Pump, Exercise Guide and Satisfaction Guarantee, Charcoal