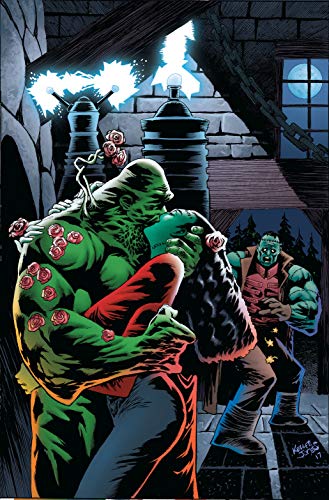 No, I don't want to celebrate Valentine's Day this year. Look, it's nothing personal, but if superheroes don't have to partake in it, then I don't either. What do you mean Batman has a Valentine according to A Very DC Valentine's Day? Fine, I guess I can at least get you flowers or something.
A Very DC Valentine's Day is a special collection of DC comics compiled in a Valentine's Day edition. This grouping of comics features several love stories, created by the DC comic writers. These special collections are created for various holidays, with Halloween and Christmas as other examples.
If you enjoy audio books, try Amazon's Audible Plus for free!
Share the love with your favorite comic book characters in A Very DC Valentine's Day!
A Very DC Valentine's Day is a collection of comics featuring characters from the DC universe in their own love stories. This collaboration of classic comics features work by Jack Kirby, Jimmy Palmiotti, Paul Dini, Amanda Conner, and more. Kirby is most well known for his contributions to both Marvel and DC masterpieces, such as Sandman, Captain America, Avengers, and the Fourth World Trilogy. Both Kirby and Palmiotti are attributed to being the creators of the romance comics genre, and you can experience these creations today in this compilation.
This 176 page paperback contains stories featured in Young Romance, Monsters in Love, and Harley Quinn's Valentine's Day Special. Each short features well known DC characters as they embark on adventures of love, just perfect for this holiday. Watch as Wonder Woman speaks with Eros regarding the Man of Steel. Frankenstein and his bride spend some time together in the modern world. Man Bat tries to better himself to reconcile his marriage, while Aquaman is busy treating his wife like a queen.
Also included in this compilation are some perforated collectible Valentine's Day cards from characters in the book. Share them with your favorite super Valentine! Remember, if Aquaman has time for Valentine's Day, your wife isn't going to buy your excuses this time. So, grab a bottle of wine, a dozen roses, and read A Very DC Valentine's Day together!
Additional Notes
Also available in Kindle format (without physical collectible cards)
Book is 6.6 x 0.24 x 10.16 inches and weighs 10 ounces
Newer product with a perfect 5 star rating so far!
Your kids will love taking a bath with these DC Comics superhero bath bombs featuring 12 different characters!

Two Sisters Spa Bubble Bombs Superhero Surprise Set | Bath Bombs for Kids with Toys Inside | 6-Pack Set in a Gift Box | Safe for Sensitive Skin | Fizzy and Bubbly Bath Balls for Boys and Girls

Enjoy a card game from a different comics universe with Marvel Fluxx!

Looney Labs Marvel Fluxx Specialty Edition Card Game

Or, trust your instincts in a galaxy far, far away with the I've Got a Bad Feeling About This card game!

Hasbro Gaming Star Wars: I've Got a Bad Feeling About This!