Cosmos Knife Set – Unique Chef's Vision Cosmos Series Knives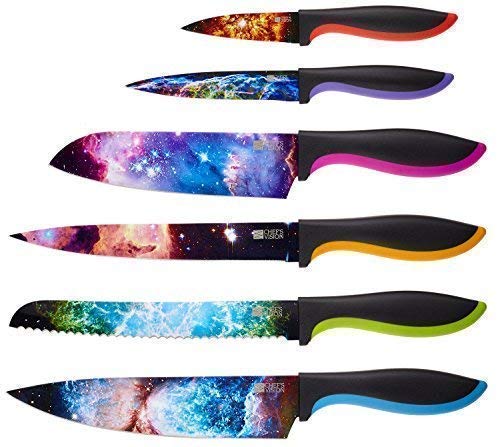 Ouch! I'm fine, I was just dreaming about the stars while I was chopping vegetables and cut my finger. I know, the kitchen is no place for daydreaming. You brought me a Chef's Vision Cosmos knife set so I can look at the stars while I'm chopping vegetables? What a unique surprise, I love it!
Painted knife sets contain all the traditional knives you'd find in a kitchen knife block. Instead of being a plain stainless steel, the blades are coated with a unique design. This design can showcase landscapes, outer space, wildlife, or a variety of other beautiful depictions.
Bring the galaxy to your home kitchen with the Chef's Vision Cosmos knife set!
The Chef's Vision Cosmos knife set contains six kitchen knives, each depicting a corner of the cosmos. Each knife in the Chef's Vision Cosmos series features an ergonomic handle and a durable stainless steel blade that's sharpened to perfection. Not only does the blade coating add the beautiful background of the galaxy, it also serves as a nonstick coating for the blade. This makes slicing and chopping even easier!
Each Chef's Vision Cosmos series knife features a different colored handle, so you can easily find the needed one. A 3.5" paring knife sports a red trim handle, and is perfect for delicate jobs. The 5" utility knife with a purple handle slices fruits, vegetables and cheeses. A 7" Santoku knife with a pink handle works wonders to make even slices, much like a mandolin. Yellow is the color on the handle of the 8" slicer knife. This long, sharp knife is ready to carve roasts into thin slices. An 8" bread knife sports a green handle, and its serrated edges will cut through a fresh loaf of bread with ease. Finally, a blue handle on the 8" chef's knife rounds out the group. It's perfect for cutting, slicing, and mincing fresh herbs!
This knife set is a beautiful addition to any home. Since it ships in a gift box and not with a knife block, you can choose your favorite type of block, but a magnetic strip holder will let you show off the gorgeous pattern even when not in use. Such a stunning set makes the perfect gift for others as well. Give a Cosmos knife set for Valentine's Day, Mother's Day, a wedding gift, or a housewarming gift. You can't go wrong with a practical knife set that adds beautiful color and décor to your kitchen!
Additional Notes
The included Guide to the Cosmos booklet explains each knife blade scene from various star clusters to the Crab Nebula
Comes in a gift ready box measuring 15 x 11.75 x 2 inches
Total knife set weighs 2.4 pounds
Matching covers for storage or transport sold separately
Knives are not full tang (blade does not extend throughout entire handle)
Dishwasher safe, hand wash recommended for longevity
Manual sharpening recommended, as electric may damage painted coating
#10 best seller in Boxed Knife Sets on Amazon
4.8 star rating with over 2,000 reviews!