The Bat Wine Opener with Wings is Your Boozy Pal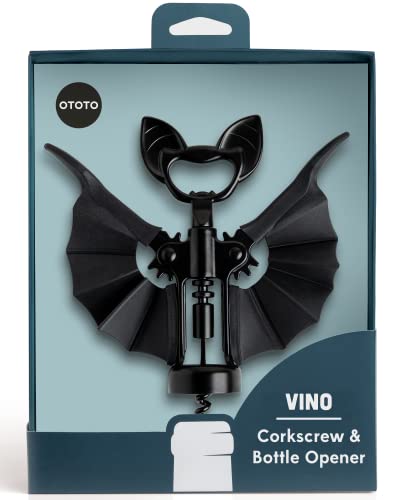 Everyone knows the best Gothic dinner parties require lots of wine – Red wine, of course. What better way to pop those bottles than with the help of an adorable bat wine opener with wings?
We grabbed one to get our party on for Halloween. However, this cute yet functional Vino bat bottle opener is great for year round use. Whether you're opening wine, beer, or other capped and corked beverages, it's got you covered!
What is the Bat Wine Opener with Wings?
The bat wine opener with wings is a traditional winged corkscrew style bottle opener. In this case, they've taken the "wings" pretty literally. While the functional piece is designed for leverage in popping the cork, this one has silicone bat wings attached.
Now you can open your bottle of wine (that is wine, right?) and enjoy a spooky aesthetic! Just, you know, keep it near the bottle necks, and not your own.
Features of the Ototo Bat Wine Opener:
Durable metal alloy frame
Covered in black food safe silicone in a bat design
About 7" tall and 5.5" wide fully extended, 1.6" thick
Weighs just 7.2 ounces
Comes in an easy to wrap box for gifting
Opens corked bottles and pop-top caps (both wine and beer are covered)
Dishwasher safe in case you get some drink residue on there
Let's be serious, while it's a totally functional bottle opener, the real charm is the bat wings. That's what sets Vino apart from any other winged corkscrew out there!
Frequently Asked Questions About the Bat Wine Opener With Wings:
How Do You Use the Bat as a Bottle Opener?
The bottle opener is located on the head of the bat. Simply lodge the "fangs" at the bottom of the bat head opening under your bottle cap. Then, tilt the whole opener upwards to release the cap.
How Do You Use the Bat Wine Corkscrew?
1. Set the tip of the corkscrew on the cork that needs removing
2. Hold the base of the opener with one hand, and begin turning the bat-shaped top clockwise with the other, applying even downward pressure on the top
3. As the screw descends into the cork, the wings will automatically raise to a perpendicular position
4. When the screw is fully in the cork and the wings are completely extended, let go of your current grip pattern
5. Use both hands (one on each side) to push the bat wine opener wings down towards the neck of the bottle, which will bring up the corkscrew, and cork along with it
6. Gently wiggle at the base if need be to release the cork completely
Our Overall Ratings of the Ototo Vino Bat Wine Opener
Vino Bat Wine Opener with Wings
Look, if you're a fan of bats, Halloween, scary movies, or Gothic in general, this bat wine opener with wings is a must have in my opinion. It's absolutely adorable, functional, and fits right into the spooky aesthetic.

The downsides here are that the paint scratches easily, which makes it tricky getting out of the packaging. While dishwasher safe, you need to make sure it doesn't contact anything else sharp.
Bottom Line
This bat wine opener with wings is definitely a treat, not a trick. It's perfect as a gift or for yourself this Halloween. It wins big points in the fun factor and fits into any spooky kitchen. Like most corkscrews, I don't imagine it will last more than a few years, though that largely depends on usage.
Don't just take my word for it though – it's got a 4.7/5 star rating on Amazon with over 3,000 reviews!
Where to Buy
If you're ready to get your Halloween on, here's where you can find this super unique bat wine opener with wings for some price comparison:
Related Products
Here are some other items you might enjoy:
This opener coordinates perfectly with a gargoyle wine aerator for pouring!

Stainless Steel Gargoyle Wine Aerator Pourer - Deluxe Decanter Spout for Robust Red and White Wine - Pour Amore Bottle Pourer/Stopper & Air Diffuser by Chris's Stuff
Store your corks for display in a wine barrel cork catcher side table

Wine Enthusiast Barrel Cork Catcher Side Table – Holds 2,000 Corks
Pick up The Nightmare Before Dinner for some Halloween-inspired recipes to pair with your libations!

The Nightmare Before Dinner: Recipes to Die For: The Beetle House Cookbook
Let HP Lovecraft fix you some meals and drinks with the Necronomnomnom cookbook!

The Necronomnomnom: Recipes and Rites from the Lore of H. P. Lovecraft
Add some spooky fun to your indoor or outdoor trees with these Hallmark Halloween ornaments, featuring birds and bats!

Hallmark Keepsake Outdoor Halloween Ornaments 2020, Spooky Birds and Bat, Set of 3
OTOTO Vino Spooky Bat Wine Opener - Halloween Decor - 2-in-1 Wine & Beer Opener, Corkscrew & Bottle Opener - Goth Accessories & Kitchen Gifts
as of October 28, 2023 11:05 am
Features
Meet Vino, the bat - From the Design Awarded Studio OTOTO, we bring you Vino, the Bat! Grab the wine and don't hold back; Vino keeps your night on track! Vino makes the perfect gifts for wine lovers! Opens corks easily without pain; treat yourself to a glass of wine or two, for this bat is here as your trusty corkscrew. Add him to your collection of cute kitchen tools and gadgets and you're all set!
Spook'-tacular gift for anyone - Looking for fun kitchen gadgets or housewarming gifts? Vino's durable wings and sharp fang open corks in a swift! This funny novelty item is also ideal if you're in search of new home gift ideas. A corkscrew opener made with functional design, Vino is built to pop open your bottles, whether beer or wine. Easy open as one two three, pour up your fizzy drinks and toast with glee.
Take your drinks to the 'neck's' level - Drinking sessions are more fun with this cork screwer that's ready to stun! Make beer cocktails like Beer Margarita and Black Velvet. How about wine mixes like Sangria, Mimosa, or Apple Snaps Fizz? Vino flaps its wings and lands on the bottlecap. He twists and turns until you hear the cap snap! He pierces through the foil and cuts with no mess. Vino does the magic for when you need to impress!
Fang'-tastic cork opener - It's a wine bottle opener that's extra special, for it's made from high quality silicone and metal. Enjoy your blood-red wine with a handy corkscrew to open it up. Watch Vino sink its fang on the cork and make it pop up! No toxins and chemicals that are harmful for you- it's BPA-free and doesn't rust too! A 'spook'-tastic staple that's right for the night. Let Vino, the Bat set your sesh alight!
A sprinkle of fun - Ever heard of the one where they lived happily ever after? Well, that's always the story with OTOTO's household products, because everyday chores are no longer a bore when you've got adorable gadgets to explore! Our team strives to create functional products with a quirky and unexpected twist. We love sprinkling in a bit of fun and magic in all that we do and we hope you feel the same way too!