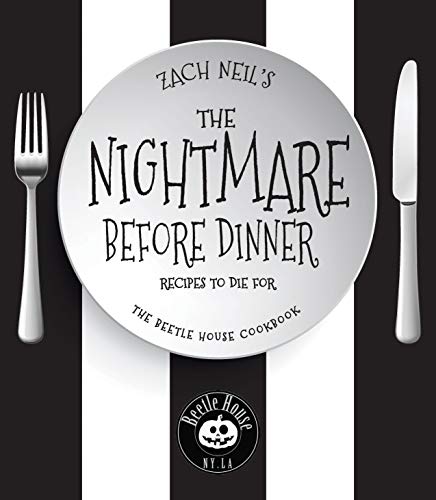 It's almost time for Halloween! We should have a Spooktacular month filled with Gothically inspired cuisine to put us in the spirit. Good thing I picked up this copy of The Nightmare Before Dinner. It's filled with all sorts of recipes from our favorite restaurant, The Beetle House. I hear that it's Halloween every day there!
If you're looking for the best food to serve for a festive Halloween, you'll find inspiration in several different places. There are many cookbooks both online and in print that feature fun Halloween recipes. You can also check out online blogs or cooking sites, looking for Halloween specific recipes. No matter where you find inspiration you can create fun or scary Halloween foods, perfect for home cooking or taking to a party.
If you enjoy audio books, try Amazon's Audible Plus for free!
Bring home restaurant inspired recipes fit for Halloween with The Nightmare Before Dinner!
Critically acclaimed chef-owner of The Beetle House restaurant Zach Neil has prepared this fantastic collection of recipes to die for! This 164-page hardcover book features recipes from his Halloween inspired restaurants, which have physical locations in Los Angeles and New York City. If you're looking to spruce up your menu for Halloween, or you're just a fan of Halloween classics, then you'll love this cookbook. It draws inspiration from classic Halloween haunts such as Beetlejuice, Evil Dead, and The Nightmare Before Christmas!
The dark menu of this cookbook has 60 different recipes to delight and give fright. Check out recipes such as The Edward Burger Hands, Silence of the Lamb Chops, or Barbarous BBQ Beef Loin. Serve those up with sides such as Beetle Bacon Bread or Hallowpeno Honey Cheddar Cornbread. Wash it down with spooky cocktail recipes. You'll find new favorites such as the Beetle's Juice or the Coco Skellington. Finish it off with the dessert of Red Velvet Midnight Espresso Cake, which is topped with Stained-Glass Candy Shards. If you or someone in your family is vegan, vegetarian, or has food sensitivities, don't worry. The Nightmare Before Dinner cookbook has vegan alternatives and ingredient swaps for every recipe in the book!
Great recipes aren't all you'll find in The Nightmare Before Dinner. This cookbook also has a section on decorations, including table settings! If you're looking for ideas on how to decorate your dining room for Halloween, look no further. Whether you're hosting a Halloween party, a spooky movie viewing, or you're just a goth fan, you're sure to find great ideas!
Additional Notes
Book measures 8.63 x 0.75 x 9.88 inches and weighs 1.7 pounds
#5 best seller in Halloween Cooking on Amazon
Also available in a Kindle electronic format if you prefer
4.8 stars with over 500 ratings – buy with confidence!
If you prefer the taste of HP Lovecraft's Necronomicon at your dinner table, then take a look at our review of the Necronomnomnom cookbook!

The Necronomnomnom: Recipes and Rites from the Lore of H. P. Lovecraft

Open that bottle of red wine with this appropriately themed bat wine opener with wings!

OTOTO Vino Spooky Bat Wine Opener - Halloween Decor - 2-in-1 Wine & Beer Opener, Corkscrew & Bottle Opener - Goth Accessories & Kitchen Gifts

You can also enjoy better tasting wine by pouring through a gargoyle aerator 

Stainless Steel Gargoyle Wine Aerator Pourer - Deluxe Decanter Spout for Robust Red and White Wine - Pour Amore Bottle Pourer/Stopper & Air Diffuser by Chris's Stuff

Add a little flair from the Ghost with the Most to your home with this giant Beetlejuice sandworm inflatable!

Warner 9.5 ft. Pre-Lit Beetlejuice Sandworm Animated Airblown Inflatable

Easily add a spooky touch to your Halloween decor with this 9.5 ft. Pre-Lit Inflatable Animated Beetlejuice Sandworm WB Airblown. Each scene self-inflates for a quick and easy setup. All stakes and tethers are included for added security.

Set your taste buds to 88mph and travel to Hill Valley with the Back to the Future cookbook!

Back to the Future: The Official Hill Valley Cookbook: Over Sixty-Five Classic Hill Valley Recipes From the Past, Present, and Future!