Back to the Future Cookbook – Taste Buds Set to 88 MPH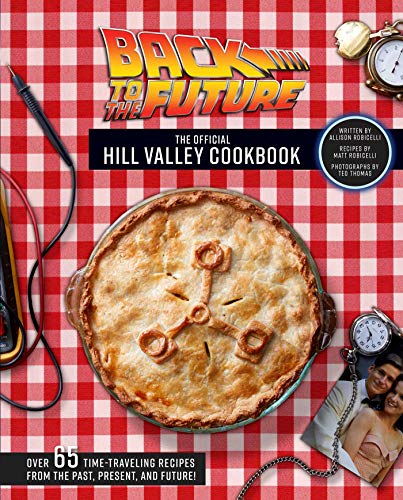 We may not need roads where we're going, but we do need food! Good thing I packed the Back to the Future cookbook, which is filled with Hill Valley favorites. Once we're done preparing dinner, we'll throw the scraps into the Mr. Fusion Home Energy Reactor. Waste not, as I always say!
If you ever wondered what they were eating during the Back to the Future trilogy, a cookbook can help. This Back to the Future cookbook features recipes for foods seen throughout all the different time periods experienced in the movies. It also has character info, fun facts, and new recipes to explore.
If you enjoy audio books, try Amazon's Audible Plus for free!
Great Scott! You won't believe how many great recipes are in this Back to the Future cookbook!
This Back to the Future cookbook features 65 different recipes from Hill Valley. You'll travel to the past, present, and future states while experiencing all they have to offer. The cookbook is broken into five different chapters, spanning the different decades from the trilogy. Start off in 1985 with favorites like the McFly Family Table Tuna Noodle Casserole, or Uncle Joey's Parole Cake!
From there, you'll travel to 1955 to experience Mrs. Baines' Meatloaf or Mr. Caruthers' Egg Cream. Fast forward to 2015 and try Hoverboard Cookies or the What Are You, Chicken? Sandwich. Just watch out that the sandwich doesn't fight back! Fall into alternate 1985 with Chicken Cordon Biff and The World's Luckiest Shrimp Cocktail. If that's still not enough, a trip to 1885 should top things off. Try new favorites such as Hungry Bear Claws and Clint Eastwood's Cowboy Punch.
This time jumping cookbook features in depth recipes with full color pictures. Helpful food alternatives and substitutes are suggested for those with food sensitivities as well. You'll also see cameos from your favorite characters as they pop in with helpful tips!
Written by James Beard nominated chef and food author Allison Robicelli, you'll find restaurant quality meals with Back to the Future fun. It's the perfect gift for the foodie, aspiring chef, or the Back to the Future fan in your life. Consider gifting this cookbook for Christmas or a birthday. Give the gift of food throughout the decades, with no time machine required!
Additional Notes
We enjoyed compiling a list of 10 items inspired by Back to the Future that you can actually buy today! The 1985 trilogy sure sparked our collective creativity
Hardcover, 144 pages
Measures 8" x 10" x 0.9" and weighs just under 2 pounds
Best seller in Science Fiction & Fantasy Movies on Amazon
New product, but has an impressive 4.8 star rating!
With this Playmobil Back to the Future Advent calendar, you can countdown to your favorite holiday and recreate your favorite scenes in Hill Valley!

PLAYMOBIL Back to The Future Advent Calendar

This Back to the Future calligram features the entire script of the first movie printed out in a picture of the DeLorean ready to travel through time!

Line By Line Back To The Future Handwritten Calligram, Size 18" x 24"

Handwritten poster portrait of BACK TO THE FUTURE comprised out of the entire script from the movie Done originally with black ink on layout bond by artist Mike Matola. This reproduction is printed on 100 lb uncoated gloss paper 24" by 18" The poster was made by sitting down and writing out each...

Marty won't need 1.21 jigowatts of electricity with this Back to the Future wireless charger!

Power Idolz by Numskull Back to The Future VHS Wireless Charger Phone Holder - Compatible with Qi-Enabled Devices, Fast Qi - Official Back to The Future Merchandise

Add some style to your DeLorean with these Back to the Future license plates!

Celebrity Machines Back to The Future | Outatime + 2015 | Metal License Plates

Nintendo fans will love creating Pocket Monster inspired dishes with this Pokémon cookbook!

The Pokémon Cookbook: Easy & Fun Recipes (Pokemon)

I'll be there to cook for you with this official Friends cookbook!

Friends: The Official Cookbook

Vault Dwellers can recreate their favorite meals thanks to an official Fallout cookbook!

Fallout: The Vault Dweller's Official Cookbook Gift Set

With the 85th anniversary Twinkies cookbook, you'll find uses for everyone's favorite snack cake that you never knew you could create!

The Twinkies Cookbook, Twinkies 85th Anniversary Edition: A New Sweet and Savory Recipe Collection from America's Most Iconic Snack Cake

If you love HP Lovecraft, then let The Necronomnomnom cookbook enter your kitchen!

The Necronomnomnom: Recipes and Rites from the Lore of H. P. Lovecraft

Cook up your favorites from the Beetle House thanks to this Nightmare Before Dinner cookbook!

The Nightmare Before Dinner: Recipes to Die For: The Beetle House Cookbook