Back to the Future Wireless Charger – Skateboard Marty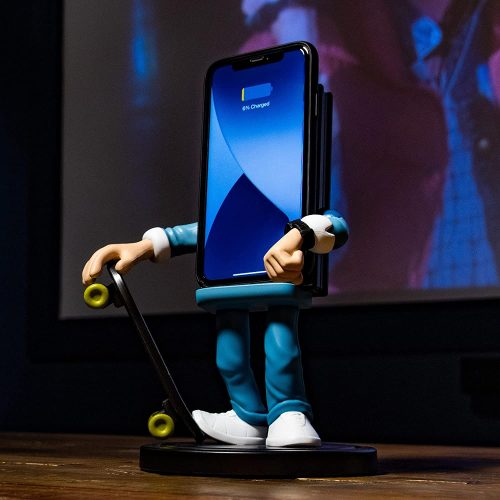 Charging cords? Where my phone's going, we don't need charging cords! …At least I don't with this awesome VHS tape Back to the Future wireless charger. Thanks to Qi charging technology, I'm ready to finally call my date for the Enchantment Under the Sea Dance.
It's time to go retro with this futuristic technology, and take a look at what Doc Brown cooked up this time! So grab your hoverboard as we review this Power Idolz wireless charger based on the iconic BttF movie trilogy.
What is the Power Idolz Back to the Future Wireless Charger
The Power Idolz Back to the Future Wireless Charger is created by Numskull Designs as one of their retro phone holders based on popular franchises. This charger features Marty McFly complete with his iconic jean jacket and skateboard.
When your phone isn't sitting above the Qi charger, just enjoy checking out the retro VHS cassette cover of Back to the Future.
To fully embrace the wireless charging, feel free to check if your phone is Qi enabled.
Features of the Numskull Designs Power Idolz BttF Wireless Charger
Official Back to the Future product
Compatible with iPhone and Android Qi enabled mobile devices
No need for specific phone charging cables
Stands roughly 9 inches tall with plenty of phone space
Comes with a USB-C charging cable for the stand
Are There Different Power Idolz Phone Holders and Chargers?
If you're looking to speed away from Hill Valley, Numskull Designs offers a few different VHS wireless chargers based on familiar entertainment properties:
Frequently Asked Questions About the Power Idolz Back to the Future Wireless Charger
Does wireless charging work with any phone?
This charger is a fast charging Qi charger which means that your phone or mobile device must be Qi enabled. If it is, then you will have no problem charging on this stand regardless of your phone being an iPhone or Android.
How do I know if the wireless charger is working?
When you plug in the Back to the Future wireless charger via the included USB cable, a blue LED light will illuminate blue around the base. Simply place your phone on the holder above, and within a couple of seconds, your phone should indicate that it's charging.
While charging, the lighted base will also change from blue to a yellow-orange color.
Why is my wireless charger flashing blue?
If the base of the Back to the Future wireless charger flashes and blinks blue when you add your phone to the holder, it means that there is a problem with the connection and the phone isn't charging. 
This may happen if there is some type of metal or plastic obstruction in the way or if your phone is not Qi compatible with the charger.
Our Overall Ratings of the Back to the Future Wireless Charger
Back to the Future VHS tape wireless charger
This wireless charger is perfect for geeks, movie buffs, and lovers of the classic 80's trilogy. The VHS tape is a wonderful added touch, and in an instant, people can recognize that's Marty McFly!

The actual Qi charger may not be the fastest phone charging device in your house, and I might like to see the hoverboard from BttF 2, but it's hard to really ding this display piece for much. It's a really cool display item that also functions to charge your most used piece of technology!
Bottom Line
The Back to the Future phone holder and Qi charger is perfect for anyone looking to add some retro movie love to their home. While you definitely won't need 1.21 gigawatts (or jigowatts if you're a real movie buff) of electricity to power this, that's probably a good thing. I imagine a bolt of lightning would fry your phone!
Marty would definitely kick back in 2015 charging his phone and reading Grays Sports Almanac.
Where to Buy
If you want to get your own Back to the Future wireless charger, here are some different options for price comparison:
Related Products
Here are some other similar items you may enjoy:
Even if you don't own a DeLorean, pick up this set of Back to the Future vanity license plates featuring OUTATIME and the 2015 variant

Celebrity Machines Back to The Future | Outatime + 2015 | Metal License Plates
This Back to the Future calligram features the full movie script in one awesome looking piece of art!

Line By Line Back To The Future Handwritten Calligram, Size 18" x 24"
Handwritten poster portrait of BACK TO THE FUTURE comprised out of the entire script from the movie Done originally with black ink on layout bond by artist Mike Matola. This reproduction is printed on 100 lb uncoated gloss paper 24" by 18" The poster was made by sitting down and writing out each...
Great Scott, you can countdown to your next event with the Back to the Future Advent calendar!

PLAYMOBIL Back to The Future Advent Calendar
Set your taste buds to 88 MPH with this Back to the Future cookbook!

Back to the Future: The Official Hill Valley Cookbook: Over Sixty-Five Classic Hill Valley Recipes From the Past, Present, and Future!
For more movie themed fun, check out our list of 10 items inspired by Back to the Future movies that you can actually buy!
If you prefer a long, long time ago vs the future, then try out this Millennium Falcon wireless charger

Wood Wireless Charger Pad, Desk Charging Station for iPhone and Android QI Enabled Phones, Samsung Galaxy Note LG Google
The Nomodo wireless Qi charger also functions as a mug warmer AND drink cooler

Wireless Qi-Certified Fast Charger with Mug Warmer/Drink Cooler | Nomodo
Power Idolz by Numskull Back to The Future VHS Wireless Charger Phone Holder - Compatible with Qi-Enabled Devices, Fast Qi - Official Back to The Future Merchandise
3 new from $49.99
1 used from $45.99
Free shipping
as of May 10, 2023 4:39 am
Features
Doc Brown and Marty have managed to bring back this awesome Power Idolz from their adventures; Simply stand your phone on the model and watch as your battery tops up
Wireless charging character representing the retro packaging of the classic Back To The Future VHS tape
Power Idolz are a cool, novelty phone holder and gaming statue fit for any desk that also doubles as a wireless charger pad for your mobile device
Compatible with many iPhone, Samsung and other qi wireless charger-enabled devices
Official Back To The Future merchandise, designed and engineered by Numskull Designs