Egon Spengler Ghostbusters Plasma Series Neutrona Wand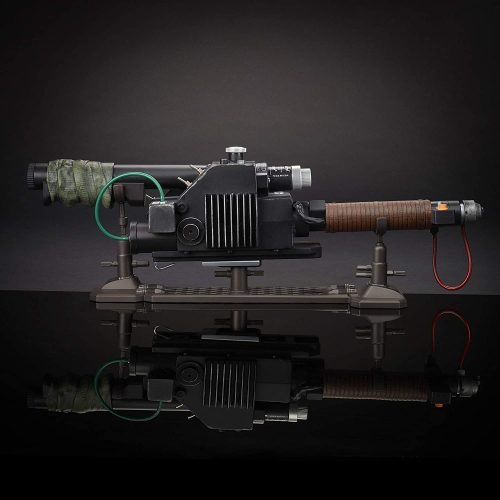 Are yinz troubled by strange noises in the middle of the night? Do you experience feelings of dread in your basement or attic? If the answer is yes, then you might want to pick up the Ghostbusters Plasma Series Neutrona Wand. This is actually Egon Spengler's Proton Blaster, Positron Collider, or whatever your favorite name for the tool to catch ghosts from the 2021 Ghostbusters: Afterlife movie!
We're ready to believe that you have some bustin' to do, and this 1:1 replica prop features lights and movie sounds to get you in on the action. As a bonus, the Proton Gun will be compatible with the upcoming Plasma Series Spengler Proton Pack due to release in spring 2023 from HasLab!
What is the Ghostbusters Plasma Series Neutrona Wand
The Plasma Series Neutrona Wand is a replica of Egon Spengler's leftover and rebuilt technology from the Afterlife sequel movie. This collectible is faithful with lights, sounds, and vibrations, but sadly, you won't actually be able to catch ghosts. I really want to fire off a Proton Beam, but I know my wife would disapprove of all the holes in the house.
Static pictures just don't do this prop justice as the lights and vibrations make it come alive. There are actually 4 different modes to choose from: Classic Proton Beam, and the Slime Blower, Stasis Stream, and Meson Collider from the Ghostbusters 2009 video game.
Back in the 1980's, I made a Proton Pack out of a paper grocery bag with a rubber band gun as my Proton Blaster. This would have been WAY cooler! 
Features of the Plasma Series Ghostbusters Neutrona Wand
Hasbro 3D scanned the actual Ghostbusters: Afterlife movie prop for faithful details
1:1 scale
Includes LED lights, sounds, and vibrations
Features 4 different ghost busting modes
Power up the Blaster with the same sequence of switches as in the movies
Comes with a display stand
Are There Different Ghostbusters Proton Blasters?
Years ago, Mattel had the Ghostbusters license and made several prop replicas like the Neutrino Wand (from the original 1984 movie), ghost trap, and PKE meter. Since all of these are long out of stock, you can expect to find the items on the aftermarket for a significant price.
If you're looking for toys for your child, there are other options for Ghostbusters items, but these items are far from movie screen faithful. For the truly creative, you can try searching on Etsy for 3D DIY Ghostbusters Proton Gun kits, or make all the props you desire out of LEGO bricks!
Frequently Asked Questions About the Plasma Series Ghostbusters Proton Gun
Can I combine the Plasma Series Neutrona Wand with a Proton Pack?
Hasbro Pulse and HasLab have begun production on a Ghostbusters Afterlife Proton Pack due out in spring 2023. This is Spengler's pack and designed to fit with the already released Neutrona Wand.
In fact, the Proton Blaster already includes an additional handle cap to cover the batteries with a separate hose attachment end. If you don't purchase the Plasma Series Proton Pack, cosplayers can attach a hose from this end to their own Collider on their back.
Do the lights and sounds stay on for the Proton Gun while walking around?
There is a battery saving feature of the Plasma Series Proton Gun that causes it to automatically power down after 30 seconds of idle time.
How many batteries does the Ghostbusters Neutrona Wand use?
Egon Spengler's Plasma Series Neutrona Wand uses 3 AAA batteries. To reach the battery compartment, simply unscrew the back of the handle and lay them in sequence before inserting them back into the replica.
Our Overall Ratings of the Ghostbusters Plasma Series Proton Blaster
Spengler's Plasma Series Neutrona Wand
While I'm far more partial to the original Ghostbusters movie of 1984, I can't deny how incredible this replica looks and sounds. Even if it's a rebuilt and slightly different Positron Collider from what I grew up knowing, it's faithful to the lore.

The fact that there are additional sound modes from the official Ghostbusters video game is an added bonus! Dan Aykroyd always said that the 2009 game was essentially the third movie of the series, so this is a great nod to that.
Bottom Line
Whether you're looking to cosplay as Egon Spengler, Stantz, Venkman, Zeddemore, or looking to add a display piece to your mantle or man cave, this Neutrona Wand is a great collectible! As mentioned, the old Mattel line fetches a high price on the aftermarket as it went out of stock. With the Hasbro version even surpassing it in details and quality, the longer you wait, the pricier it's sure to become!
Expect to see a surge in demand as the HasLab Proton Pack comes out in 2023 as well. Everyone is going to want to walk around with a complete Proton Pack and Proton Wand set!
Where to Buy
If you want to get your own Ghostbusters Neutrona Wand charger, here are some different options for price comparison:
Related Products
Here are some other similar items you may enjoy:
Fully embrace your inner geek and learn if Displate is a good gift for adults. Who knows what unique wall decor you may find!
Before you cross the streams ghost busting, learn how much lightsabers cost and decide if you want to buy an awesome prop at Disney or from a custom saber site!
You can also become the most ruthless bounty hunter in the galaxy with the Black Series Boba Fett helmet

Star Wars The Black Series Boba Fett Premium Electronic Helmet, The Empire Strikes Back Full-Scale Roleplay Collectible
Relive the greatest Batman movie by rebuilding the LEGO 1989 Batwing!

LEGO DC Batman 1989 Batwing 76161 Displayable Model with a Buildable Vehicle and Collectible Figures: Batman, The Joker – Mime Version and Lawrence The Boombox Goon, New 2021 (2,363 Pieces)
This set of Back to the Future license plates will have you OUTATIME or ready for futuristic 2015!

Celebrity Machines Back to The Future | Outatime + 2015 | Metal License Plates
You can't fire this wand at your TV, but try a little magic and change channels with a Harry Potter remote control wand!

The Harry Potter Remote Control Wand
Ghostbusters Plasma Series Spengler's Neutrona Wand Premium Collectible Ghostbusters: Afterlife Roleplay Toy for Fans Ages 14 and Up
26 new from $129.89
Free shipping
as of May 10, 2023 4:39 am
Features
ICONIC GHOSTBUSTERS COLLECTIBLE: This Ghostbusters Plasma Series Spengler's Neutrona Wand features premium design and deco based on the one seen in the 2020 film Ghostbusters: Afterlife
LIGHTS, SOUNDS, AND VIBRATIONS: LEDs, authentic sound effects, and motorized vibrations allow fans and collectors to imagine they're wrangling all sorts of spooky spirits and gruesome ghouls
FOUR GHOSTBUSTIN' MODES: Prepare for any supernatural situation and cycle through four modes with the press of a button, including classic Proton Stream, Slime Blower, Stasis Stream, and Meson Collider modes
PREMIUM DESIGN: Featuring premium design and deco, fans and collectors can display this premium roleplay item in their Ghostbusters collection
DON'T CROSS THE STREAMS: The Ghostbusters have been stopping ghastly ghosts and gruesome ghouls dead (again) in their tracks since 1984, and the adventures continue with Ghostbusters Plasma Series line from Hasbro (Each sold separately. Subject to availability.)