Is Displate a Good Gift for Adults? What You Need to Know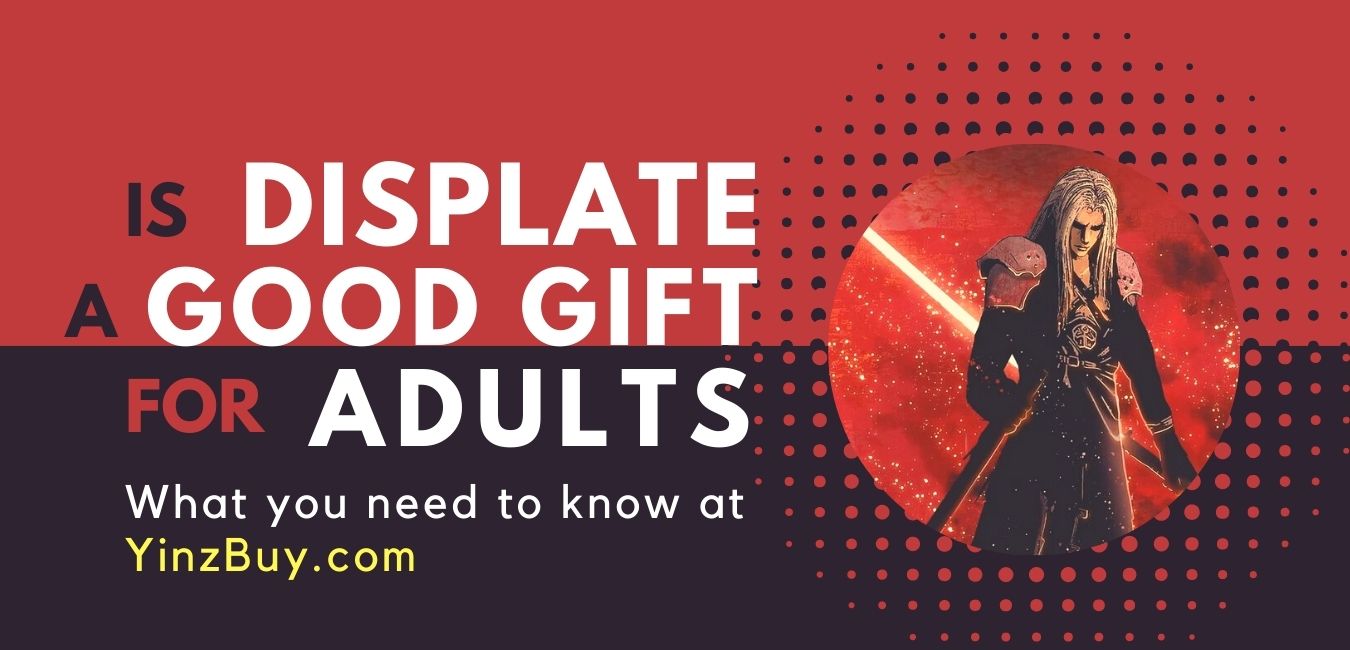 There I was, trying to find an awesome gift for my spouse and I stumbled upon Displate. It checked all my boxes: unique, game-inspired, and durable. However, I paused before that "add to cart" moment with a thought: Is Displate a good gift for adults?
Of course I thought it was super cool, but was it an adult appropriate gift, or would it be seen as childish? Is it something we'd actually display in our home, or hide away? Here's what I concluded:
A Displate is a good gift for adults. In fact, many of their designs are more geared towards adults versus any other age group. With a large variety of options, you'll find suitable gifts for every room in your home.
I made the leap and did it, so I want to share what you need to know. That way, you can decide for yourself without spoiling a gift surprise!
What is Displate, Anyway?
A Displate is a metal poster, printed with designs ranging from original art to licensed characters from your favorite shows and movies.
They're available in both matte and gloss finishes, and designed to be wall mounted in your home for display.
Why Choose a Displate Over Another Piece of Art?
Huge selection, potentially including your own art
Durable and longer-lasting than canvas
Variety of sizes, orientations, and finishes
Eco-friendly: a tree is planted for every purchase
Easy to mount and remove with little to no wall damage
Suitable for nearly any gifting occasion
Won't break the bank
Arrives gift-ready
Of course, you could find a lot of these options in various other art pieces. However, Displate is somewhere I can go to find something for pretty much anyone I know.
Gamer? Check. Animal lover? Covered. Art aficionado? They'll love it, too. It's a gift I know will last a long time, survive the move between apartments and homes, and look great doing it.
Better still, if you don't know what your recipient will enjoy, an online gift card gives them the flexibility to choose their own. You still get the credit for the awesome gift idea, though.
Adding Your Own Art to Displate
If you want to try and get your own art onto Displate, you'll have to apply and send a portfolio along. Assuming you're approved, they'll give you discounts on printing your works to give as gifts (and other people can buy them too)!
If you don't want to go that route (or don't get approved) then you can still find other creative ways to gift your own digital art.
RELATED on YinzBuy: Discover 9 Unique Ways to Give Digital Art as a Gift!
Why Displate is a Good Gift Choice For An Adult
Displate is a good gift choice for an adult that "has everything" – i.e. the basics in life and is now looking for something to show off their hobbies, interests, or fandoms.
The thing I like most is that nothing is really off limits. Here are some of the ideas I came up with for where to use different Displates in your home:
| | |
| --- | --- |
| Displate Theme | Room to Display It |
| Movies (ex: Marvel or Star Wars) | Living Room, Man Cave, Theater |
| Bathroom Humor | Bathroom |
| Video Games (ex: Witcher, Assassin's Creed) | Game Room, Man Cave, Living Room |
| Maps, Cityscapes, Landscapes | Living Room |
| Food & Drink | Kitchen |
| Nature & Floral | Bedroom, Living Room |
| Animals | Bedroom, Bathroom, Mudroom |
Displate themes and where to display them
As you can see, there are a tremendous variety of themes and styles. From vintage to modern, love to horror, geek and gamer to sports fan, there's something for everyone. I know I'll find a style that my mother, my spouse, or my sibling would all enjoy and display with pride.
Limited Edition Displates
The other adult appeal of a Displate comes in the form of their Limited Edition offerings. Many adult collectors can't wait to get their hands on them when they're available. The Limited Edition Displate is:
Limited quantity
Individually numbered
Shipped with a certificate of authenticity
Printed with special inks
Packaged in unique packaging
Given a different frame
It's true that they're really limited as well – once they sell out, they're gone. Not that the regular Displates don't disappear after a period of time as well; they certainly do. However, you're looking at years for a regular one vs perhaps a few days for these speciality ones.
If you get your hands on a Limited Edition, you'll find they all have gorgeous 3D style designs that are incredibly intricate and complex. They cost more – around 3x more in fact versus a regular Displate, but many collectors (myself included) feel they're worth it.
In Conclusion
Is a Displate a good gift for adults? Yes, it is. It's even better suited for adults than any other age group in my opinion.
With a vast selection of sizes, styles, and themes, you'll be able to find just the right choice based on your recipient's interests.
Looking for other unique wall art gift ideas? Check out some of our other favorites:
This world map wall art offers a beautiful wooden 3D design that looks great in any home

3D Wood World Map Wall Art. Large Wall Decor - World Travel Map All Sizes (M,L,XL,XXL). Any Occasion Gift Idea - Wall Art For Home & Kitchen or Office
DIY your next piece with this incredible LEGO World Map kit, featuring 11,695 pieces!

LEGO Art World Map 31203 Building Kit; Meaningful, Collectible Wall Art for DIY and Map Enthusiasts; New 2021 (11,695 Pieces)
A giant wall chess board not only adds to the room aesthetic, but is a playable game as well!

Tubibu Unique Wall Game Chess Set, Extraordinary Gift, Wall Decor, Wall Art, Wall Decor
For a more classic style, how about this Star Wars Leia art, which is an oil portrait!

Princess Leia Oil Portrait Replica Canvas Print Framed Painting, Star Wars Wall Art, Princess Leia Painting Art Print in Gold Wooden Frame, Carrie Fisher Tribute, Ready to Hang Home Decor