Scary Bingo Game is Monster Fun for Everyone!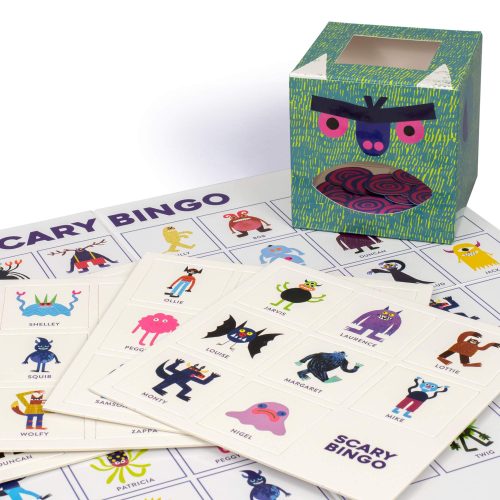 Scary Bingo is a spin on the classic game that features colorful, fun monsters. It's not too scary; in fact it's rated for ages 3 and up! It's a fun gift for kindergartners and toddlers who aren't ready for the real scary stuff.
In fact, we grabbed this as a family game to try out for some Halloween fun. It accommodates 3-7 players, making it super versatile if you have friends and relatives around too. I'll give you our thoughts below, but needless to say, it went a lot better than the last haunted hayride I attempted.
Features of the Scary Bingo Game
No reading required!
Comes with 8 double-sided Bingo cards
One game board
Eyeball shaped counters for card marking
Cardboard monster head for storing chips
48 unique monster chips to enjoy
Note that there will be "some assembly" required when you first open it up. I assembled the monster head box by folding it out. The kids helped with punching out all the monster chips from the backers.
I do think it will be easy to lose or damage tokens and markers over time. But, since it's so aptly themed, I'll just grab some Halloween candy instead. Problem solved, and with a sweet treat to boot!
How to Play Scary Bingo
Scary Bingo Game Rules:
The first player to cover their entire Bingo card is the winner!
Setup Instructions:
One person is designated as the "caller", and they grab the large game board
All other players select a smaller Bingo board
Place all monster tokens into the monster mouth box
Distribute eyeball tokens evenly amongst players
Scary Bingo Gameplay:
The caller begins by selecting a monster token from the monster mouth box
Read the name (if you can) or simply show the picture to the other players
Players try to locate that monster on their individual Bingo cards
If they have it, they should place an eyeball token on the space to cover it
Continue drawing and calling monsters until someone fills their board
Rotate roles, and repeat!
Scary Bingo Review
Scary Monster Bingo
Overall, I give Scary Bingo a 7/10. The artwork is whimsical and lovely. It's a family-friendly game that's fun around Halloween, especially to keep kids distracted from all the sugar!

I find that it's something the kids can play themselves pretty easily (even making up their own rules), making it low maintenance. However, I think they're going to outgrow it quickly – we adults were bored after a couple rounds.
The other place it loses points for me is in longevity. The cardboard monster head has to be folded back to flat if you want to store it, and it's not going to hold up forever. The tokens are only cardboard as well, so the kids will definitely do a number on them. 
If you're still on the fence, nearly 400 reviewers on Amazon have given it a 4.9 out of 5 star rating. Kid friendly, fun approved!
Where to Buy
If you're picking up your own copy of Scary Bingo game, here are some different sites you can buy it for price comparison:
Other Kids Bingo Variations
If your kiddos aren't into monsters or you're not shopping for a spooky season, there are a few different versions that make thoughtful gifts for kids:

Poo Bingo
Check Prices
Bottom Line
Aptly named, Poop Bingo is both hilarious and informational, teaching kids about different varieties of droppings while they match.

Dinosaur Bingo
Check Prices
Bottom Line
Journey to the land of dinos with Dinosaur Bingo and identify all sorts of prehistoric creatures! It's your own home Jurassic Park!

Jungle Bingo
Check Prices
Bottom Line
You'll be king or queen of the jungle when you're playing Jungle Bingo, with all sorts of unique animals! Lions and tigers and elephants, oh my!
Related Items
In the same scary theme, check out Zombie Gotcha! This game for kids focuses on matching cards. Try to get what you need to escape, before the zombie grabs you!

Mattel Games GFG17 Zombie Gotcha
Help your kids count down to Halloween in another fun way with the 13 day Halloween advent calendar. It's filled with mini Funkos of your favorite scary movie classic characters!

Funko Advent Calendar: 13 - Day Spooky Countdown, Multicolor
Make some themed snacks for your game night with the help of GingerDead Man cookie cutters! They make fun skeleton-shaped cookies you're sure to enjoy. I like sugar cookies myself!

Genuine Fred GINGERDEAD MEN Cookie Cutter/Stamper
Those fall nights around Halloween can be chilly. Cozy up with a Candy Land blanket, which you can use as a game board too. Stay warm and enjoy family game night – sounds win-win to me!

Jay Franco Candy Land Game Blanket – 4 Piece Set Includes Plush Blanket, Playing Cards, Gingerbread Characters, & Storage Bag (Official Hasbro Product)
Enjoy a tropical vacation by playing the Coconut Toss game and feel like a house full of monkeys!

Coconuts: The Award-Winning Game of Monkeys, Cups, and Laughter
Scary Bingo: Fun with Monsters and Crazy Creatures
16 new from $15.56
Free shipping
as of October 23, 2023 6:41 am
Features
| | |
| --- | --- |
| Part Number | 47364060 |
| Release Date | 2017-08-08T00:00:01Z |
| Edition | Brdgm |
| Language | English |
| Publication Date | 2017-08-08T00:00:01Z |