LEGO Luke Skywalker Red 5 Helmet (Standing By)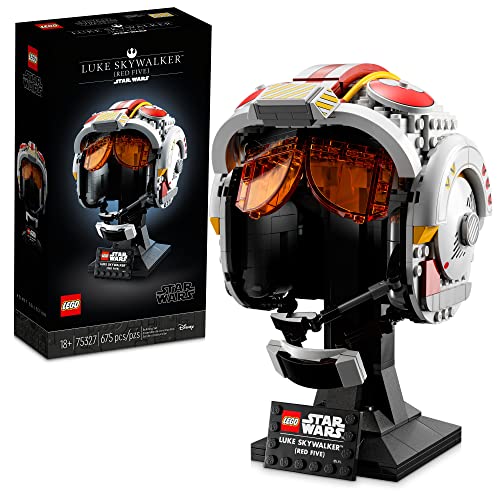 Lock S-foils into attack position. Before I make a trench run on the Death Star, I definitely want to make sure my LEGO Luke Skywalker Red 5 helmet is properly built. Nothing spells the end of a Yavin base faster than a knock to the noggin!
Any self respecting member of the Rebel Alliance will love building Luke's classic X-Wing pilot helmet. This particular LEGO build features 675 bricks. It's also a part of a Star Wars helmet collection featuring more iconic characters that we'll get to later.
Features of the LEGO Luke Skywalker Red 5 Helmet
Official LEGO kit number 75327
Features authentic details and logos to mimic the feel of the movie prop
For display purposes only as this is not a wearable helmet
Stands roughly 7.5 inches tall with display stand included
Comes with easy to follow instructions
Are There Different LEGO Star Wars Helmets?
As of today, there are 8 different LEGO Star Wars helmets in the collection including the Red 5 release. If you go to the official LEGO website, you will notice that 6 of the helmets are still available for sale. The LEGO Stormtrooper helmet (75276) and the LEGO Tie Fighter Pilot helmet (75274) are much more rare as they were retired in early 2022.
Frequently Asked Questions About the LEGO Luke Skywalker Red 5 Helmet
What are all the LEGO Star Wars helmets?
There are currently 8 helmets in the LEGO Star Wars collection as of 2022. In order of release date:
1. Tie Fighter Pilot (75274) released in 2020
2. Stormtrooper (75276) released in 2020
3. Boba Fett (75277) released in 2020
4. Darth Vader (75304) released in 2021
5. Scout Trooper (75305) released in 2021
6. Luke Skywalker Red 5 (75327) released in 2022
7. Mandalorian (75328) released in 2022
8. Dark Trooper (75343) released in 2022
Which LEGO Star Wars helmets are currently retired?
As of August 2022, only two LEGO Star Wars helmets have been retired. These are the Tie Fighter Pilot (75274) and Stormtrooper (75276) both released in 2020. Based on this, the average retail span before retirement is 23 months.
The Boba Fett helmet (75277) has currently been available for 29 months. While Boba Fett is an extremely popular character, you can expect the helmet to be retired next in the coming months.
How long does it take to build the Luke Skywalker Red 5 helmet?
At 675 pieces, it will take roughly 1 to 2 hours to complete the Luke Skywalker Red 5 helmet build depending on your experience as a builder. There are detailed instructions to follow but also include a few delicate pieces.
This kit is intended for adults and not young children.
Our Overall Ratings of the Luke Skywalker Red 5 Helmet
LEGO Luke Skywalker Red 5 Helmet
This LEGO Star Wars helmet comes with the fine details of a movie prop. From the translucent orange visor to the communication microphone to the Rebel logo, Luke Skywalker would approve!

If you're a LEGO collector, then this is a must have to complete your helmet series collection. Since it's a newer release, you should still have no issues in finding it before it retires and increases in price!
Bottom Line
The LEGO Luke Skywalker Red 5 helmet is a great new addition to the Star Wars collection! At 675 pieces in this kit, you'll receive a small challenge, but it's probably easier than blasting a womp rat in an X-wing! It features vibrant colors and a number of sticker decals to complete the build to its fullest extent.
As with all LEGO Star Wars helmets, the display stand is consistent across the years, so you'll easily be able to add this one to your geek shelf!
Where to Buy
If you want to get your own LEGO Red 5 helmet, here are some different options for price comparison:
Related Products
Here are some other similar items you may enjoy:
If you love collecting Star Wars toys, you may wonder why are the Black Series figures so expensive?
Actually become the most feared bounty hunter with this wearable Black Series Boba Fett helmet!

Star Wars The Black Series Boba Fett Premium Electronic Helmet, The Empire Strikes Back Full-Scale Roleplay Collectible
This 60 inch Luke Skywalker lightsaber lamp is not only an elegant weapon, but it will light your game room too!

Star Wars Luke Skywalker Lightsaber Floor Lamp | Mood Light | 5-Feet Tall
With a Stormtrooper decanter, you can hold all your favorite Galactic Empire spirits!

The Wine Savant Stormtrooper Bottle Decanter in Glass
STORMTROOPER HELMET DECANTER with 2 shot glasses. Based on the iconic helmet from the original 1977 film. SCI-FI DECANTER. Gift Recommendation: Starwars fans, unisex, father, boyfriend, girlfriend, girls. Perfect for best friends, love couple gifts. Suitable for red wine, whiskey, brandy, vokda...
Build a lair of scum and villainy with the LEGO Mos Eisley Cantina kit!

LEGO Star Wars: A New Hope Mos Eisley Cantina 75290 Building Kit; Awesome Construction Model for Display, New 2021 (3,187 Pieces)
LEGO Star Wars Luke Skywalker (Red Five) Helmet 75327 Fun, Creative Building Kit for Adults; Collectible, Brick-Built Star Wars Memorabilia for Display (675 Pieces)
48 new from $53.41
Free shipping
as of May 10, 2023 4:40 am
Features
Features a Red 5 Star Wars collectible Luke Skywalker helmet buildable model kit, a first in the LEGO Star Wars Helmet Collection set for adults
Replicate in LEGO bricks all the details of Luke Skywalker's Red Five Star Wars helmet, and display it on the integrated stand with a nameplate
Premium-quality LEGO Star Wars sets for adults are designed for you, the discerning hobbyist who enjoys hands-on creative projects
This collectible Luke Skywalker helmet replica, a part of the_x000D_
Star Wars memorabilia range comes with clear, illustrated instructions