60 inch Star Wars Luke Skywalker Lightsaber Floor Lamp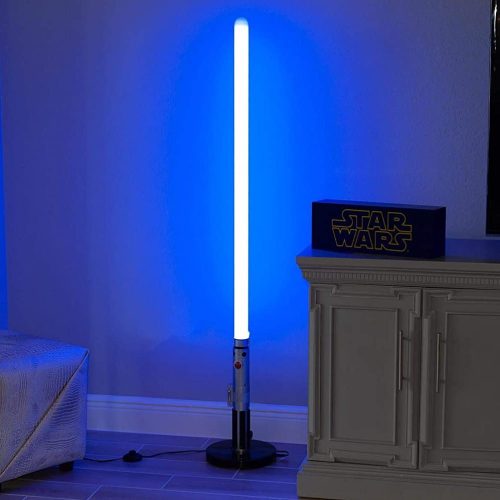 I'm definitely a Jedi following the light side of the Force, but sometimes I need the Force to light the way for me! This Luke Skywalker lightsaber floor lamp is perfect for other Jedi. It's an elegant Star Wars light for a more civilized age!
Add the final touch to any Star Wars room with this lightsaber floor lamp. Standing 60 inches tall, this lightsaber shines bright blue just like Luke Skywalker's from A New Hope! While not powered by kyber crystals, a standard electrical outlet will work just fine.
RELATED on YinzBuy:
Find and compare the prices of Disney Galaxy's Edge Legacy lightsabers!
Light up the room like a Jedi Knight with this Star Wars lightsaber floor lamp!
Even with two suns shining down on Tatooine, I bet Luke Skywalker could still use this lightsaber floor lamp! Modeled after the iconic legacy lightsaber Obi-Wan gave to Luke, it stands 5 feet tall.
This Star Wars floor lamp is easy to operate as well. Instead of having to constantly bend over to reach the base, simply use a floor switch to illuminate your room. It also comes with a remote control and dimmer switch so you never have to leave the seat of your cockpit!
I may not always live up to the Jedi Code. In that case, I might prefer Anakin Skywalker's lightsaber AFTER he turned to the Dark Side. For such occasions, this Darth Vader floor lamp modeled in the same vein is perfect!
Can I use this Star Wars lightsaber floor lamp in a nursery?
Despite coming with a dimming function, this Star Wars lightsaber lamp is extremely bright. It does not offer a simple, ambient glow that you would want as a nursery or night light. With that in mind, it's not recommended for those purposes.
It's weird to think that one of the biggest contentions of this floor light is that it's too bright, but here we are! It's good to know what you're getting though as you wash the walls in a blue shine.
Additional Notes
Lamp has a 10 inch round base and stands 60 inches tall
Minimal assembly is required
A wrench and instructions are also included for assembly
Before beginning your Death Star trench run, build this LEGO Luke Skywalker Red 5 helmet!

LEGO Star Wars Luke Skywalker (Red Five) Helmet 75327 Fun, Creative Building Kit for Adults; Collectible, Brick-Built Star Wars Memorabilia for Display (675 Pieces)

Fans of The Mandalorian will love adding this Darksaber lamp to their desk!

Robe Factory LLC Star Wars The Mandalorian Darksaber 24-Inch LED Desk Light Lamp

Mix the Sith with a 70's style, and you get this Darth Vader lava lamp!

Robe Factory LLC Star Wars Darth Vader 18-Inch 3D Top Motion Lamp, Mood Light

Enjoy listening to music pumping from this TIE fighter Bluetooth speaker!

Star Wars Bluetooth Speaker - The Force Awakens First Order Tie Fighter Villain Starfighter Lights Up When In Use

If you are looking for a softer light for your room, then check out this color changing floor lamp

61" Soft Light Floor Lamp,LEONC RGB Color Changing LED Tyvek Fabric Shade Modern Floor Lamp with Fabric Shade & 2 Smart LED Bulbs for Livingroom Bedroom Warm Atmosphere Tyvek Dupont 10 x 10 x 61 inch…