Star Wars TIE Fighter Bluetooth Speaker – Episode VII Edition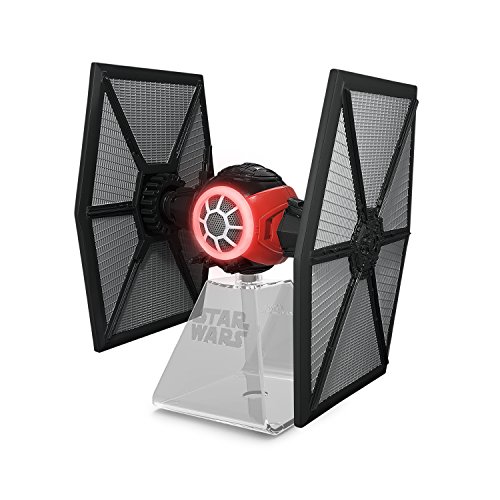 Is that a spaceship playing music? That's not just any ship, that's your Star Wars TIE fighter Bluetooth speaker? Well, you'd better queue up the Imperial March next!
The Star Wars TIE fighter Bluetooth speaker is a replica of the iconic ship seen in the saga. It lights up while in use and provides excellent sound quality despite its small size. Pair it with nearly any Bluetooth enabled device to take your music to a galaxy far, far away.
Join the Empire when you play your music through the iHome Star Wars TIE fighter Bluetooth speaker!
This unique Star Wars TIE Fighter Bluetooth speaker is ready to bring the galaxy a little closer to home. Now, you can enjoy all your favorite songs played through a small-scale replica of the TIE fighter from the Star Wars saga.
In fact, for true fans, it comes equipped with Star Wars: Main Theme song by John Williams already ready to play. To listen to Dagobah's greatest hits, though, you'll want to reach for any other Bluetooth compatible device, such as:
Smartphone
Laptop
Tablet
Smart watch
Gaming device
PC
Simply connect and stream! If you get a call on one of your devices, you're covered there as well. Answer and end the call via a speakerphone option. Who knew TIE fighters were so well equipped?
A 3.5mm headphone jack allows you to plug in, in case you don't want to disturb the Jedi training going on in the next room. Alternatively, you can play music from non-Bluetooth enabled devices in this fashion.
The speaker itself is entirely portable, utilizing a rechargeable battery to provide wireless power as needed. That's perfect for when I want to listen to music but get sent to go look for those pesky Droids again.
How do I connect my Star Wars Bluetooth speaker?
Connect your Star Wars Bluetooth speaker in a few simple steps:
Open the Bluetooth connection menu on the device you wish to pair with
Slide the BT/OFF/AUX Switch on the speaker to the Bluetooth (BT) position
Press and hold the pairing button on the speaker for 3 seconds
The speaker will flash red and beep to indicate it has entered pairing mode
A Star Wars option should appear in your device's Bluetooth connection menu
If it does not connect automatically, press 'connect' to finish pairing
If prompted for a passcode, enter '1234'
The light will turn off and another tone will sound when pairing is complete
If pairing doesn't complete within 3 minutes, the speaker will flash and revert to standby mode. Simply repeat the procedure starting from holding the pairing button to try again.

Manage the music being streamed via your connected device. The iHome TIE fighter speaker can connect from about 30 feet away via the Bluetooth connection.

To preserve battery life, make sure to turn the speaker to the 'off' position when not in use.

v
Additional Notes
Also available in Millennium Falcon and Star Destroyer models
Rated 4.7 stars with nearly 800 reviews!
For a floating spaceship vibe, try out the floating UFO Bluetooth speaker instead

Levitating Floating Speaker, Magnetic UFO Bluetooth Speaker V4.0, LED Lamp Bluetooth Speaker with 5W Stereo Sound, Wireless Charge, 360 Degree Rotation, for Home/Office Decor,Unique Gifts(Grey)

Don't take your TIE fighter into the bathroom; use this waterproof Bluetooth shower speaker!

BassPal Shower Speaker Waterpoof IPX7, Portable Wireless Bluetooth Speakers with Radio, Suction Cup & LED Mood Lights, Super Bass HD Sound Perfect Pool, Beach, Bathroom, Boat, Outdoors (02.Gray)

Light up the room with this Star Wars lightsaber floor lamp modeled after Anakin and Luke Skywalker's original lightsaber!

Star Wars Luke Skywalker Lightsaber Floor Lamp | Mood Light | 5-Feet Tall

You may also enjoy this Death Star toaster, turning out perfectly toasted breakfast, space style

Uncanny Brands Star Wars Death Star 2-Slice Toaster- Toasts Iconic Tie Fighter onto Your Toast

Take care of your R2-D2 Tamagotchi while you listen to Galactic music!

Tamagotchi Star Wars R2-D2 Hologram Blue (88822)

Put your food in one of these Star Wars Pyrex containers for a dinner that's intergalactically awesome!

Pyrex 4-cup Decorated 8-pc Set, Star Wars Food Storage