National Geographic Crystal Growing Chamber – STEM Kit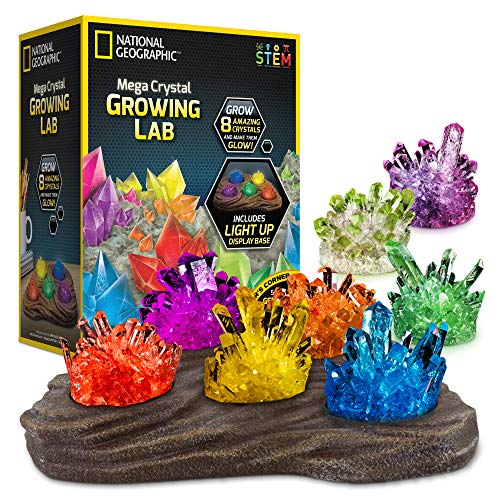 It's raining outside again today. Guess we're not going to go play in the yard; I don't want mud everywhere. But yinz know what we can do today? Let's try out this National Geographic crystal growing chamber I ordered. We can learn about all sorts of gemstones and then grow our own. How cool is that?
A crystal growing chamber kit comes with everything you need to make real crystals at home. A specially formulated base and growing powder is placed into a mold or grow container. This helps create a defined shape, producing a more reliable and recognizable crystal result.
This National Geographic crystal growing chamber really rocks! In fact, it will make you want to 'gem' out!
This National Geographic crystal growing chamber ships with everything you need to grow beautiful crystals at home. This lab can produce 8 different colored crystals in:
Blue
Pink
Red
Green
Orange
Yellow
Purple
Teal
Once you've grown all your crystals, select your 5 favorites for display!
The National Geographic crystal growing lab comes with a night light platform. Place your favorite crystals in designated spots on the light up base, making your crystals glow! It's an ideal way to preserve fun memories, while also providing a functional night light.
This mega crystal growing lab also comes with 5 real gemstone specimens, such as amethyst, quartz geode, blue calcite, rose quartz, and fluorite. An included learning guide teaches about crystal formation.
These tools will help your child learn as they play. This kit is a STEM certified chemistry experiment, teaching kids about the wonders of science. Make learning fun!
A National Geographic crystal growing lab makes a fantastic gift. Parents, grandparents, teachers, and caregivers look no further! This crystal kit is fun, interactive, and a great learning tool. Consider gifting it for birthdays, Christmas, or just keeping on hand for a rainy day activity!
What are the instructions for the National Geographic crystal growing kit?
The National Geographic crystal growing kit is easy enough for kids to follow, using a few simple instructions:
Mix the desired color crystal growing powder with 1 cup of hot water until completely dissolved (distilled water works best for the purest results)
Pour mixture into one of the growing chambers
Add the seed rock, from which the crystals will grow from
Place the chamber in a stable, light, and warm spot. Ideal temperature is around 68 degrees Fahrenheit. Any vibrations will disturb crystal growth. Crystals may still grow in the dark; but not as quickly
Cover it for up to one day. This is optional, but many crystal enthusiasts report bigger crystal formations. Do not cover for longer than one day, as you'll want the water to evaporate correctly.
Watch your crystals grow!
In 7-10 days, you'll have a fully formed and beautiful crystal. Then, gently remove from the silicone grow chamber and your specimen is ready for display.
What is a crystal growing chamber?                                        
The crystal growing chamber is a silicone mold that controls the shape and growth of your crystals. It gives much more definition and shape than a DIY crystal made with Borax or salt. Once the crystals are fully grown, the soft silicone releases them easily, preserving their form.
This National Geographic crystal growing kit comes with two chambers. They're reusable, so you'll be able to grow all 8 that the kit allows for, and any additional ones you'd like to attempt in the future.
Additional Notes
Recommended for ages 8+.
Amazon's top choice for those searching for activity sets for kids ages 7-12.
Backed by National Geographic, one of the world's largest nonprofit scientific and educational organizations.
Do not use aluminum containers to boil crystal mix, as it will alter chemistry and cause crystals to be malformed.
#17 best seller on Amazon in Science Kits & Toys with a 4.6 star rating!
Discover gems like Agate, Lapis Lazuli, Jasper, and more with the Dig a Dozen Gem Blocks!

Dig a Dozen Gem Blocks - Break Open 12 Unique Gemstone Blocks and Discover 12 Real Precious Stones - Archaeology Geology Science Gift - Mineral & Rock Collection

Start prospecting in your back yard with the Shark Tank Gold Rush Nugget Bucket!

Gold Rush Nugget Bucket - Gold Panning and Prospecting Kit (Camouflage)

Learn about the Elements with this Periodic Table with samples!

Heritage Periodic Table of Elements, Made In USA, Acrylic Periodic Table With Real Samples

Let your children learn about Aqua Dragons with this Little Live habitat!

Little Live Aqua Dragons - Deep Sea Habitat - LED Light Up Tank Hatch and Grow Aquatic Pets

Grow your own holiday trees with this crystal tree growing kit

Futomcop 2 PCS Magic Growing Crystal Christmas Tree Presents Novelty Kit for Kids Funny Educational and Party Toys (Green)

Eat some crystals for fresh breath with these Star Trek Dilithium crystal breath mints

The Unemployed Philosophers Guild Star Trek Dilithium Crystal Mints - 1 Small Tin 1.75 x 1.75

Enjoy a relaxing soak with bioluminescent bath crystals

Bath Diamond Jasmine 19 Bioluminescent Soaking Salts

Indulge in aromatherapy with the highest quality jasmine essential oils that help regenerate, nourish, and heal your skin while providing deep relaxation. Like diamonds, our marine luciferin light crystals are both rare and luxurious. Found in bioluminescent organisms who roam the tranquil depths...