Desktop Floating Tensegrity Table – The Optical Illusion Stand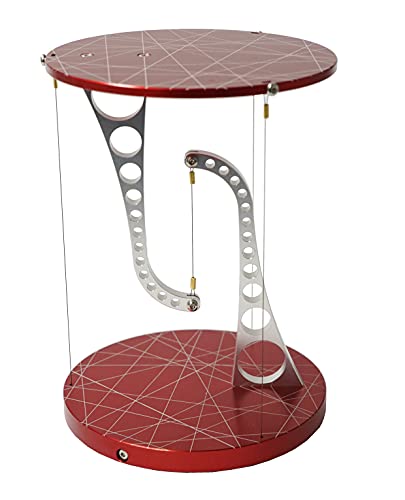 I love staring at an optical illusion and trying to figure out how it works and tricks the brain! One look at this floating tensegrity table, and I knew I needed to put one on my desk. It looks like the perfect stand for to display my Dundee Award!
A tensegrity table is a mix of engineering and physics. The various cables help to both force the table apart and pull it back together at the same time, thus preserving the stability without a solid rigid piece. These tensegrity structures can all look different with some even using magnets.
Fashion, function, and illusion merge with this floating tensegrity table!
Everyone that comes into my office does a double-take when they see my MewTwo Funko Pop floating in the air thanks to this tensegrity table. It still boggles my mind how the various cables are suspending the top and bottom of this floating desktop stand!
The entire tensegrity structure comes disassembled in the box, but it's fairly easy to put together. It comes with instructions and all the necessary tools to build it in around 15 minutes.
Once built, you then adjust the steel tension cables under the base of the table to ensure everything is level and to your liking! After that, display it on your desk, shelf, bookcase, or countertop for a surefire conversation starter!
How much weight can the floating tensegrity table hold?
Each cable in the tensegrity table is rated and tested for 15 lbs. It's recommended to place objects lighter than that on the table or it will collapse as the center cable is already under tension. Limiting the table to 2.5lbs objects gives you plenty of cushion for safety.
My first reaction was to place my morning coffee and have it float next to me, but putting anything hot on this floating structure is a bad idea. The heat will inevitably expand the metal in the cables and cause everything to come tumbling down! That's not a mess I want to deal with on a Monday!
Luckily there are plenty of other awesome things to display instead!
Additional Notes
Top and bottom base measure 3.6 inches in diameter, and the desktop table stands 5 inches tall
Parts are CNC machined Aluminum and made in England
Double up on the floatation by setting this levitating plant pot on top of your display stand!

Levitating Air Bonsai Pot - Magnetic Levitation Suspension flower and air bonsai pot

Pretend that Grogu is using the Force to hold up the tensegrity table with this Baby Yoda Chia Pet!

Chia Child Star Wars The Mandalorian Baby Yoda Pet, Terra Cotta

Let the Guardians of the Galaxy take center stage with these Baby Groot planter pots!

IKAYAS 4 Pack Treeman Baby Groot Flower Pot Groot Succulent Planter Pot Cute Green Plants Flower Pot Pen Pencil Holder, Great Birthday Gift Graduation Gift for Her Him 4 Styles (Plants Not Included)

Add some light to your desk with this levitating light bulb lamp!

VGAzer Magnetic Levitating Floating Wireless LED Light Bulb with Wireless Charger for Desk Lamp,Room or Office Decor,Unique Gifts

Plan your next vacation after admiring this floating magnetic globe!

Magnetic Levitation Floating Globe Mysteriously Suspended in Air World Map (C-Shape-Blue)