Baby Yoda Chia Pet – The Child Grogu in a Planter Pod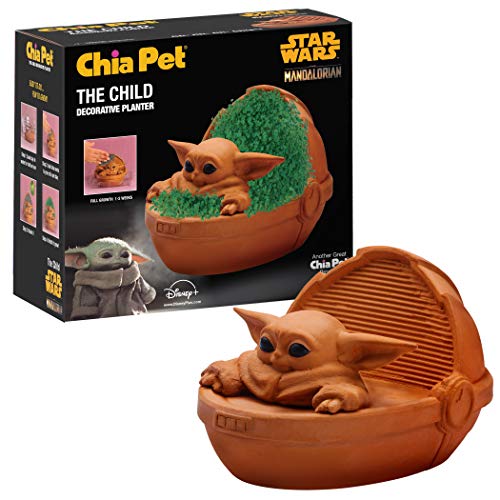 I know The Child Grogu is supposed to be green and all, but he's looking a little leafy. That's because it's a Baby Yoda chia pet and not the actual character? Well, that makes a lot more sense!
The Baby Yoda chia pet has everything you need to grow your own version of the little green guy. Whether you refer to him as the Asset, the Child, or Grogu, this little guy has won the hearts of viewers on the Mandalorian. Now, he can be a fun planter too!
Grow your own galactic Child with this Baby Yoda chia pet planter!
Taking care of a real child is a lot of work, but thankfully this Baby Yoda chia pet makes things a lot easier. This terra cotta planter is designed to look just like the Child's pod as seen on The Mandalorian series.
The kit includes everything you need to get started. You'll receive the adorable Baby Yoda shaped planter, a plastic drip tray, and enough Chia seeds for 3 plantings.
To make your Baby Yoda Chia pet come to life, follow a few easy steps:
Soak the clay planter in water for about 30 minutes
Spread the seeds over the grooved surface of the planter using your hands (moisten the seeds if they're having trouble sticking)
Water it regularly. Make sure to place the drip tray under it to prevent damage to furniture
Watch it grow! Turn the seeds towards a light source to promote even growing patterns
The seeds should reach maturity in about 1-2 weeks' time, and you'll have a thriving little Yoda planter. Each planting should last about 4 weeks. After that time, simply wash the planter to prepare for the next growing.
Replacement seeds may be purchased once you run out of included ones if you desire to keep growing. The planters may be reused indefinitely.
Additional Notes
Measures 8 x 4.5 x 7.3 inches and weighs about 7 ounces
Impressive 4.6 star rating with over 6,000 reviews – buy with confidence!
Also available in a "floating" version which uses a clear plastic stand for elevation
Great for kids and adults (the seeds are safe if accidentally ingested)
Have more fun with The Child with this Baby Yoda bean bag chair

Idea Nuova Star Wars: The Mandalorian Featuring The Child Figural Bean Bag Chair with Sherpa Trim, Ages 3+

Feed the Child some tasty frogs with this Star Wars Mandalorian Snack Time game 

Buffalo Games Star Wars The Mandalorian - Snack Time Game

Or, get ready for the holidays with the Baby Yoda Christmas inflatable

Star Wars Mandalorian The Child Yoda with Candy Cane Inflatable, Lights Up, 4.5 Feet Tall, Comes with Two Additional Repair Patch Kits

Want a real floating plant? Check out this levitating plant pot for your hovering planting needs!

Levitating Air Bonsai Pot - Magnetic Levitation Suspension flower and air bonsai pot

If you have a black thumb like me, a water generating dewplanter is a great choice. It makes its own water from the air in your home!

Water Generating Dewplanter in White

Ever forget to water your plants? The Dewplanter's patent pending water generation system uses energy efficient cooling technology to cause ambient moisture in the air to gather, similar to what you'd see on an iced drink or morning dew (guess where we got our name from?). This clean, filtered...