Baby Yoda Christmas Inflatable – Star Wars Mandalorian Décor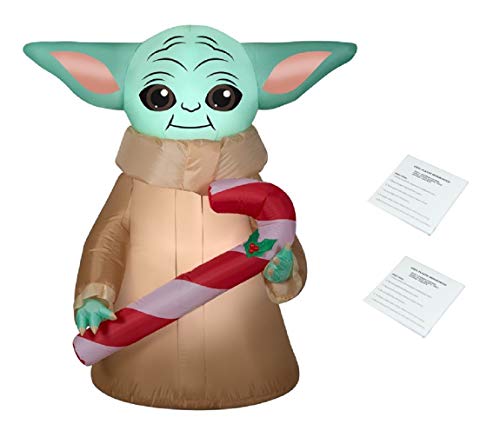 It's time to decorate for Christmas, and I'm so excited! I was looking around for new yard decorations this year, and I wanted to find something unique. I'm so glad I saw this Star Wars Mandalorian Baby Yoda Christmas inflatable with a candy cane. Since we've enjoyed watching the Mandalorian so much, I thought this was the perfect choice!
Inflatable lawn decorations are a quick and easy way to add holiday décor to your yard. Simply plug in and secure them to the ground, and your inflatable is fully set up within minutes. Inflatable lawn décor allows you to add personalized flair to your holiday. Many designs are available featuring your favorite movie, TV, and pop culture characters.
Bring the Child Asset home for the holidays with this Star Wars Mandalorian Baby Yoda Christmas inflatable!
Your yard can journey to a galaxy far, far away when you bring home the Star Wars Mandalorian Baby Yoda Christmas inflatable. This adorable yard decoration stands around 4.5 feet tall once fully inflated. It features the Asset, also known as the Child or Baby Yoda, holding a red and white striped candy cane accented with holly. An interior LED light ensures that your decoration is visible during the nighttime too!
This Christmas inflatable is suitable for both indoor and outdoor use, though you might want to grab a weatherproof extension cord if it's outside. The Child can be set up in minutes, adding a touch of Star Wars charm to your home for the holidays. Simply plug it in and tether it to the ground with the included stakes – that's it! It will self-inflate in seconds and will keep your yard festive with Mandalorian style. At the end of the season, it deflates just as quickly for easy storage until next year!
When it comes to inflatable objects, we all know accidents can happen. This Star Wars Baby Yoda Christmas inflatable includes two patch repair kits, just in case! Don't let an accidental tear ruin your holiday cheer. Just patch it up, and Baby Yoda will be back to bringing joy and merriment in no time!
So, if you're looking to add a little Star Wars flair to your Christmas decorations, look no further. This Child with a candy cane inflatable is the perfect holiday décor choice for Mandalorian and Star Wars fans alike! Pair it with our AT-M6 walker Christmas inflatable so you can come 'Hoth' for the holidays, or turn to the Dark Side with a Christmas Darth Vader!
Additional Notes
Power cord is 120-150V AC – 50/60Hz compatible
Best seller in Inflatable Outdoor Holiday Yard Decorations on Amazon
While a fairly new product, it already has a 4.6 star rating!
Instead of parking at the bottom of a Dagobah swamp, enjoy this X-Wing Christmas inflatable piloted by R2-D2 in a Santa hat!

Airblown Star Wars R2-D2 in X-Wing Fighter Gemmy Inflatable Yard Decoration

R2-D2 and BB-8 are both wearing Santa hats in this Droids to the World inflatable Christmas decoration!

Gemmy Star Wars Christmas Inflatable 5' R2-D2 and BB-8" Droid to The World Scene | Airblown Inflatable

Grow out your own Child Grogu with this Baby Yoda Chia Pet!

Chia Child Star Wars The Mandalorian Baby Yoda Pet, Terra Cotta

Give your child a fun place to sit with this Baby Yoda bean bag chair! It even has his iconic ears pointing out the back!

Idea Nuova Star Wars: The Mandalorian Featuring The Child Figural Bean Bag Chair with Sherpa Trim, Ages 3+

When it comes time to drive around during the holidays, take this Grinch buddy inflatable with you in the car!

Gemmy Airblown Car Buddy Grinch w/Scarf-Dr. Seuss

This 10′ video projecting Frosty the Snowman inflatable plays clips from the cartoon right on its belly!

The Video Projecting 10' Frosty The Snowman

Available only from Hammacher Schlemmer, this is the 10' inflatable Frosty The Snowman that entertains passersby with a projector that plays clips from the classic 1969 cartoon on his belly. The beloved character's bulbous torso functions as a screen as the included projector plays scenes from...

We also compiled a list of 25 Star Wars gift ideas for fans of a galaxy far, far away!
Truly master the ways of the Force like Yoda and find out how much lightsabers cost at Disney's Galaxy's Edge and other online custom sound saber websites!