Droids to the World – Christmas Inflatable with R2-D2 and BB-8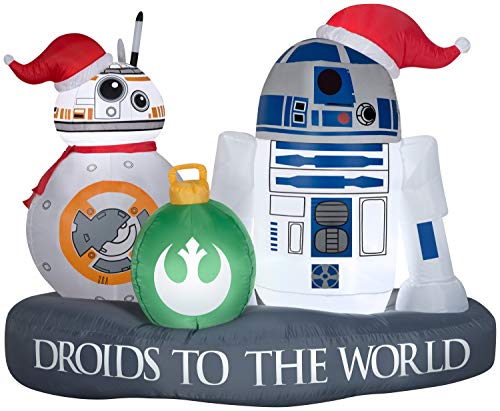 These are not the droids you're looking for. Did you check outside? Last I knew they were greeting guests in the Star Wars Droids to the World Christmas inflatable.
Who said robots can't enjoy the holidays too? Your favorite Star Wars droids sure know how to spread cheer in this Droids to the World Christmas inflatable. Whether you choose to display it indoors or outdoors, this Gemmy creation brings a little piece of the galaxy home for the holidays.
Give your carols a Star Wars twist with the addition of a Droids to the World Christmas inflatable!
The Stormtroopers will never find these cleverly disguised droids in the Droids to the World inflatable this Christmas! With their festive Santa hats and green Rebel Alliance ornament, they're just here to spread holiday cheer.
Fan favorite R2-D2 is joined by his smaller, round counterpart, BB-8. They're perched upon a neutral gray base that also features the words "Droids to the World". If you hadn't noticed, it's a pun-tastic interpretation of the classic Christmas carol Joy to the World!
While they don't sing, they do light up with the help of internal LED lights. It's powered by the same plug as the fan, which inflates the design in just seconds. It deflates equally as fast, for compact storage after the season. I love quick and easy holiday décor!
This Star Wars inflatable is safe for use both indoors and outdoors. For outdoor use, stakes and tethers are included for securing it into your yard. Wouldn't want your droids blowing away!
Additional Notes