Magic Wand Salt and Pepper Shakers – Fred and Friends Store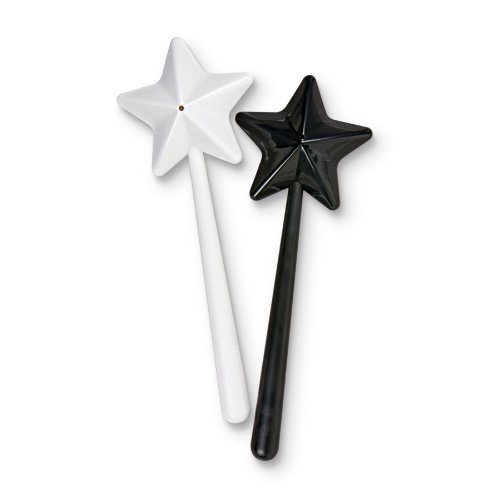 Would you please eat your vegetables, Susie? They're good for you, and I want you to grow up strong! How about if I sprinkle a little fairy dust on them, then would you eat them? How can I do that? Well, with my Fred Store magic wand salt and pepper shakers of course. If we just add a dash of pixie dust to dinner, I bet you'll eat those veggies in no time!
Salt and pepper shakers are a common household item that is used to add the seasonings to your food. The shakers are available in a variety of sizes, shapes, and colors, including novelty designs. This allows you to choose salt and pepper dispensers that match your kitchen theme or home décor perfectly.
You don't have to be a fairy godmother to make dinner fun with these Fred Store magic wand salt and pepper shakers!
Novelty purveyor Fred and Friends presents this adorable set of magic wand salt and pepper shakers. Each set has two magic wands, one in black for pepper and one in white for salt. The salt shaker has one larger hole central to the side of the wand. The pepper shaker has three smaller holes in a triangle pattern around the center of the side. Each wand is made of durable and food safe ABS plastic.
Make passing the salt and pepper around the table more fun with these novelty shakers! Simply hold the wand in your hand, with the star shaped top over your plate. Give it a shake, and watch the magic dust (the salt and pepper) rain down on your food. It's perfect for getting your kids to try new foods or encourage them to eat the "healthy" stuff. Who doesn't love the idea of their food getting touched with a little fairy dust from a magic wand?
The set of two shakers arrives in a clear display package, perfect for wrapping! Give a set of these salt and pepper wands for Christmas, a birthday, or even as a housewarming gift. Or, just grab yourself a set for your own home. Everyone can use a little magic at dinnertime!
Additional Notes
Each wand weighs just over 1 ounce empty
Handles unscrew from star for filling, salt and pepper not included
Reviewers recommend a small funnel to assist with filling
Top 50 best seller in Salt Shakers category on Amazon
Rated 4.3 stars with nearing 700 reviews!
When it comes to taking your food seasoning seriously, nothing is more impressive than this giant 36 inch pepper mill!