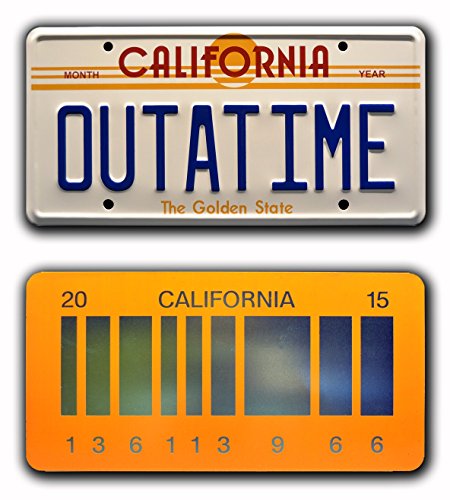 Where we're going, we don't need roads. I do think, however, we'd better put the license plates on the car, just in case. These Back to the Future license plates are perfect for all your time-traveling adventures!
The Back to the Future license plates are a replica of the plates seen in the original movie as well as the sequel. Whether you've got a DeLorean or not, you'll be straight out of time with these iconic vanity plates. Just don't drive 88 mph in a residential area.
You may not need roads, but you do need Back to the Future license plates to make your ride awesome!
I may not have a DeLorean, but that doesn't stop me from rocking these awesome Back to the Future license plates. This set of two plates is made from weather resistant aluminum which is stamped and embossed to look like the plates seen in the movies.
You'll receive two different Back to the Future license plates:
The iconic 'OUTATIME' on a 1986 California license plate, seen in the original movie
A futuristic 2015 barcode-style version of the CA plate, featured in Back to the Future 2
A reflective sticker kit is included to add AUG and 1986 to the denoted spaces on the older style plate. This is perfect if you want it to look like you just pulled it straight off the time machine!
However, don't add the stickers if you're going to add the plate to your car as a vanity. Make sure to check license plate regulations for your state before adding a vanity plate to your vehicle, whether on the car or below an existing license plate.
These plates are a standard 12" x 6" USA plate size. If you're not attaching them to your car, they mount nicely on the wall or in a frame for collector display. A 14" x 16" frame accommodates both plates.
Hang it in your man cave, home bar, or anywhere you'd like to appreciate the classic movies! These plates look great alongside all your other favorite movie memorabilia.
RELATED on YinzBuy:
Discover items inspired by the Back to the Future movies you can actually buy!
Do the Back to the Future license plates come with pre-drilled holes?
The original Back to the Future license plate comes with four pre-drilled holes in the corners for mounting. The futuristic plate does not have any holes, which maintains authenticity. The DeLorean required no holes for plate mounting.
Should you desire to mount the second plate and need to add holes, the first may be used as a template. Simply place the old-style plate on top and mark the hole locations with a marker on the plate below. Then, drill the holes around on the marked spots, and proceed to mount.
Additional Notes
Made in the USA
Impressive 4.9-star rating with nearly 500 reviews!
Mounting screws not included
Hang your plates right next to the Back to the Future calligram, featuring the whole script in a picture!

Line By Line Back To The Future Handwritten Calligram, Size 18" x 24"

Handwritten poster portrait of BACK TO THE FUTURE comprised out of the entire script from the movie Done originally with black ink on layout bond by artist Mike Matola. This reproduction is printed on 100 lb uncoated gloss paper 24" by 18" The poster was made by sitting down and writing out each...

Put them in the kitchen for admiring while you cook dinner from the Back to the Future cookbook, featuring the best of Hill Valley!

Back to the Future: The Official Hill Valley Cookbook: Over Sixty-Five Classic Hill Valley Recipes From the Past, Present, and Future!

You won't need 1.21 jigowatts of electricity with this Back to the Future VHS tape wireless charger!

Power Idolz by Numskull Back to The Future VHS Wireless Charger Phone Holder - Compatible with Qi-Enabled Devices, Fast Qi - Official Back to The Future Merchandise

For the holidays, you'll want to count down the days with the Back to the Future Advent calendar. I sure hope I find a DeLorean under the tree!

PLAYMOBIL Back to The Future Advent Calendar