Friends Cookbook – The Official TV Book That's There for You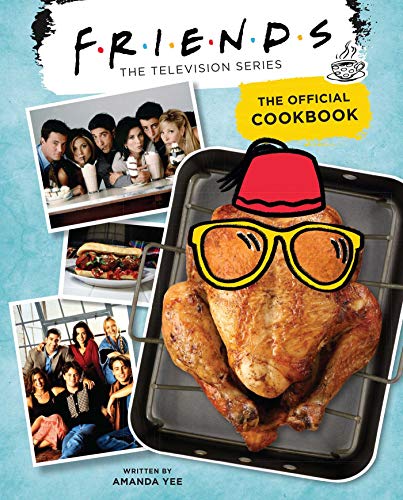 So, no one told you life was gonna be this way? No, seriously, who would have thought being an adult required trying to figure out what was for dinner every night? Good thing Friends: The Official Cookbook is here to help you with those tough decisions. Now when someone asks "How you doin'?", you'll feel like you have this life thing covered.
There are several cookbooks based on the popular Friends television series. However, this official version, written by Amanda Yee is the one given the official nod by the show. The recipes represent the characters from the acclaimed sitcom, which ran for 10 seasons.
If you enjoy audio books, try Amazon's Audible Plus for free!
Let this official Friends cookbook be there for you when dinner time rolls around!
Friends: The Official Cookbook is a 176 page hardcover cookbook filled with dishes your favorite characters would approve of. More than 100 recipes and colorful photographs adorn the pages of this cookbook. You'll find a variety of skill levels, ranging from beginner to advanced. The book covers appetizers, main courses, drinks and desserts. So, invite your friends over, and impress them with your cooking!
Each recipe is meticulously based on an iconic Friends character and often a specific episode. The appetizer Just for Joey Fries Board is straight out of Season 10, Episode 9 – "The One with the Birth Mother". Check out The Moist Maker from Season 5, Episode 9 – "The One with Ross' Sandwich". Finish off the meal with Chocolate Chip Cookies the French Way or Birthday Flan.  There are iconic TV meals for every occasion inside this Friends cookbook!
If you run into a particularly tricky recipe, don't worry. Chef Monica's advice is always at hand to help you through the tough parts. Just remember – if Joey approves of the food, then you know it's going to be great!
Additional Notes
Also available in spiral bound or Kindle editions
Measures 8 x 1 x 10 inches and weighs about 2 pounds
Available in a Friends gift set with an official apron
Top 50 best seller in both Entertaining & Holiday Cooking and Celebrity & TV Show Cookbooks on Amazon
Rated 4.9 stars with over 2,600 reviews – Friendsgiving is at your house this year!
Eye'll be there for you with this Friends eyeshadow palette!

Friends Eyeshadow Palette 0.72 Oz! 12 Shimmery And Matte Shadows With A Mirror! Colorful Eyeshadow Shades! Cruelty Free Eye Shadow!

If you're on the Party Planning Committee for any event, then pick up this essential The Office Party Planning Guide to deliver a smash hit!

The Office: The Official Party Planning Guide to Planning Parties: Authentic Parties, Recipes, and Pranks from The Dundies to Kevin's Famous Chili

Use this 85th Anniversary edition Twinkies cookbook to find out everything you can create with America's favorite snack cake!

The Twinkies Cookbook, Twinkies 85th Anniversary Edition: A New Sweet and Savory Recipe Collection from America's Most Iconic Snack Cake

Set your tastebuds to 88mph with this Back to the Future cookbook!

Back to the Future: The Official Hill Valley Cookbook: Over Sixty-Five Classic Hill Valley Recipes From the Past, Present, and Future!