FRIENDS Eyeshadow Palette – Eye'll Be There For You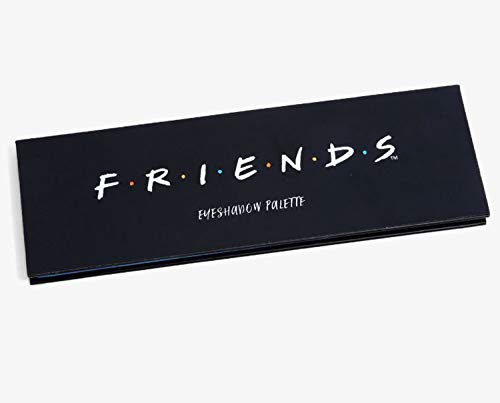 How you doin'? You'll probably have a lot of folks asking you that very question. That's because you'll be feeling fabulous with the help of this Friends eyeshadow palette. In fact, I'm just waiting for Joey to burst through the door any minute!
An eyeshadow palette contains a variety of eye makeup colors. They are designed for blending and shading to create fun, unique looks. Many are themed, designed to emulate popular characters from pop culture. This Friends palette is no exception, created to commemorate the acclaimed sitcom.
I'll be there for you, as soon as I finish getting ready with my Friends eyeshadow palette that is!
The Friends eyeshadow palette brings the fun of your favorite characters into wearable makeup. This makeup palette contains 12 different colors, with both matte and shimmer shades. Each eyeshadow is cruelty-free so you can feel good about your purchase. We wouldn't want another Smelly Cat, after all.
A black case with the iconic Friends logo safely holds the eye makeup inside. You'll find 0.72 ounces of eyeshadow in the following colors:
Chick (white matte)
Pivot (pink shimmer)
Regina Phalange (mauve matte)
We Were On A Break (purple shimmer)
You're My Lobster (red shimmer)
Coffee (brown matte)
Unagi (sea green shimmer)
You've Been Bamboozled (light blue shimmer)
How You Doin? (blue shimmer)
Miss Chanandler Bong (maroon shimmer)
Duck (silver shimmer)
It's A Moo Point (black matte)
Mix, match, and blend to create a variety of unique looks. Choose the ones that make you feel like your favorite characters, episodes, and more. Check yourself out in the mirror included in the top of the lid to make sure you look perfect.
Finish off your look with some Central Perk lip balm. Tuck your supplies back into your Friends cosmetic bag, and you're ready to hit the town!
Additional Notes
Measures 9.65 x 3.35 x 0.55 inches and weighs 4.94 ounces
Rated 4.6 stars with over 80 reviews!
Makes a great stocking stuffer
Looking for more great Friends products? Check out this Friends cookbook too!
Need something else to complete your look? How about this color changing mood lipstick?